Summer Math Classes Show Great Success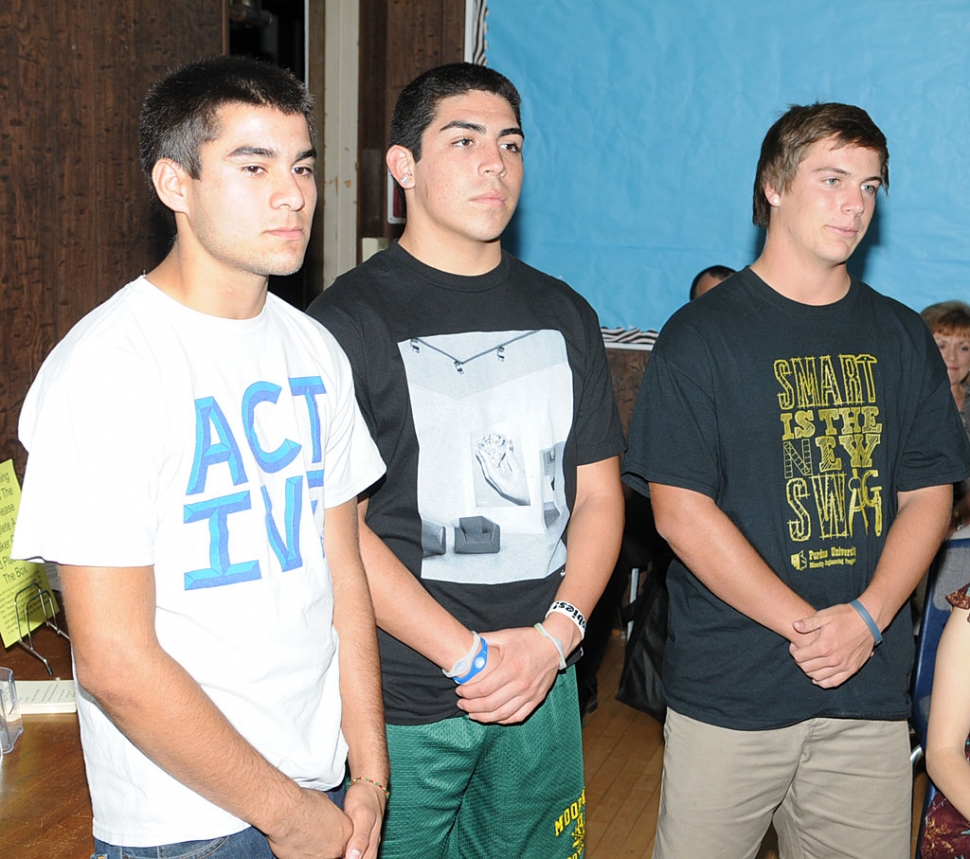 FHS football players (l-r) Tyler Esquivel, a junior at FHS, Joseph De La Mora and Collin Farrar, both seniors at FHS, spoke of how their injuries were attended by the athletic trainer and how it helped them recove.
By Jean McLeod — Wednesday, September 19th, 2012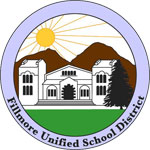 Fillmore Unified School District
This fall semester a number of Fillmore Unified School District students have a better understanding of algebra and geometry due to the success of the Math Bridge Academy (MBA) offered this summer. The eight classes, held at Fillmore High School (FHS) June 13th thru July 11th, were designed to prepare grade 6-12 students with the math skills needed to succeed academically and be better prepared for the work place.
Jennifer Weir, Summer School Principal, presented the accomplishments the participating 199 students achieved. Mary-Allyn Garcia, one of the participating teachers who teaches 5th grade at San Cayetano, addressed the Fillmore Unified School Board with what she felt was achieved commenting the summer session "….gave me an opportunity to see where the student were going….by the end we saw everything come together." Jeremiah MacMahon, a FHS geometry teacher who also taught at MBA, added that the students who participated are doing very well and MBA was a huge help for those student that had repeated the math classes. There was a total of eight teacher and three student tutors who made up the MBA program. Raquel Aguilar, one of the student tutors, said everything was well prepared and she received all the supplies needed. Marlene Carbajal, also a student tutor, said she felt like a role model to the students and that tutoring helped her keep her own math skills sharp.
Some of the students who participated addressed the Board with how much the MBA help them. Jaylene Ortiz told the Board, "It was a great experience" adding that the one on one teacher-student time along with thorough lectures that took the time to go through using a step by step process has prepared her for this year's math. Ortiz went on to say that she had failed geometry last year but MBA gave her more confidence in herself and her test scores have improved a great deal.
The participating students increased an average 35% in their testing scores.
The final grades of those participating were; 147 students received an A, 20 students received a B and 32 received no grade. The tutors will continue to work with students through the 2012-13 school year and parents who feel their child needs extra tutoring can contact the school to hire the student teachers outside the school, but they are responsible for the cost.
Lynn Cole, an employee and parent of a FHS student, wanted to let the Board know how important the athletic trainer is to the football program telling them the recent game played at Santa Paula had a few injuries and "Sunny" the athletic trainer was right there icing the injuries and advising the student on how to care for their injury when they got home. Cole told the Board, "This has taken Fillmore High School to a whole new level." FHS football players Tyler Esquivel, a junior at FHS, Joseph De La Mora and Collin Farrar, both seniors at FHS, spoke of how their injuries were attended by the athletic trainer and how it helped them recover.
Michael Johnson presented the Board with the results of FUSD California High School Exit Exam (CAHSEE) test scores over a 5-year comparison. The students are allowed to take the test up to three times before graduation and starting 2016 those students who have not passed will not be allowed to walk during the graduation ceremony as they are allowed to today and in the past. But those that do not pass by the time of graduation are allowed up to two years to return and retake the test to receive their diploma.
The 2011-12 year English Language Arts (ELA) 10th grade has seen a slight decline in those that passed with a range high of 80% in 2008-2010 to 73% last semester. Eleventh grade ELA has kept a high of 68% passing score, which has increased from a low of 49% in 2007-2008. Twelfth grade ELA has improved a great deal with a high of 80% passing score 2011-2012, up from a low of 56% in 2008-2009.
In math the CAHSEE scores were about the same over the past five years with little fluxional change for those in the 10th grade with a low of 71% in 2009-2010 and a high of 83% in 2010-2011. Last semester's 10th grade passing test scores were 75%. Eleventh grade saw a slight decrease to 65% last semester compared to 78% in 2010-2011, but was still better than the 61% test scores in 2008-2009. Last semester's twelfth grade saw a huge increase from the previous year from 50% in 2010-2011 to 77% in 2011-2012.
The Board announced a 10-day notice of a Public Hearing for the "Sufficiency of Textbooks and Instructional Material for the 2012-2013 School Year" and a Provision of Standards-Aligned Instructional Materials. The public hearing will be held on October 2, 2012 at 6:00 p.m. in the Fillmore Unified School District board room located at 627 Sespe Avenue, Fillmore. During this public hearing, administrators, teachers, bargaining unit leaders, parents and community members will have the opportunity to discuss whether there is a sufficiency in textbooks and instructional materials and that the k-8 textbooks and instructional materials were purchased from an approved standard-aligned state adoption list. And in grades 9-12 instructional materials were adopted by the local governing board following a district review of the materials and their alignment with state content standards.
After the public hearing, the Board will vote, stating their determination whether or not there is sufficiency in textbooks and instructional materials for each student at each school in the district. If the Board so determines, they will also certify that textbooks and instructional materials are standard-aligned and were purchased in according to law.