Street Name to Honor Max Pina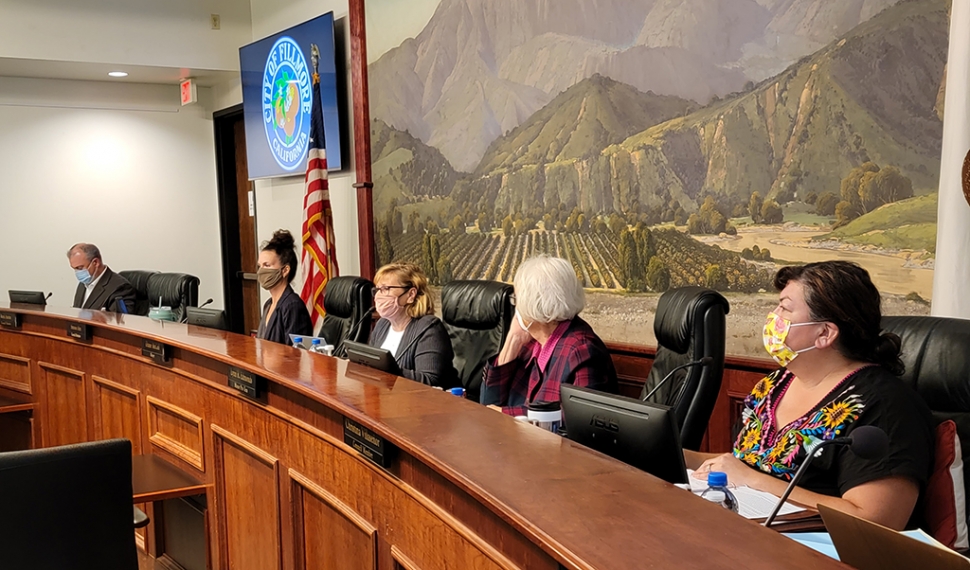 At Tuesday night's City Council meeting they discussed topics such as construction for the Veterans Memorial Building, the renaming C Street to Max Pina, the Mountain View Apartments, and more.
By Gazette Staff Writers — Wednesday, January 12th, 2022
Short Summary
Due to time constraints and data availability, a full report must be postponed to next week's Gazette edition.
8- A AWARD OF CONTRACT FOR CONSTRUCTION OF THE GENERATOR INSTALLATION AT ACTIVE ADULT CENTER AND VETERANS MEMORIAL BUILDING AND APPROVAL OF A LICENSE AGREEMENT WITH THE FILLMORE-PIRU MEMORIAL DISTRICT FOR THIS WORK, was approved by Council.
8.B AUTHORIZE PAYMENT REQUEST NO 7 TO HEARTHSTONE MULTIASSET ENTITY C, LP FOR WESTERLY AND EASTERLY LEVEES FOR HERITAGE VALLEY PARKS COMMUNITY FACILITIES DISTRICT (CFD) NO. 5 WITH BOND, was approved by Council.
8.C STREET NAME TO RECOGNIZE MAX PINA
MAX PENA STREET NAMING.doc, was approved unanimously.
PUBLIC HEARING FOR THE ANNEXATION OF MOUNTAIN VIEW APARTMENTS
(DEVELOPMENT PERMIT N0. 18-03) TO LANDSCAPE AND LIGHTING ASSESSMENT DISTRICT NO. 2, (L&L NO. 2)
2021-01-11_SR_LLD ANNEXATION_PUBLIC HEARING.pdf, was completed.
8.E DEVELOPMENT IMPACT FEE ANNUAL AND FIVE-YEAR REPORT AND FINDINGS FOR FIVE-YEAR UNEXPENDED FEES PER GOVERNMENT CODE SECTION 66006 AND CONSIDERATION OF RESOLUTION NO. 22-3855 MAKING FINDINGS REGARDING UNEXPENDED FEES SR FY 2020-21 66006 DIF REPORT-FINAL.pdf. Approved.
ADJOURNMENT - Mayor Diane McCall adjourned to next regularly scheduled meeting, 6:30 p.m., Tuesday Jan. 25, 2022, City Hall 250 Central Avenue, Fillmore, CA 93015.