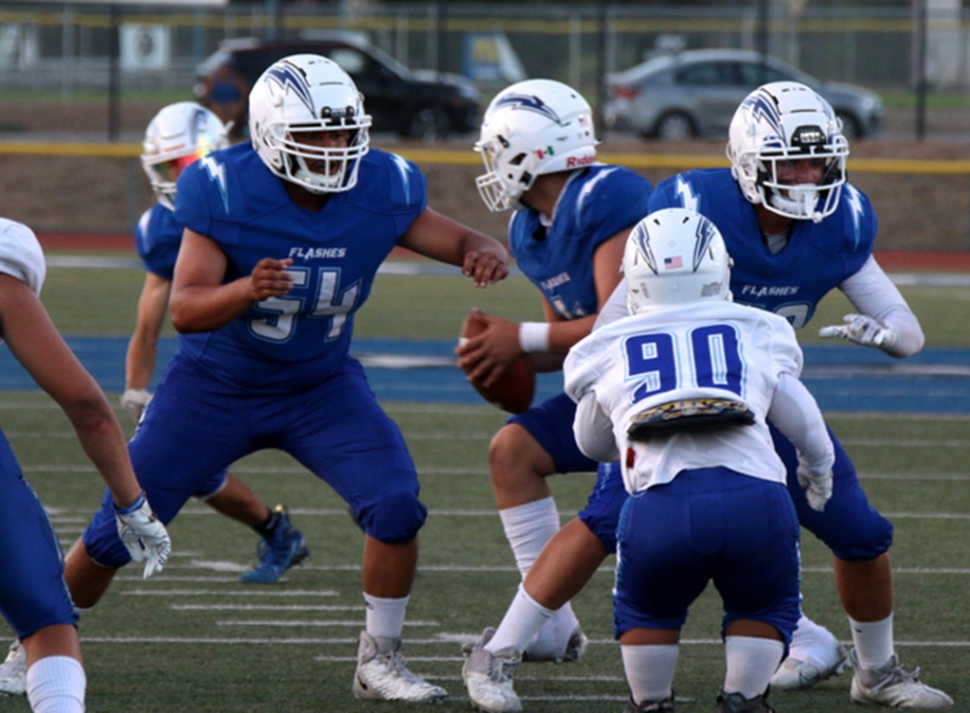 Last week Fillmore Flashes JV & Varsity Football teams hosted their Blue Vs. White scrimmage against one another to get ready for their season opener at home this Friday, August 19th against the California City Ravens. JV will kick off at 4pm and Varsity at 7pm in Flashes stadium. Photo credit Crystal Gurrola.
By Gazette Staff Writers — Friday, August 19th, 2022
Courtesy Head Football Coach Charlie Weis
The transition from summer to fall is marked by changes in the weather, a return to campus, and gathering of community. Although there is some understandable hesitancy in the transition back to school for families and students, there is only excitement surrounding Flashes Football.
With one of the largest rosters in program history, and the return of county leaders in key position, the Flashes are looking forward to showing our community what they can do. Fresh off a record setting quarterfinal appearance in the CIF playoffs, this year's team has high expectations for itself.
The Flashes open their season at home Friday, August 19th against the California City Ravens. JV will kick off at 4pm and Varsity at 7pm in Flashes stadium. This will begin a very competitive and challenging non-league schedule that includes games against Burroughs-Burbank, Hart, and Bakersfield South amongst other competitive Southern Section teams.
This season the Flashes will be led by physically imposing seniors Ivan Becerra on the offensive line and Tory Cabral at linebacker who inspire and motivate their teammates every day. In addition, the team will be leaning on returning county statistical leaders Jarod Uridel, who was the number one receiving Tight End in the county last fall, Anthony Chessani, who was the top rusher and scorer in 2021, and Mathew Magana, who compiled county leading statistics in points scored, turnovers forced, and offensive production.
Last Friday's Blue Vs. White scrimmage was a testament to how deep and talented this team is. Huge game breaking runs from Junior David Jimenez and Senior Diego Amezcua paired with touchdown throws from Sophomore quarterback Anthony Tafoya illuminated how strong this team can be.
After a spectacular run last season that culminated in hosting an impressive playoff win over Coachella Valley and a quarterfinal berth in the playoffs, the Flashes have something to prove this year as one of the last small town football programs left. In an era where most top programs in southern California rely on transfer talent and out of area athletes, Fillmore stands as the pinnacle of what a home-grown program can be.
However, this can't be done by players and coaches alone. They need everyone's support to keep this unique program thriving and they look forward to sharing many Friday nights under the lights with their friends, family, and fans.
Let's bring back the One Town and One Team mentality that made last fall's CIF run so special! Our stands are the STORM and we've heard that The Storm Is Coming.
GO FLASHES!