Stolen Car Leads to Vehicle Pursuit & One Arrest
By Ventura County Sheriff Department — Wednesday, May 20th, 2020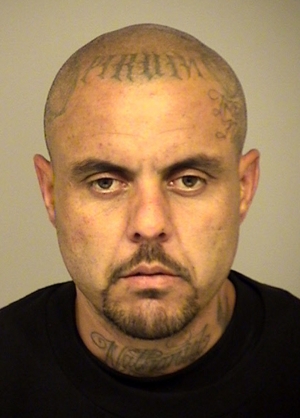 Jose Luis Orozco, 35 of Fillmore.
A Piru resident stole a vehicle from an apartment complex. The victim later spotted the vehicle in Fillmore. The victim alerted the Sheriff's Office. Deputies located the stolen car and the suspect, Jose Luis Orozco. Orozco was arrested for the theft of the vehicle and drug related charges.
On the morning of 05/14/2020, deputies responded to a stolen vehicle call in the 2900 block of Telegraph Road, in the unincorporated area of Piru. The victim had parked his vehicle in the parking lot of his apartment complex, where it had remained parked for about a week. When the victim came out of his residence this morning, he discovered his vehicle was missing. The victim called the Sheriff's Office and reported the vehicle stolen.
Several hours later, as the victim was traveling eastbound on SR 126 near Santa Paula, he saw his vehicle in front of him. The victim began following the car and called the Sheriff's Office to report he was following the suspect. The victim continued following his vehicle until the suspect parked it and walked into a residence in the area of Palm Street and Santa Clara Street, in the City of Fillmore. Deputies and Detectives from the Fillmore Police Department along with members of the Sheriff's Gang Unit began a surveillance on the unoccupied stolen vehicle. When the suspect retuned to the vehicle a short time later, he was quickly arrested. The suspect was identified Jose Orozco. During a search of Orozco, Investigators recovered drugs and related paraphernalia.
Orozco was booked at the Pre Trial Detention Facility for:
VC 10851(a)- Unlawful taking of a vehicle H&S 11377(a)- Possession of A Controlled Substance H&S 11364(a)-Possession of Drug Paraphernalia PC 3056-Parole Hold
Orozco is currently being held without bail and is scheduled to appear in court on 07/14/2020.
The Ventura County Sheriff's Office would like to remind the public that crime prevention begins at a personal level. When possible, keep your valuables out of sight or at home. Keep your vehicle locked when unattended and avoid leaving your car keys in your car.
Nature of Incident: Vehicle Theft Suspect Arrested
Report Number: 20-65810
Location: 2900 Block E. Telegraph Road, Piru
Date & Time: 05/14/2020 8:20 am
Unit(s) Responsible: Fillmore Patrol, Fillmore Investigations, Sheriff's Gang Unit
(S)uspects, (V)ictims, (P)arty, (D)ecedent, City of Residence, Age
(A-1) Jose Luis Orozco, 35 of Fillmore
Prepared by: Detective Cesar Salas
Approved by: Captain Garo Kuredjian
Ventura County Crime Stoppers will pay up to $1,000 reward for information, which leads to the arrest and criminal complaint against the person(s) responsible for this crime. The caller may remain anonymous. The call is not recorded. Call Crime Stoppers at 800-222-TIPS (8477).