Social Media Threats Alarm Community
By Gazette Staff Writer — Wednesday, January 15th, 2020
Causes Significant Drop in FHS Attendance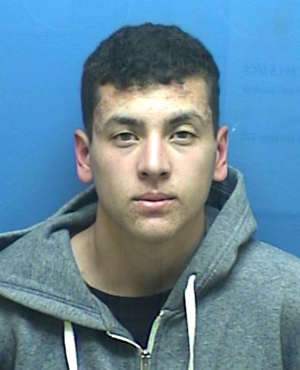 Marcus Reggie Ortiz, 18, of Fillmore
Fillmore High School experienced a huge decrease in attendance on January 13, 2020 due to a threat of violence at the school, posted on Snapchat and shared on Facebook. Parents responded with concern and action, keeping their students home for the day, causing a "significant" drop in attendance, according to FUSD Superintendent Adrian Palazuelos.
Marcus Reggie Ortiz, 18, of Fillmore, was arrested by Santa Paula PD on Friday, January 10, 2020 - 422 PC Criminal Threats. Ortiz was convicted of 594 (b) (1) PC Vandalism and 647 (h) PC Prowling in November 2019, pleading guilty.
Comments on social media regarding threats continued to post even after Ortiz's arrest. Fillmore Police Chief Garo Kuredjian stated, "The public should contact law enforcement directly if they have information related to criminal conduct. Posting potential criminal conduct on a social media instead of contacting law enforcement may compromise a criminal investigation."
The ongoing social media comments drew a reaction from Ventura County Sheriff's Rep Kevin Donoghue, who posted this response to the rumors on Facebook (Fillmore News…What's Happening Today?): January 12-"Greetings, this is in regards to some posts listed previously describing a threat to the Fillmore High School. The Sheriff's Office and the Fillmore Police Department, along with the Fillmore Unified School District, are aware of the situation. The threats are being actively investigated. However, at this time there does not appear to be any credible threat to public safety."
Donoghue's update - "The purpose of this message is to notify you that the Fillmore Unified School District (FUSD) received information this evening regarding a threat to student safety made on social media. District staff immediately contacted Fillmore Police and the Ventura County Sheriff's Office regarding the posting made on social media. At this point law enforcement has no indication that threat is credible. Our partners in law enforcement will have a positive presence on the Fillmore High School campus tomorrow."
Donoghue's final post - "This is a brief follow up to the report of threats at Fillmore High School. Our detectives interviewed the source of the original threat yesterday afternoon and concluded no crime had occurred and there is no actual threat or danger to the community. That brief investigation has concluded and again, no crime could be established and no one was taken into custody. Since yesterday, there have been additional reports of other suspicious social media posts. We are investigating each one as they are reported, but so far there is nothing that is credible or concerning. The Sheriff's Office will have a heightened presence with existing regular patrols around the schools over the next few days simply to give people peace of mind."
FUSD Superintendent Adrian Palazuelos released this message to the community: "Important Message for Fillmore Unified School District Families-A message from Fillmore Unified School District:
"Good evening this is Dr. Palazuelos the Superintendent of the Fillmore Unified School District with an important message for district families
I am reaching out to you this evening to ask for your help in keeping our schools safe for students and staff. If you or someone you know has information regarding a threat to the safety of others in our schools, it is important that you immediately provide that information to law enforcement. All reports of a threat to safety are treated very seriously and will be investigated by our partners with the Fillmore Police and the Ventura County Sheriff's Office.
For example, on Sunday, January 12, 2020 district administration and law enforcement received a report of a threat to Fillmore High School students that was being circulated on social media. Law enforcement conducted an investigation and determined that the threat was not credible. A FUSD Connect Ed phone call was provided to all Fillmore High School families to alert them of the report and actions to ensure safety at school today.
Earlier today a post appeared on social media with another threat to Fillmore High School which law enforcement has already determined to not be credible. There is no threat to the campus and we will continue to work with our law enforcement partners to ensure everyone's safety. Any individual creating a false threat to district schools or individuals could face disciplinary as well as criminal charges.
I am asking each of you to help us ensure that schools, students, and staff are safe by reporting any information that threatens our safety directly to law enforcement. Additionally, I urge our entire district community to report any individual who is creating or sharing false threats to our law enforcement partners. All of us can do our part to ensure the safety of others.
Thank you for helping us ensure that all Fillmore Unified schools are safe."
The following was noted in the FHS January 14th School Bulletin: "It is very important that you understand that you cannot have any kind of knife, a real or pretend gun, paint ball guns, or any other kind of weapon at school. You cannot make any kind of a threat to a student or staff member. You also cannot have or be under the influence of any drug or have drug paraphernalia at school. Your school and school board have ZERO tolerance for these things. Students have been expelled for having these items at school. No excuse for not knowing that these things are not allowed at school will be accepted. Take this seriously and help keep your school safe for you and everyone. These rules apply 24 hours a day, seven days a week, including when school is not in session. Thank you."