Sierra High School receives $5,000 award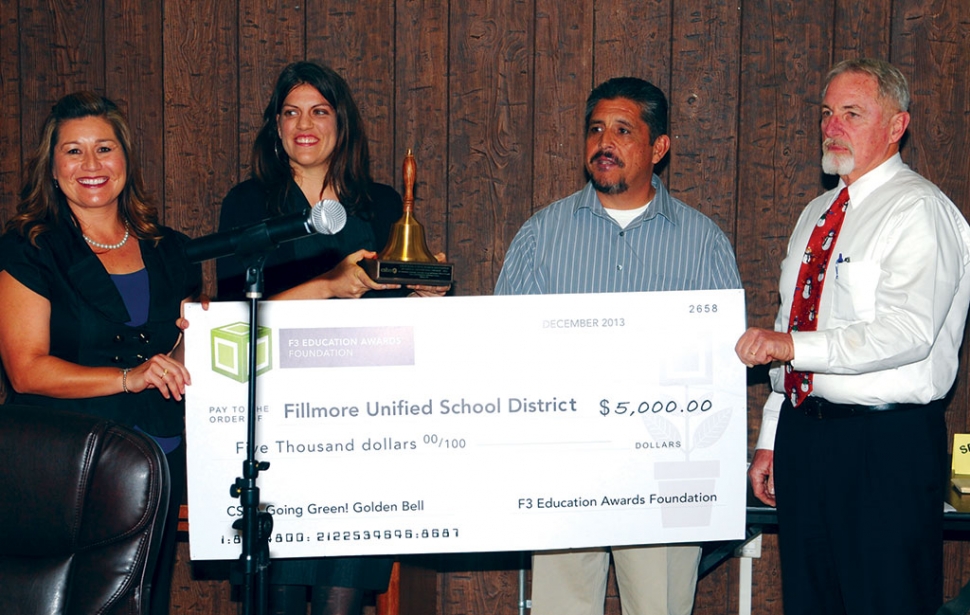 The prestigious Golden Bell Award was given to Sierra High School by the F3 Education Awards Foundation, which partners with the California School Board Association (CSBA).
By Jean McLeod — Monday, December 23rd, 2013
A new Fillmore Unified School District (FUSD) Board President, Vice President and Clerk were selected at the December 17, 2013 meeting, along with a Title III Update Report on the New English Language Standards, Math Curriculum for grades 6-12 and a presentation of the Golden Bell Award which included a check for $5,000 given to Sierra High School.
The meeting began with the Board electing a new FUSD Board President. Board Member Tony Prado nominated Lucy Rangel, who was approved by unanimous vote. Board Member John Garnica then nominated Tony Prado for Vice President which was unanimously approved. Next was for the position of Clerk which Prado nominated John Garnica and was also approved. The Board then agreed to keep the same meeting schedule of 6:30 p.m. the first and third Tuesdays of the month. Rangel, who has been on this committee for three years and wanted to finish out the four year term, elected herself for the School Board Representative of County Committee and she then appointed Board Member Dave Wilde to the Agricultural Advisory Committee.
The next item was recognition of the prestigious Golden Bell Award to Sierra High School given by the F3 Education Awards Foundation, which partners with the California School Board Association (CSBA). The award is given to schools with a site-based student-led environmentally friendly program. Sierra was the only high school to win in the category of Sustainable, Renewable, Energy and Resource Efficient Program and also one of only two schools to receive a $5,000 cash award. All entries are evaluated and selected by the CSBA with F3 financing the award.
Jennifer Weir, Coordinator Special Student Populations, Educational Services Department gave a presentation on the Title III (part of the federal No Child Left Behind Law) English Language Acquisition Update and the New English Language Standards. . Districts receiving Title III funding are responsible for the yearly progress of their students with respect to development of language proficiency. By law English Language Learners (ELL) must not only attain English proficiency but simultaneously meet the same academic standards as their English-speaking peers creating a challenge to both teachers and students alike.
There are 3,843 students in FUSD, of those there are 1177 (31%) that require special education in English. Fillmore High School has 189 (19%) ELL, Fillmore Middle School 212 (24%), Mountain Vista Elementary 249 (44%), Piru Elementary 130 (42%), Rio Vista Elementary 194 (37%) and San Cayetano Elementary 171 (37%).
Weir reported the California State Annual Measurable Objective Achievement (AMOA) FUSD stats between 2010-2011 and 2011-2012 saw an 11% increase in proficiency and between 2011-2012 and 2012-2013 a 1.7% decline; which was about the same decline of other school districts throughout the county.
FUSD students with less than five years in the program saw a decrease of 3.3% during 2010-2011, an increase of 1.4% in 2011-2012 and another increase of 2.2% in 2012-2013. Those students who had been in the program for more than five years made increases of 4.3% during 2010-2011, a decline of 1.5% during 2011-2012 and an increase of 7.1 during 2012-2013; but they did not meet the state standard objective.
Weir told the Board, the objective was to "[P]rovide opportunities for English Learners to access engage with and achieve in grade-level academic content while they learn English." Prado asked if the progress was satisfactory. Weir responded, "Yes, for our ELL we're seeing a 10% growth."
Last year 20% of the ELL students were reclassified (students that move up) and this year it is 31%. FUSD reclassifies twice a year; while most schools reclassify only once a year. This bi-yearly promotion of ELL creates a loss in funding to FUSD as some students move out of the program half a year sooner (ELL receive extra funding that other English speaking students do not). The district expects an additional 200 new ELL next year, which will make up for the bi-yearly loss in funding. Migrant students qualify for three years of the special English classes which include 45 minutes of English Language Development every school day.
Another item requiring a decision by the Board was the 6-12 grade Math Curriculum. The middle school and high school Math Departments recommended a math sequence aligned to the Integrated Math Pathway, one of the options endorsed by the California Math Frameworks, which illustrates possible approaches to organizing the Common Core State Standards (CCSS) content. The options presented to the Board were Traditional vs. International (Integrated). Common Core Standards allow either type of curriculum. County wide districts are now 26% Traditional, 32% International with 42% undecided.
The Traditional Pathway consists of two algebra courses and one geometry course, with some data probability and statistics infused throughout each course. This pathway is typical of those found in many U.S. schools. Unlike typical courses though, each of these courses prioritizes depth over breadth. The international Pathway more closely resembles sequences seen internationally and consists of a sequence of three courses, each of which includes content from algebra, geometry and data, probability and statistics. The main difference between the two approaches is the order in which the topics of math are taught. FUSD math teachers are split on which approach to take; half wanting either the International approach or Traditional.
The Board approved the International which changes Algebra I to Math I, Geometry to Math II and Algebra 2 to Math III.
Assistant Superintendent Michael Johnson advised the Board not to buy the text right away saying, "We don't want to buy the textbooks right away because it will take up to two years to work the bugs out (regarding Common Core State Standards) and once you buy the books you're stuck with them."