Shots Fired at Group on Sidewalk, Parked Car Hit
By Ventura County Sheriff Department — Wednesday, July 29th, 2020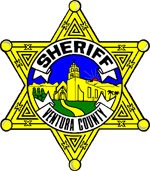 Ventura County Sheriff's Department
At about 7:20 PM, deputies from the Fillmore Police Department responded to a report of gun shots heard in the area near Mountain View Street at Sespe Avenue and found an unoccupied vehicle had been shot. During the investigation, deputies learned a dark colored sedan stopped in the area. One of the occupants of the sedan shot at several people who were loitering on a sidewalk. The suspect vehicle fled the area. The victims fled the area and were not identified. An unoccupied
vehicle that was parked on the street was struck by a bullet. If anyone has information regarding the identity of the victims or the suspects, they are encouraged to contact the Ventura County Sheriff's Office and Detective Sergeant Steven Jenkins at 805-384-4727.
Prepared by: Sergeant Steven Jenkins
Approved by: Captain Jeff Miller
Ventura County Crime Stoppers will pay up to $1,000 reward for information, which leads to the arrest and criminal complaint against the person(s) responsible for this crime. The caller may remain anonymous. The call is not recorded. Call Crime Stoppers at 800-222-TIPS (8477).