Sheriff Ayub Recognized as Community Service Advocate of the Year
By Gazette Staff Writers — Thursday, May 26th, 2022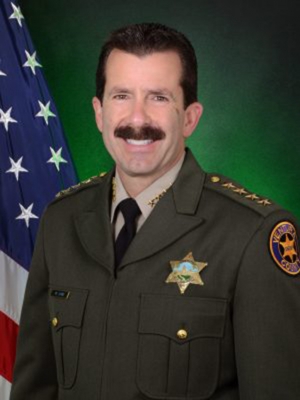 On Sunday, May 15, Sheriff Bill Ayub was recognized as the Community Service Advocate of the Year by the Ventura County Medical Resource Foundation at the 29th Annual Leo Tauber, MD & David Fainer, MD Community Health Care Awards.
This year's award recognized Sheriff Ayub's instrumental role in implementing and supporting programs that benefit mental health services and the well-being of the community. These programs include VCSO's Veterans Outreach in Crisis Events (VOICE) program, support of the Youth Reinvestment Grant (YRG) – run in collaboration with local non-profits – to assist youth with support programs and services to stay out of the criminal justice system, and the establishment of VCSO's Homeless Liaison Unit. As well, Sheriff Ayub was recognized for working in collaboration with Ventura County Behavioral Health, the Ventura County Public Works Agency, the Ventura County Executive Office, and other local area non-profits to find multifaceted solutions to the issue of homelessness in the communities across the county.
"I was honored to receive this recognition from the Ventura County Medical Resource Foundation, and I accepted it on behalf of the dedicated women and men of the Sheriff's Office who consistently provide excellent service to keep our communities safe and on the forefront of innovative public safety practices." – Sheriff Bill Ayub
The annual Ventura County Medical Resource Foundation's Tauber/Fainer MD Awards recognize outstanding community contributions by those directly involved in the delivery of health care in Ventura County who, through professional, charitable, and public service activities, have demonstrated they exemplify the ideals of generosity, excellence, and integrity.