Serious Injury Traffic Collision, Bike vs. Tractor-Trailer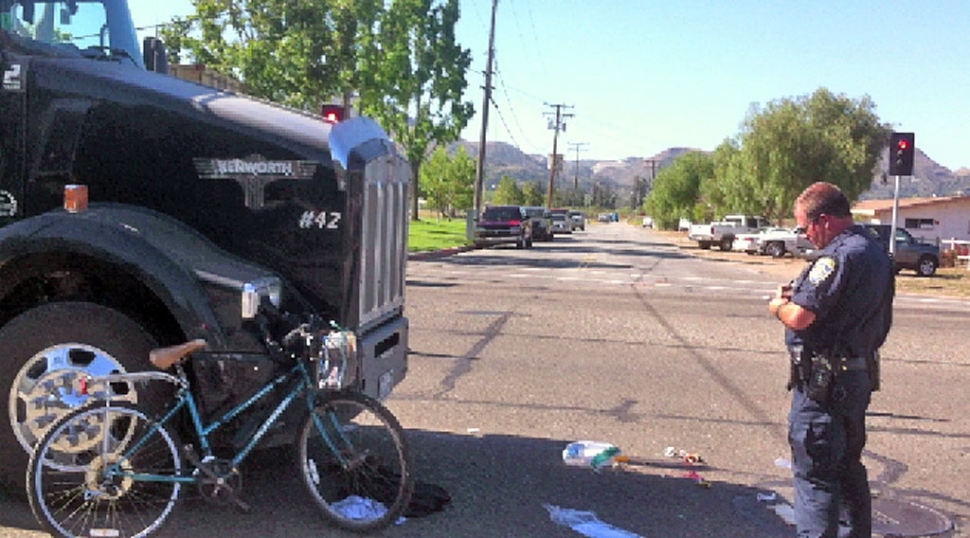 At appropximately 8:30am Wednesday morning, corner of Ventura and C Streets, a bicyclist collided with a bigrig. Guadalupe Cruz, aged 81, was taken away by ambulance to County Hospital.
By Ventura County Sheriff Department — Wednesday, June 6th, 2012
Hwy. 126 and C Street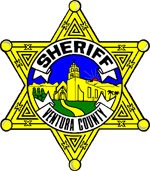 Ventura County Sheriff's Department
On the morning of June 6, 2012, at 8:27 A.M., the Fillmore Police Department, Fillmore Fire Department / Medic Unit, and American Medical Response (AMR) responded to the intersection of Ventura Street and C Street for an injury traffic accident. Initial reports were that a tractor-trailer had collided with a bicyclist in the intersection.
Upon investigation, Victor Leija was driving a tractor-trailer westbound on Ventura Street at C Street. Lieja was stopped for a red light at the intersection in the number two lane. As the light turned green, Lieja began driving westbound on Ventura Street. Guadalupe Cruz was riding his bicycle southbound on C Street along the east curb. As Cruz entered the intersection, he was struck by the tractor-trailer that Lieja was driving.
Cruz was knocked to the ground, where members of the Fillmore Fire Department / Medic Unit arrived on scene within a short time and treated him. AMR transported Cruz to the Ventura County Medical Center due to the injuries he sustained. The Camarillo Police Department Traffic Unit was requested for assistance with the collision investigation.
The traffic accident is under investigation at this time. Anyone who might have witnessed the accident is asked to contact the Fillmore Police Department/Sergeant Aguirre (805) 524-2235.
Report Number:
12-12816
Location:
Ventura Street and C Street, Fillmore, CA
Date & Time:
06/06/2012 @ 8:27 AM
Unit Responsible:
Fillmore Police Department and Camarillo Traffic Unit
(S)uspects, (V)ictims, (D)ecedent
City of Residence Age
Party-Victor Leija
Party-Guadalupe Cruz
Bakersfield
Fillmore
40
81
Deputy Preparing Media Release:
Sergeant D. Cook
Media Release Date:
06/06/2012
Follow-Up Contact:
Sergeant Anthony Aguirre (805) 524-2235
Approved by:
Captain M. McGrath
Ventura County Crime Stoppers will pay up to $1,000 reward for information, which leads to the arrest and criminal complaint against the person(s) responsible for this crime. The caller may remain anonymous. The call is not recorded. Call Crime Stoppers at 800-222-TIPS (8477).