In Search of Stone in Fillmore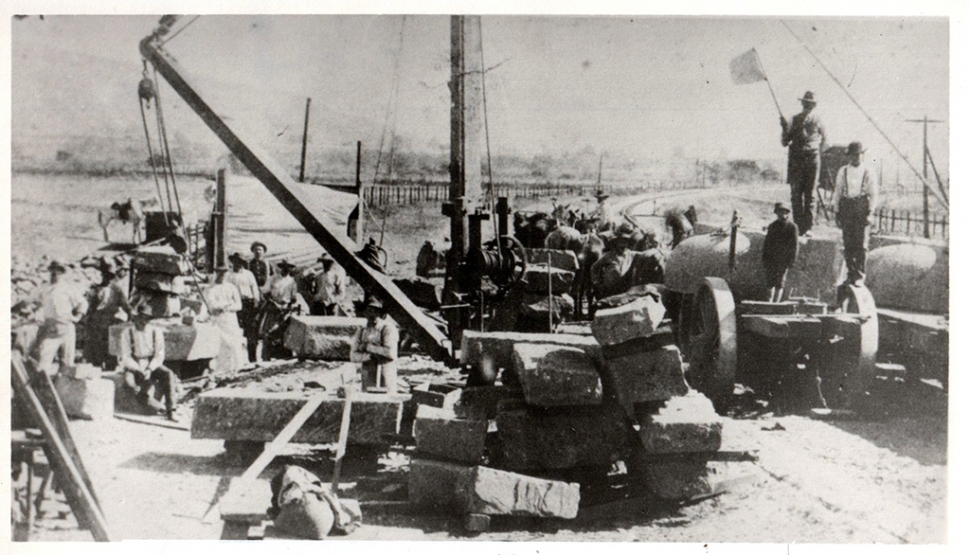 The loading blocks at Brownstone Siding in 1890. A hoist was used to load the cut stone onto a wagon which would then be hauled to the "Brownstone" stop on the train line. Photos courtesy Fillmore Historical Museum.
By Gazette Staff Writers — Wednesday, July 6th, 2022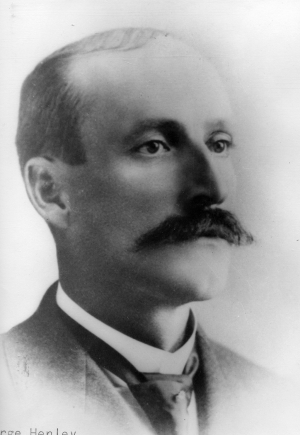 George Henley.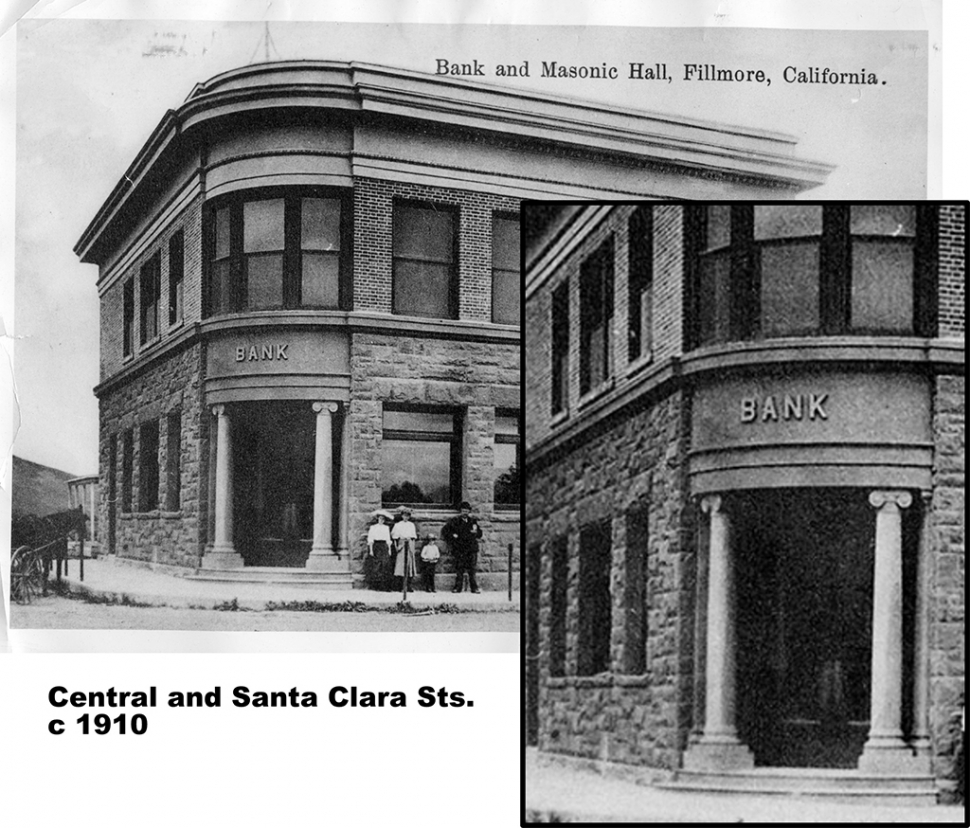 Closeup of bank.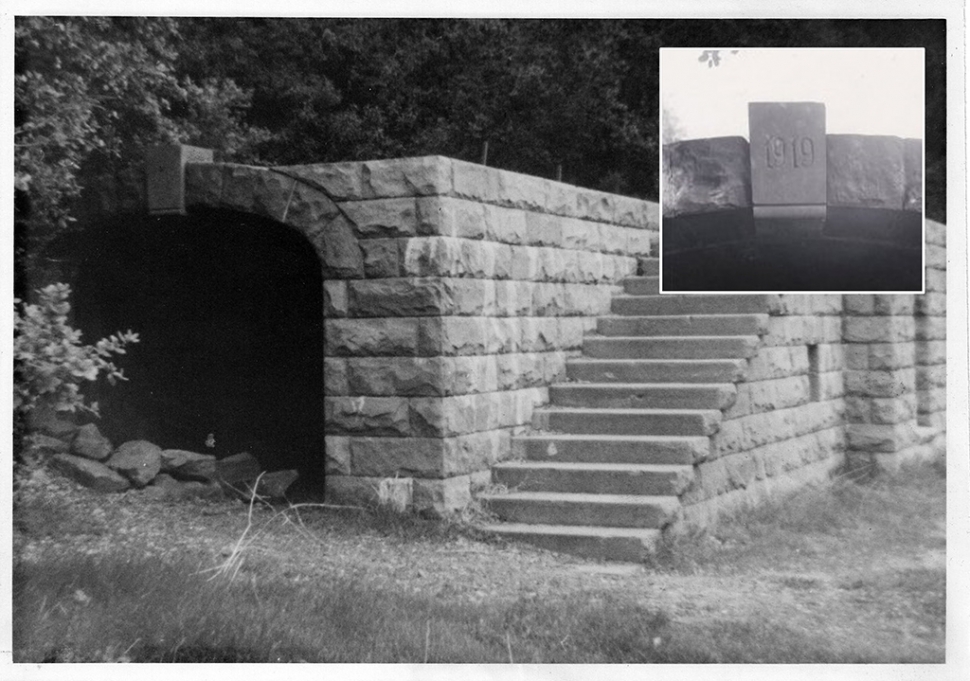 The foundation of what was to be the Henley Home with keystone showing circa 1919.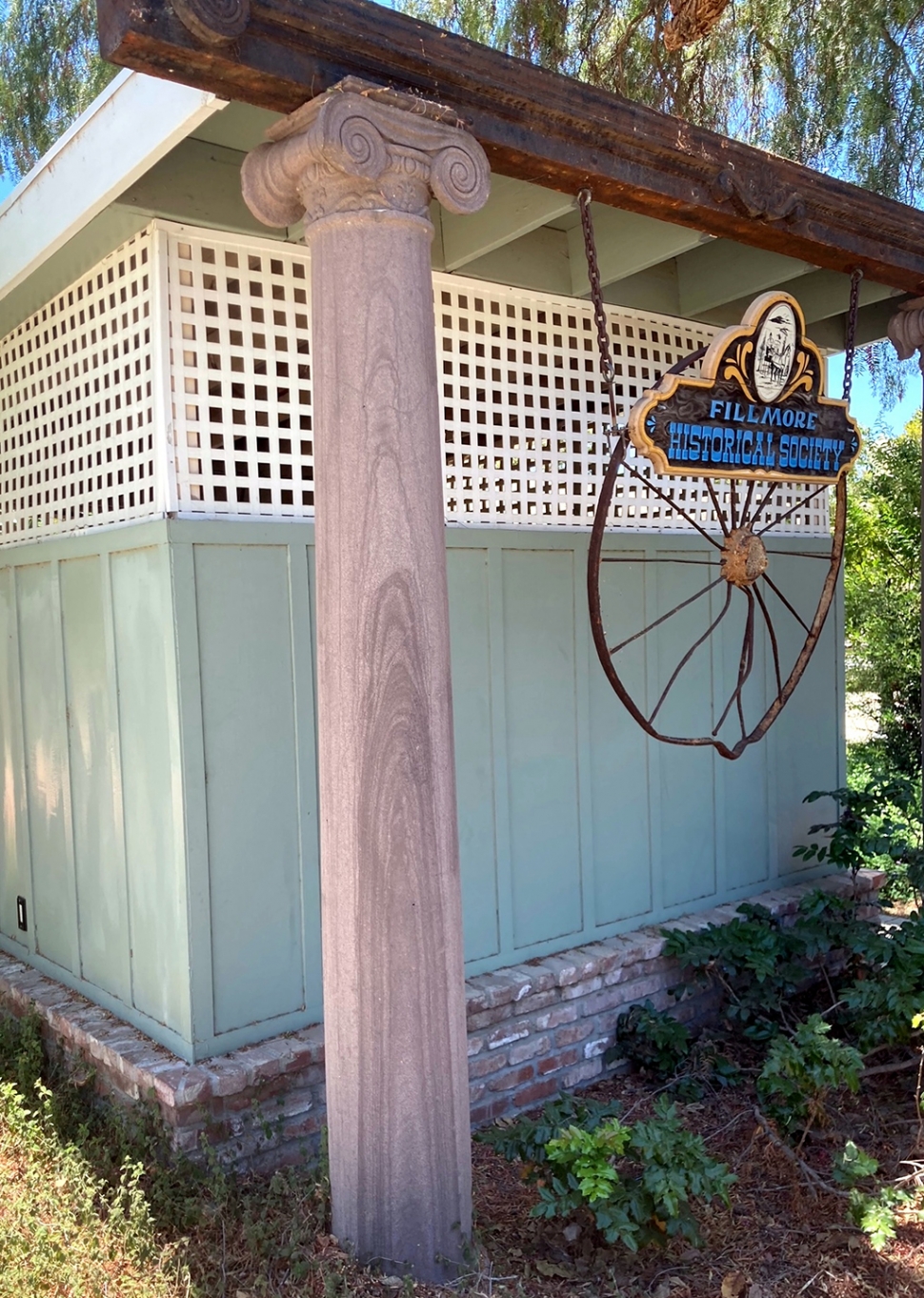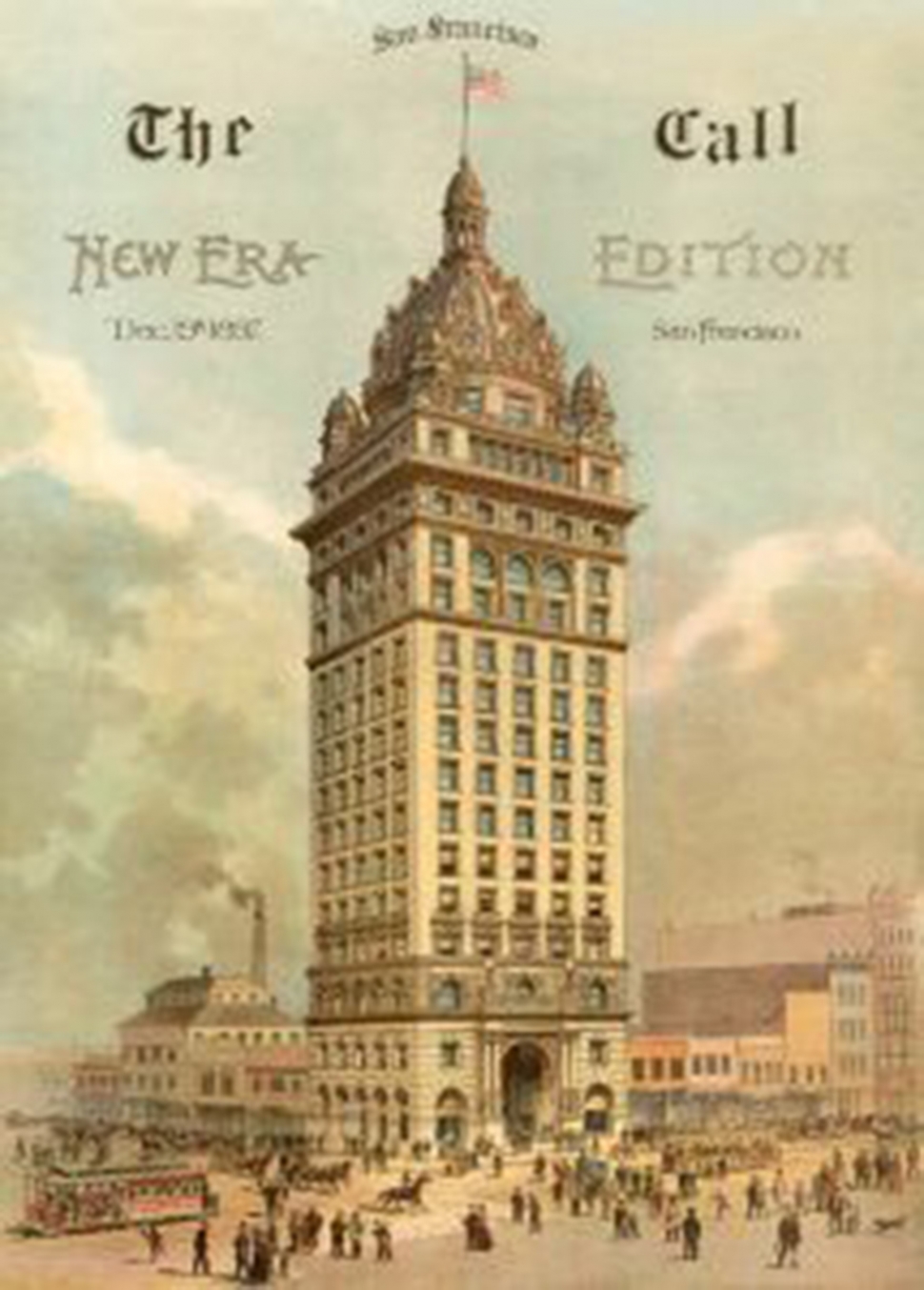 Cover of Call Newspaper Special Edition, December 1987, showing their new building.
Courtesy Fillmore Historical Museum
In the 1880s settlers were coming to the Santa Clara River Valley generally in search of one of two things – good land for agriculture or oil deposits. One man came to the Valley for something entirely different – rock.
George Henley was born in New Jersey in 1857. Although Henley's daughter, Clara, claimed her grandfather owned a stone quarry in New Jersey, it appears he was a quarry foreman. Either way, George and his brothers, Phillip and William, became interested in stone from an early age. He also had what his daughter called, "an itchy foot." Shortly after finishing his schooling he went to Cuba for a visit. Again, according to Clara, "he liked the sound of the language," so when he returned to New Jersey, he proceeded to learn Spanish.
Being conversant in Spanish would serve him well. For the next ten years he roamed the western United States and Mexico, generally working in mining. In a 1931 interview with Charles Jarrett, he recounted many adventures, from sitting in on the trial of Billy the Kid, to bringing in the desperadoes who had killed his mining partners, to acting as a young American's attorney in a trial in Juarez, Mexico.
In 1887, he was in Washington State when he received a letter from his brother, Phil, who had been contracting as a quarryman in the Los Angeles area. In it, Phil told of brownstone being found in Sespe canyon. When George arrived, there were two "quarries" working, one near the Kentuck oil lease and one just above the Sespe Land and Water Company dam. George Henley worked for a time as a foreman at one of these but soon, he and his brother, Phil, went into partnership to quarry and sell brownstone.
Despite the term "quarry", according to Clara Henley Turley, the property her father had that was to be the quarry was never used. (The area that would have been the quarry is now part of the condor preserve.) Instead, the large boulders which were in the Sespe Canyon were mined. It was not an easy task. To break the stone, a series of holes would be drilled in the rock and then wedges inserted. The wedges were then hammered into the rock breaking the stone. A hoist would then be used to load the cut stone onto a wagon which would then be hauled to the "Brownstone" stop on the train line. This was located approximately at the foot of what is now Grand Avenue.
The stone was shipped throughout the country but was mainly used on the west coast. Some of the buildings which used Sespe brownstone included the Call Newspaper Building in San Francisco, the Bradbury Building in Los Angeles, and the Methodist Episcopal Church (now Community Church at Holliston) in Pasadena. The Fillmore State Bank was faced with the stone and Greek style columns adorned the corner entrance of the Bank. The columns were preserved by Earl Campbell when the building was renovated in the 1930s. His daughter, Elizabeth Campbell Thomas, donated them to the Museum and they can be seen at the Historical Park on Main Street.
Brownstone was often used for memorial and cemetery monuments, many of which were carved by William Henley, the younger brother of George and Philip.
By 1912, the market for stone hit a slump. Concrete had been perfected as a building material and virtually killed the market for building stone.
George Henley had broad interests. His linguistic interests were not limited to learning Spanish after his trip to Cuba. He had learned German as a child as it was spoken at home, and according to his daughter, Clara, he also spoke some Portuguese. He is also known, along with Dr. Francis Bizzell, to have spent many hours over a two year period interviewing Candalaria Valenzuela and documenting the language of the Sespe band of Native Americans. Copies of their notes are in the archives of several museums including the Smithsonian.
Henley was very diverse in his business interests. Oil had been found in the Sespe and he tried his hand at that. He was not successful, finding artesian springs instead of oil. He did draw attention from one of his neighbors, Joe Dye. (For more information on Joe Dye, go to https://www.fillmorehistoricalmuseum.org/stories-2/joe-dye-and-sespe-oil) Dye had several oil leases in the area as well as interest in the brownstone. Henley related to Charles Jarrett that their disagreement stemmed from the payment of royalties for the stone used to build the Potomac block on Fort Street in Los Angeles. The dispute grew and came to a head as the two men met near the bank building on the northeast corner of Main and Central. Henley was armed with a 45 caliber revolver and Dye was also believed to be armed. The situation was defused when Dr James S. Crawford, a dentist who was also a partner with Dye on some of the leases, stepped between them and led Dye into a nearby saloon. The "Dye Problem" was solved for Henley when a few weeks later in May of 1891, Mason Bradfield killed Dye from ambush in Los Angeles. Bradfield was acquitted of Dye's murder but was convicted of attempted murder of Henley in 1916 and served time in San Quentin. (For more on the Bradfield/Henley "gun fight" go to https://www.fillmorehistoricalmuseum.org/stories-2/the-law-in-fillmore}
In 1920 Henley was one of the biggest honey shippers in the area. But with the demise of the market for brownstone, his main business was the fishing camp he established on the Sespe at Coldwater Flats. Fishermen would come from Los Angeles and other far-off places to try their hand at fishing on the Sespe. The limit at first was 50 fish, but later was decreased to 20.
One argument George Henley had with his wife, Malitta, was where to build the family home. When they first settled in Sespe Canyon, a small home was built on Cold Water Flat, and they later moved down the canyon, just below Pine Creek. They never built the fine home Malitta hoped for. George wanted to build near where their existing cabin was, and actually began construction. Malitta wanted the house built near the road, however, George thought that was too close to the Sespe and would be washed away. Neither "won" the argument. George got no further than the foundation of his home, but he was proven right about the site Malitta wanted. In 1938, the site she had chosen was washed away in by a flood.
Henley put a gate across the road up the Sespe and some accused him of establishing a tollgate. His daughter, Clara, insisted that this was not a tollgate but only people who were going to be staying on their property or parking their cars on the property were asked to pay. The camp was badly damaged in a fire in 1916 but continued on until the flood of 1938 completely destroyed it. By then Henley's wife had passed away and he moved into Fillmore and later in with his daughter in Compton where he died in 1953.