School Superintendent Search Draws Community Participation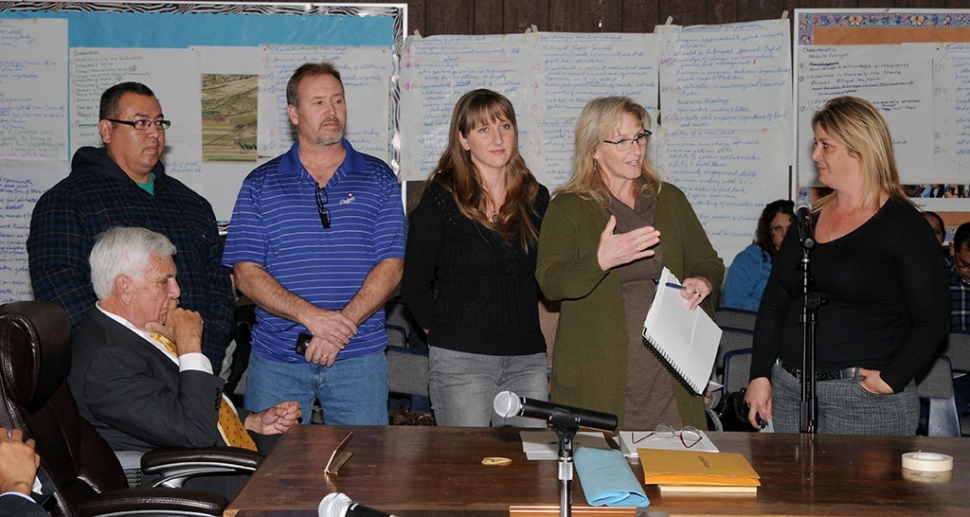 By Jean McLeod — Wednesday, January 29th, 2014
The Fillmore Unified School District (FUSD) held a special meeting last Tuesday to discuss what requirements the School Board is seeking in their new superintendent. The Costa Group, a company out of Fairfield California, has been hired to search for applicants that meet the needs of the District. Dr. George Bloch and Ken Noonan, representing The Costa Group, began meeting with parents, teacher and stakeholders last Wednesday asking what they were looking for in the next superintendent. The meeting was attended by approximately 60 throughout the approximately three hours of discussion.
A compiled prioritized list with three categories; Strengths of the District, Needs of the District, and the Desired characteristics of the new superintendent was handed out.
According to those Bloch and Noonan spoke with, the highest strengths of FUSD are: Sense of family (teachers, staff and parents) and they remain professional; Natural Habitat Grant-Program (River Basin Program); well-behaved kids; dedicated teaching staff-supportive of each other and the kids and many willing to go above and beyond what is expected; employees grew up together/tight community/ many went to FUSD and live in the community; staff looks out for best interest of students; parent volunteers are very strong.
Other priorities discussed regarding the district's needs are: raises salary/cost of living/step and column improvements to beginning and the end steps to attract and retain quality teachers; athletic fees collected at the high school need to be uniform and collected from all students playing a sport; improve communications with all including the community; establish trust and respect between administration and staff; a clear agenda and direction (vision) for the district; professional development for all staff; well designed and implemented plan with accountability for all systems in all areas; improved services for English Language Learners; improved morale; transparency related to budget; district spends money on administrators convenience rather than the student priorities.
The priority of characteristics in a new superintendent are: Enforce accountability among all staff; values professionalism of teachers and classified staff; is visible in community and schools regularly; person of integrity; approachable, makes a commitment to Fillmore and sees the strengths and builds upon them; experience in school finance, human resources and instruction; knowledgeable in current instructional issues such as current research and requirements; motivator, visionary and a passionate leader.
Noonan spoke of Piru's school employees feeling like a stepchild of the District and that when buses break down it is a problem for the Piru students to get to school. Also, that "...many asked for a superintendent that was bilingual, but felt more importantly than that is having someone who can get the job done."
The Board added that they want someone with teaching experience, preferably in both elementary and secondary education.
During the discussion Board Members often referred to the applicants as "he" and one person in attendance interjected "or she" but the Board did not hear the comment. When asked what percentage of applicants for superintendent are women Noonan and Bloch said, "As much as half." Board Members could only recall one female FUSD superintendent, Marlene David who worked at FUSD in the late 80's.
By this Friday, January 31st, the online brochure will be posted at www.thecoscagroup.com and March 7th is the deadline for application. During a closed session on March 18th the Board will review those applicants that meet the requirements and interviews will begin. By April 22, 2014 an applicant will be chosen.
During the Public Comments Danielle Quintana introduced the first ever Parent Teacher Organization (PTO) for Fillmore High School. Those introduced include Deborah Galarza, Mike Van De Mheen, Kelli Couse and Albert Mendez. Members not in attendance are Kelly Myers, Kathy Pace, Darren Galarza, Andrea Rodriquez and Autumn Ramirez. The PTO's goal is developing a dialog with students and staff regarding the needs and strength of the district. The group has had three meeting so far and in that time they have completed a mission statement, Facebook page, approved their bi-laws and pending nonprofit status with IRS and a schedule of regular meetings; first Wednesday of each month, Room 42, Fillmore High School.
Another person who addressed the Board was David Esquivez. He informed the Board of a problem with a plumbing fixture that is leaking on the school grounds and would like to see it fixed, adding that the water leaking is a safety hazard. He stated that he had mentioned this to Superintendent Alan Nishino back in July, but so far nothing has been done.