Santa Paula Police Officer Kimberly Hemminger dies in car accident
By Santa Paula Police Department — Monday, July 23rd, 2012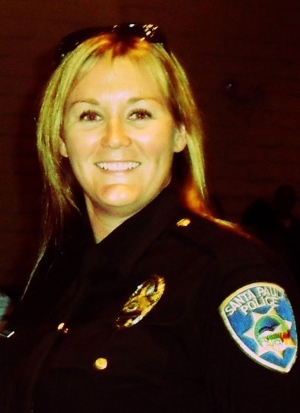 Santa Paula Police Officer Kimberly Hemminger
This morning the Santa Paula Police Department was saddened by news of the death of Police Officer Kimberly Hemminger. Officer Hemminger was tragically killed when the car she was riding in spun and rolled over on South Mountain Lookout Road at 9:15 p.m. on Sunday night. The driver of the car, Christopher Blankenship, age 44, suffered minor injuries in the single-car accident. According to officers from the California Highway Patrol, Mr. Blankenship lost control of the car when approaching a curve on the winding road. Ms. Hemminger was partially ejected and pinned under the car. She was pronounced dead at the scene. The other passengers in the car, Tonia Allen 38, of Camarillo and Cynthia Juarez, 19, of Santa Paula, also suffered minor injuries in the accident.
Mr. Blankenship was arrested on suspicion of driving under the influence of alcohol and vehicular manslaughter. Mr. Blankenship, a reserve Officer with Santa Paula Police Department, was placed on administrative leave. The California Highway Patrol investigation is ongoing.
Officer Hemminger was a five-year veteran of the Department and a member of the Department's mounted unit. During her time with the Department Officer Hemminger received several commendations and was well-liked by her fellow officers.
Our thoughts go out to Officer Hemminger's family and friends.