Santa Paula Hospital $9M in the Red
By Gazette Staff Writer — Wednesday, June 12th, 2019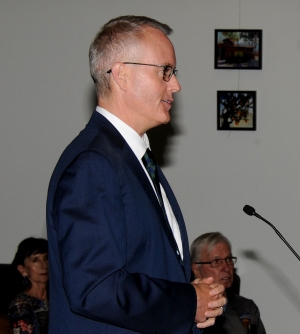 At last night's city council meeting William Foley, Director of Ventura County Health Care Agency, spoke concerning the assistance needed to continue operations of Santa Paula Hospital, and its importance to the communities of Fillmore, Santa Paula, and Piru.
Councilmembers Manuel Minjares and Mark Austin were appointed to serve on the Santa Paula Hospital Steering Committee.
A presentation was given to Council by William Foley, Ventura County Health Care Agency (VCHCA) Director, concerning assistance needed to continue operations of the Santa Paula Hospital.
Several Fillmore residents spoke to the Council concerning the importance of the Santa Paula Hospital. The Hospital was said to be running $9 million in the red this past year. It is recognized as a critically important medical facility for Fillmore, Piru, and Santa Paula.
Council approved the award of contract to Toro Enterprises, Inc. for the construction of the Neighborhood Street Resurfacing and Sidewalk, Curb and Gutter Repair Spec No. 18-04 as reduced to eliminate slurry seal work by deleting bid item nos. 9 and 10.
City Council amended the existing three-year contract to expire on June 30, 2020, to increase the not-to-exceed amount of $2,460,000 to Willdan Engineering, Inc. for City Engineering Services, as an alternative to the staff recommendation.
Council agreed to receive the proposed addition of the Small Wireless Facility fees to the Schedule of Fees and Charges for City Services; Conduct a public hearing and obtain public comments concerning the proposed new SWF fees to the Schedule of Fees and Charges for City Services. After receiving public comments, close the Public Hearing and commence City Council discussions; and Adopt City Council Resolution 19-3723 to approve the new SWF fees to be added to Exhibit E of the Schedule of Fees and Charges for City Services.
8-E PUBLIC HEARING: RECOMMENDATIONS TO CITY COUNCIL
TO ADOPT AND APPROVE: 1) INITIAL STUDY/MITIGATED NEGATIVE
DECLARATION, GENERAL PLAN AMENDMENT, ZONE CHANGE, ALLEYWAY
VACATION, LOT MERGER AND LOT LINE ADJUSTMENT, DENSITY BONUS, AND
DEVELOPMENT PERMIT FOR THE DEVELOPMENT OF 77 AFFORDABLE
WORKFORCE HOUSING UNITS AT THE NORTHEAST CORNER OF MOUNTAIN
VIEW STREET AND HWY 126 AND LAND USE AND 2) CITY-REQUESTED ZONING
RE-DESIGNATIONS FOR ADJACENT PROPERTIES were approved.
8-F The first reading to introduce Ordinance 19-912 amending and adding FMC sections under Chapter 15.25 regarding graffiti enforcement and cost recovery and finding of exemption from CEQA was completed.
8-G City Council approved a request to increase the budget to provide interpretation services at City Council meetings. The increased cost, to the original $4,200, is $3,300.
8-H Council approved Ventura County Animal Services contract.
8-I Council approved the amendment to the contract with Kimley Horn and authorized Mayor Diane McCall to sign this contract.