Santa Clara Valley Post Explorers graduation class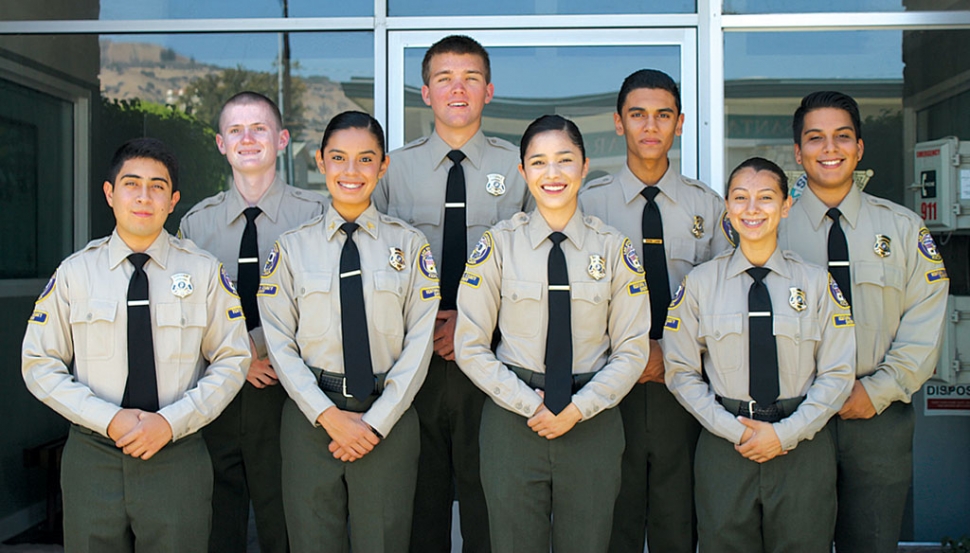 (l-r) (back row) Matthew Hammond, Nicholas Bartels, Jovanny Herrera, Lauro Medrano, (front Row) Isaiah Galvez, Isis Garibay, Danielle Ramirez, Demily Amezcua.
By Gazette Staff Writer — Wednesday, August 13th, 2014
On August 1, at the Ventura County Criminal Justive Training Center, eight Santa Clara Valley Post Explorers graduated from the Ventura County Law Enforcement Explorer Academy. The Academy graduated 47 young adults and teenagers representing the Ventura County Sheriff's Office, Simi Valley Police Department, and the Santa Paula Police Department. The Santa Clara Valley Post was represented by Explorers Demily Amezcua, Nicholas Bartels, Isis Garibay, Isaiah Galvez, Matthew Hammond, Jovanny Herrera, and Lauro Medrano
The Santa Clara Valley Post was honored in winning multiple awards by it's explorer graduates. Explorer Isis Garibay was appointed Class Sergeant, Explorer Matthew Bartels received the Class Spirit Award, and Explorer Demily Amuezcua received the Female Physical Fitness Award.
The Ventura County Sheriff's Office provides a Law Enforcement Explorer program to educate and involve the youth of the community in police operations and interest them in law enforcement functions whether they aspire to enter police work or not. The Explorer program establishes an awareness of the complexities of police services and broadens an Explorer's firsthand knowledge of the challenges and job skills that make up our communities' police services.
Law Enforcement Exploring is an exciting way for young men and women, ages 14 (8th Grade completed) to 21, to explore the dynamic field of law enforcement. As an Explorer, they will have the opportunity to participate in, patrol ride-alongs, Law Enforcement Explorer Competitions, station operations, and assist with community events
Explorers attend a three-week, 120-hour academy designed exclusively for Explorers. The course is usually scheduled during the summer. The Academy stresses the value of ethics, community service, and self-confidence, pillars in Law Enforcement.
Prepared by: Deputy E. Hernandez #4533