Rigo Landeros, a Man of Many Hats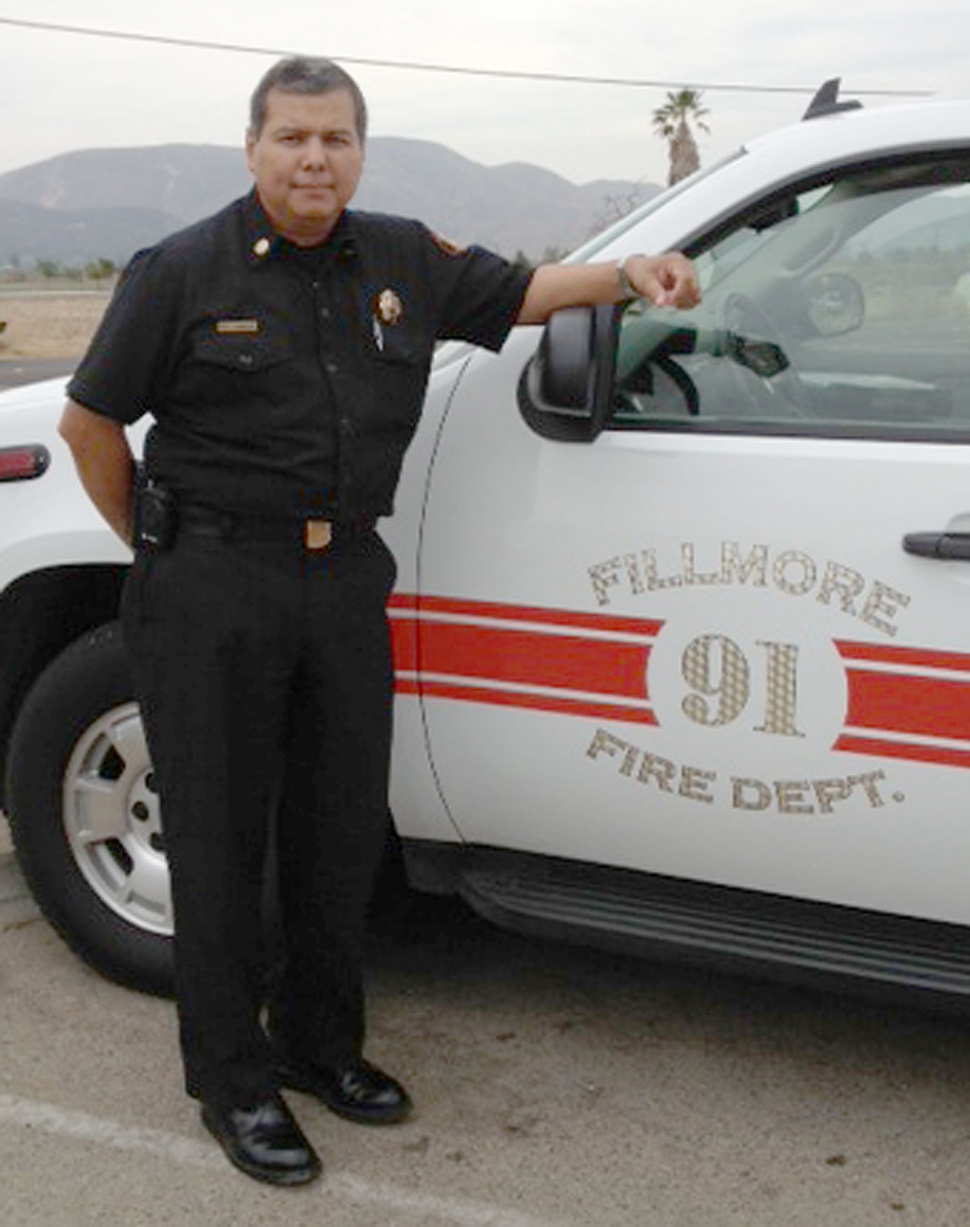 Fire Chief and Interim City Manager Rigo Landeros
By Dick Diaz — Wednesday, July 17th, 2013
There are many "Only in Fillmore" and "Hometown boy makes good" stories to recount, but the one about Fillmore's own Rigo Landeros deserves mention in both those categories! If I didn't live in Fillmore and personally know Rigo for over 20 years I would be suspicious myself that in today's environment anyone would be asked to do what he was asked to do; or that he could accomplish what he did these past 11 months as interim city manager. But to really understand how this happened, and how it actually worked, you really have to know a little background about Rigo, Fillmore's Fire Chief.
Except for being born in Ventura, Reguberto "Rigo" Landeros, 49 years old has lived all his life in his hometown of Fillmore. He has been educated in Fillmore Unified School District Schools; San Cayetano and Sespe Elementary Schools, Fillmore Junior High School (now Fillmore Middle School) and he graduated from Fillmore High School in 1982.
Rigo is the son of Nicholas and the late (2001) Gabriela Landeros of Fillmore. Rigo's father was a hard working family man who toiled in the orange orchards until age 70 as a laborer. Rigo is the youngest of six Landeros children; Brothers Nick 59 years of Ventura, Frannie, 56 years of Fillmore, Chris, 54 years of Fillmore and sisters Abbagail, 58 years of Pearblossom, CA, Annaberta, 52 years of Fort Wayne, Indiana and Josie, 51 years of Lancaster, CA. His father-In-Law Tom and mother-In-Law Jan Petersen also live in Fillmore.
Rigo is married to his wife of 25 years, Laura (Petersen), and together they have three children; daughter Christina Bingham, 28 years (husband Elden), living in Fillmore with Granddaughters Gabriella, 5 years and Mea, 1 month. Christina is a Chef for Garmin's Restaurant and Irish Pub in Santa Paula and Elden is employed by Gelson's Markets in the City of Commerce. Sons Daniel, 23 years of Port Hueneme is employed as a Grocery Clerk for Whole Foods in Oxnard and David, 21 years of Fillmore, who broke tradition, is a welder in Oxnard.
There are four qualities I have learned about Rigo over the years; he has fierce a love for his family, especially for his wife Laura. I have also known that he is a very hard worker and a dedicated and loyal friend and employee of the two employers I have known him to work for; Gelson's Markets and the City of Fillmore. And lastly Rigo has difficulty saying "no" to a friend, or to a good cause!
It is important to know Rigo's employment history prior to his employment with the City of Fillmore to understand how he could work under the stressful, and sometime adverse conditions that existed when he stepped up to to sit as the acting City Manager nearly one-year ago
While still a teenager, Rigo began his career in the grocery business at the age of 14 as a means to change the direction his father had him heading. With six children to feed the Landeros Family needed everyone to chip in and contribute to the wealth of the family. As a result all were required to work in the orange orchards picking fruit and giving back their wages to help support the household. Rigo tells me he hated working in the orchards and one day while walking down Central Avenue in Fillmore he wandered into Austin's Market (formerly Segovia's and today Estrella Market), located at the corner of Main and Central and asked the owner Bill Austin for a job. Impressed with young Rigo he was hired on the spot to sweep the sawdust from the floors (sawdust was used at that time in and around the meat counters), clean the meat cutting equipment and some other general custodial duties. It was at this time he learned about customer service and developed his interest in meat cutting. Although the new job removed him from farm labor, he still was required to assist with the finances of the family, a concept that Rigo embraced.
Rigo worked at Austin's Market until about 1984 when he was hired at the Green Acres Market in Simi Valley. It was there he began a four-year apprenticeship in meat cutting. Rigo left Green Acres Market for a position at Gelson's Markets in 1988 as a meat cutter and worked for Gelson's Markets until 2009. Gelson's Market is a chain of 18 markets stretching from the Orange County city of Dana Point to Santa Barbara to the north. Gelson's Markets are known for their high quality Produce and Meat Departments as well as high quality take-home foods prepared on their premises. Gelson's Markets and their employees are known for their gusto, can-do spirit and love of the customer. Those company traits clearly speak to Rigo's passion towards life and work, and define who Rigo is.
Throughout his tenure with Gelson's, Rigo progressively moved up the corporate ladder. He held positions as; assistant manager, then manager of the meat department. He was then placed as the supervisor of the meat departments of all of Gelson's 18 stores which eventually led him, because of his expertise, to Human Resources where he was responsible for the hiring of meat cutters for the chain. Not one to go unnoticed for his hard work and dedication Gelson's Markets again tapped Rigo to be their buyer for Gelson's meats, gourmet cheese and service deli. As their Director of Meat and Deli, Rigo traveled the world negotiating contracts with foreign processors of meat and imported cheese. In addition he was responsible for insuring the processors met the standards of the USDA (United States Department of Agriculture) before allowing their products to be sold in Gelson's Markets.
So how does someone working in the hierarchy of a successful grocery store chain, earning a six figure salary, find himself leaving that security and taking a position within the City of Fillmore as their Fire Chief? Well it began back about the same time Rigo decided he no longer wanted to work as a farm laborer and happened into Austin's Market. Rigo always had it in the back of his mind that he wanted to some day become a firefighter. That thought became a passion and may have started with his childhood relationship with the then Fillmore Fire Chief and neighbor Oscar Lefever. Chief Lafever was somewhat of a mentor in and around Rigo's neighborhood on Foothill and Central Avenue. In 1982 he became a Ventura County Fire Department Reserve Firefighter after completing their Fire Academy. He stayed there until 1994 when he moved to the all Volunteer Fillmore Fire Department as a volunteer firefighter and rose through the ranks as an Engineer, Captain, Assistant Chief and in 2009 he left Gelson's Markets to accept the position as Fillmore Fire Chief. Rigo told me because of his passion to become a firefighter he always held that dream close, but while at Gelson's Markets he lost sight of that passion as he worked hard within the system. Becoming the Fire Chief for the City of Fillmore rekindled that passion and met his goals as a professional firefighter.
So how does someone working in the hierarchy of a successful grocery store chain, earning a six figure salary, find himself leaving that security and taking a position within the City of Fillmore as their Fire Chief? The answer was not easy for Rigo and it was complicated. I know this personally because over the years Rigo and I have talked about the dilemma of following his passion for firefighting, or continuing to thrive at Gelson's Markets. And, I know it was a huge decision for him, and for Laura, when Rigo was presented with the opportunity to lead the Fillmore Fire Department. This would be a decision that would seriously challenge his financial ability to support his family at a time when his family's needs were increasing. It was here that Rigo told me, "Laura was the driving force for me. Laura has defined who I am today. She has always sat on the sidelines supporting me. I always knew I could do better in my life and make my parents proud of me. Laura helped me do that. But, I do apologize to her for putting her, and my family through the stress." Rigo told me you have to have a passion for what you do. Rigo does and Laura saw and supported his passion.
Those of us living in and around the City of Fillmore are very aware of how contentious politics in Fillmore had been over recent years. When you combine that with a shrinking budget, loss of revenue sources and a pending lawsuit from a previously released fire chief, a perfect storm was about to hit Fillmore City Hall. Over time two city managers and a interim city manager came and went. A number of key department heads and employees left the City either because of budget cuts, or because of the inability of city leaders to work with their department heads, or act within the best interest of the citizens they were elected to serve. One-by-one those elected officials left office, or were voted out of office, and in 2011 Rigo found himself serving as the Fire Chief/Acting Public Works Director. This occurred after long-time Public Works Director Bert Rapp left for calmer waters and a job closer to his home in Ojai. Then in August of 2012 Yvonne Quiring, then the embattled City Manager, left her position virtually overnight, and Rigo was asked to serve as the Acting City Manager until a replacement could be found. He accepted the challenge. But, he was asked to continue to serve as the City Fire Chief and Acting Public Works Director concurrently with his now Acting City Manager duties.
If you have been following all of this Rigo was now serving as the Acting City Manager, sitting Fire Chief and Acting Public Works Director of a city functioning with half of its employees due to budget cutbacks to balance the budget, and the loss of critical department heads who left because they no longer felt supported by the elected officials, or did not feel secure in their employment tenure.
So how did Rigo find himself as the "Go-to Guy" for this rudderless ship sailing into the perfect storm? Some reasons are his extensive and highly successful corporate background, as well as an earned strong reputation for being someone who was loyal and willing to work hard. The City Council knew they had someone right in front of them who would give it his best to do it right, or die trying! They knew Rigo loved his hometown and would not fail.
There was also another reason. Rigo is also well known for not being able to say 'no' to anyone, or to any challenge if Rigo believes in the cause. There is not a service club or youth group that has not asked Rigo for donations of Tri-Tip from Gelson's Markets, or asked him to provide the chef services for cooking the BBQ. I know that once Rigo has committed he will deliver. Many times when he was unable to make the connection for the donated Tri-Tip, he would quietly pay for the Tri-Tip out of his own pocket and donate it so as not to disappoint those hosting the fundraiser. This would hold true for a fundraiser for the soon to be newly elected Sheriff, any 4-H, or FFA event, or even the funeral services for a friend's mother. Everyone knew Rigo could always be counted on and that is what the City of Fillmore needed.
As to how he was successful in keeping things afloat Rigo told me, "I was blessed to have the trust of the City Council. I also had the help of the City Staff to move the City forward. I was able to organize the people around me to help me succeed. All of the City Staff helped me get through it. Former Fire Chief'(s) Pat Askren and Bill Herrera did the ground work for the Fire Department so that all I had to do was continue what they had started. With a functioning Fillmore Fire Department, I could then concentrate on my Acting Public Works Director/City Manager duties."
Rigo has affiliations in many areas of service; he was a former Fillmore Lions Club member, he is the current sitting president of the Rotary Club of Fillmore, many years of involvement with local 4-H and FFA, previous member of the Board of Directors for the City of Hope/Grocery Industry Representative, coached Little League and Youth Basketball, past Board Member of the Santa Clara Valley Wellness Foundation and past President of the 500 member California Dairy/Deli/Bakery Association. All of which has help prepare him for the challenges he has endured over the past 11 months.
As our conversation for this article was approaching a close, I commented to Rigo, that like President Obama, Rigo's hair has grown conspicuously gray almost overnight. Rigo, without comment, smiled as he looked into the side view mirror of his Fire Chief SUV, and ran his fingers through his graying hair. As he put his SUV into reverse I said to him, "I love you man!" And Rigo responded , "I love you too!"
As one member of the broad Fillmore Area Community I know I speak for many of the people living in and around Fillmore when I say thank you Rigo, and Laura, for the sacrifices they have made over the past 11 months. Those sacrifices have brought the City of Fillmore to the point where a new City Manager, Mr. David Wayne Rowlands, can confidently take the helm. I know Rigo will be there to help Mr. Rowlands succeed. Thank you Rigo for a job well done!