Richard Stephens, Fillmore Pioneer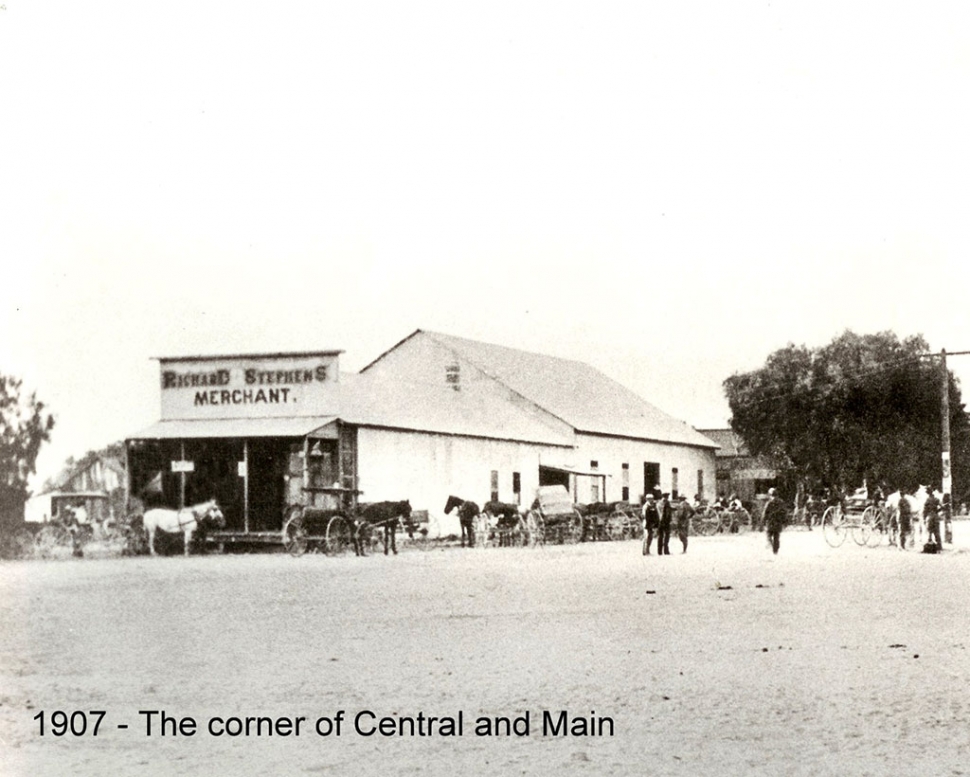 Stephens Store about 1907 with "Stephens' Hall" in the background.
By Gazette Staff Writer — Wednesday, October 14th, 2020
Part 1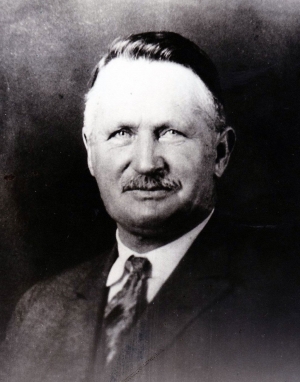 Richard Stephens about 1912.
Photos and story courtesy Fillmore Historical Museum
From "The History of Stephens' Store" by Ellen M. Finley, July 1988
The northwest corner of Main and Central, now the location of the new Segovia's Fillmore Market (2020 - Estrella's), is one of Fillmore's most historic sites.
Before the city was recorded in Ventura in 1888, one of the oldest of its few buildings stood on this corner, a large two-story rooming house operated by E. Bailey Turner. Since Turner was Fillmore's first postmaster his building also housed the first post office, a front bedroom in the rooming house.
By 1898, Turner's two-story building had been replaced by a one-story tin structure where Richard Stephens operated a general merchandise store. He soon purchased the entire corner property and in 1910 constructed a new building which still stands. Since that time, a period of 78 years, this building has been in continuous operation as a general store or a combination grocery and meat market.
Richard Stephens was one of Fillmore's leading pioneers and an outstanding citizen. Born in Glasgow, Scotland on August 31, 1870, he left his native land in his early 20's. After a year on a ranch near Hollywood, he came to Fillmore on April 6, 1895. His first job was that of a clerk in the general merchandise store of a fellow countryman, James Duncan, who conducted business at the northeast corner of Main and Central in the store built by C. C. Elkins in 1888. Popular with customers from the start Stephens soon acquired an interest in the business, becoming a partner in 1898. When Duncan died on November 17 of that year, Stephens became sole owner of the business. He was also appointed Fillmore's sixth postmaster, ironically on the same day that Duncan died.
About this time, C. C. Elkins sold his store to C. A. Harmonson (2020 note – C. A.'s name was either Columbus Arizona or Columbus Augustus, little wonder he went by his initials). Duncan and Stephens moved across the street to the northwest corner, taking the post office with them. After Duncan's death, the store was known as "Richard Stephens – The Post Office Store." Just north on Central Avenue there was a large packing house. Stephens had long recognized that Fillmore needed a hall in which to hold meetings and entertainment, so he took over the packing house in the evenings. Stephens' Hall, as it became to be called, used rows of packing boxes as seats. There was a stage about three feet high with a corner walled off at each side for dressing rooms. One popular early-day entertainer was Charles Heatherly who gave serious, humorous, and dialect recitations, with music by Arthur Sallee, pianist. Admission was 25 cents, with children 15 cents and reserved seats 35 cents. Dances were held frequently on Saturday nights – admission $1. When a traveling theatrical company came from a one-night stand in Santa Paul, the Fillmore Herald declared with obvious sincerity: "Fillmore is becoming more like New York City every day."
To be continued……