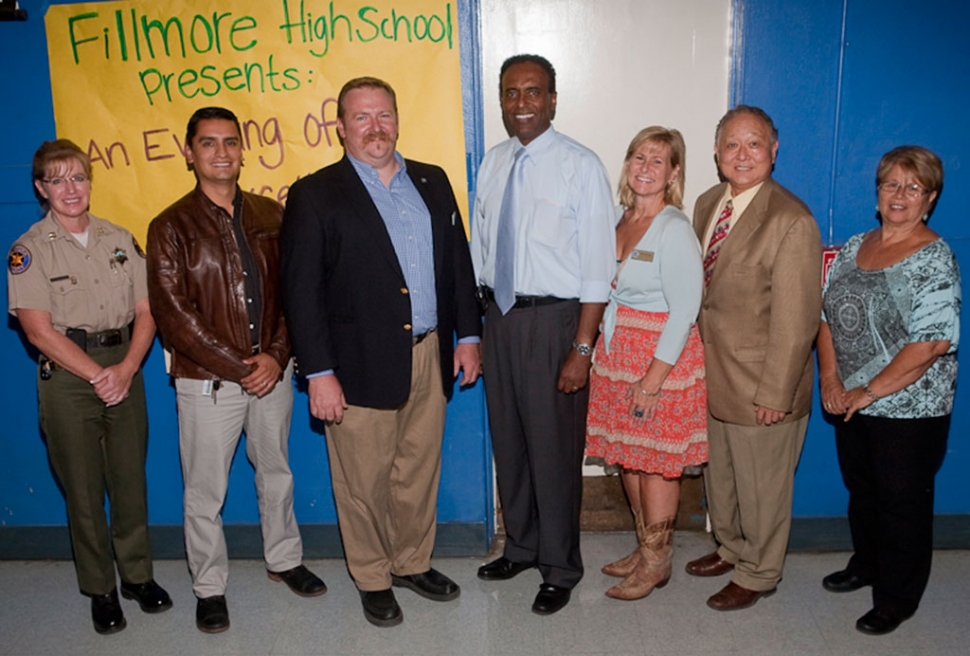 Local citizens who attended the Renaissance Awards Night were (l-r) Chief of Police Monica McGrath, Mayor Pro Tem Manuel Minjares, Mayor Rick Neal, Principal Russon Mesfun, Councilmember Diane McCall, Superintendent Dr. Alan Nishino, and School Board Member Lucy Rangel. Photo by KSSP Photographic Studio.
By Gazette Staff Writer — Wednesday, September 18th, 2013
A Celebration of Excellence
Fillmore High School recognized its academically distinguished students during Renaissance Awards Night on Wednesday. Students who earned 3.5 GPA and above received Certificates of Achievement during an event attended by various local leaders including Chief of Police Monica McGrath, Mayor Rick Neal, Mayor Pro Tem Luis Minjares, Councilmember Diane McCall, Superintendent Dr. Alan Nishino, and School Board Member Lucy Rangel.
Prior to the ceremony, honoree students were interviewed on what it took to be successful in the classroom.
"I do my homework and I try to do my best. I do my absolute best in every classroom. Academics are important in my household. I have my parents' support," said Citlali Erazo.
Kiana Hope added: "I try to make sure that if I don't grasp something in class, I go back to learn what I didn't get. I do my homework. I pay attention to what the teachers are saying; it's important to listen to the teachers –to what they are saying. Academics are very important in my household."
Anthony Larin, another student scholar at FHS, was blunt: "I have goals. School is a stepping stone for long term goals you have in the future. After high School, I would like to go to university. I take things I learn in school and incorporate it in everyday things –popular culture, self-study".
Asked how they maintained their focus to stay motivated, Erazo said that she puts her phone on "airplane mode" in order to turn off all distractions. Hope quickly jumped into the conversation and proudly added that she, too, puts her phone on airplane mode. "I found out about airplane mode because I was trying to save the battery, and now I do everything on airplane mode."
In a reply to a question on what techniques the students used to master learning, Hope stated, "I know that I have to be successful here so that I can be successful in the future. If I don't get something, I go to the internet, like U-tube for tutorials and Khanacademy.org. There is nothing stopping you from doing well. There are many resources out there that there are no excuses for failing."
Martin Ceja, a student scholar in his own right, earning a GPA of 4.5, had this to say: "My family never really pushed me to work hard. This was not good enough for me. I push myself. I try my hardest. If I don't understand something, I try to get help. I take the initiative. As far as focus, the way my mom raised us –she was very strict. The Spanish culture, we are respectful with our elders. When I do homework, it's very quiet. I may not be the coolest person. I don't care; I'm here to get to college. I consider myself of average intelligence, --others see me as smart".