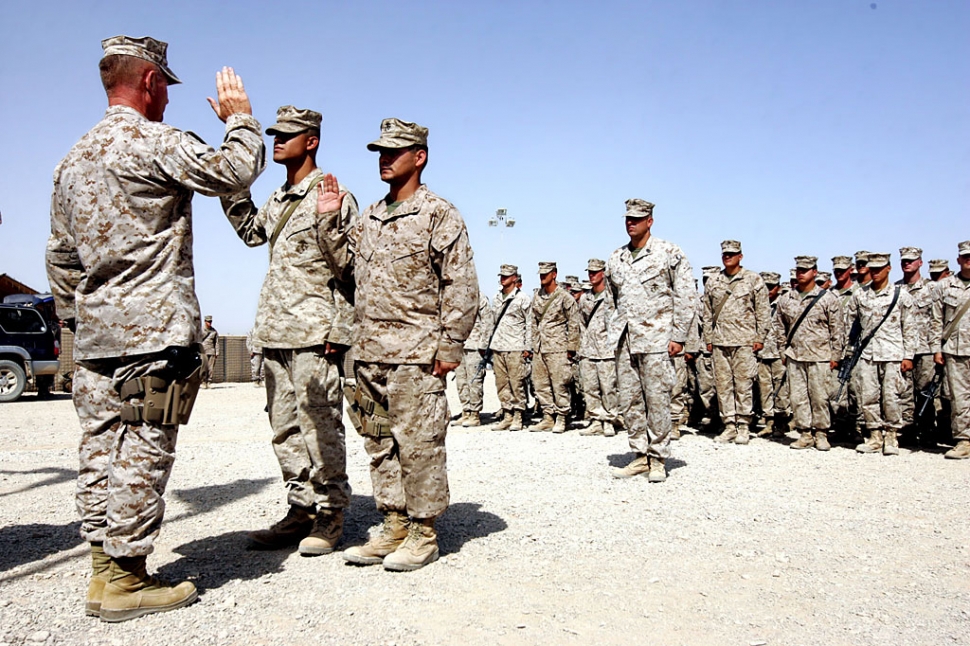 Lieutenant Gen. Samuel T. Helland, Commander of Marine Corps Forces Central Command, administers the oath of enlistment to Cpls. Ray Alvarado-Ponce of Fillmore, Calif., and Ramiro Novoa of Coachella, Calif., who were combat meritoriously promoted to their current ranks at Camp Barber, Aug. 31. (Official U.S. Marine Corps photo by Cpl. Ray Lewis)
By Dick Diaz — Wednesday, September 24th, 2008
Update: Corporal Ray Alvarado-Ponce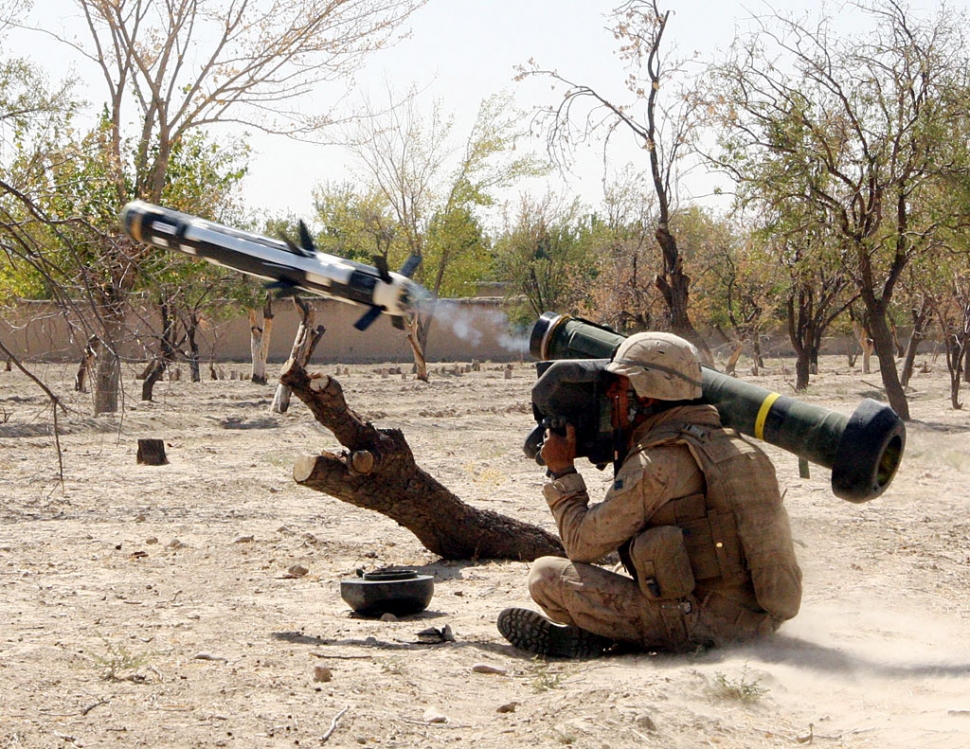 Corporal Ray Alvarado, a vehicle commander assigned to Weapons Company, Task Force 2nd Battalion, 7th Marine Regiment, 1st Marine Division, and a Fillmore, Calif., native, fires a Javelin missile at enemy targets during an assault on a Taliban-held compound August 28, 2008.
The other day, I received a phone call from the stepfather of United States Marine Corps Corporal Ray Alvarado-Ponce, Fred Ponce, that his son had been combat meritoriously promoted to his current rank at Camp Barber, Afghanistan on August 31, 2008. As you may recall back in April of this year I had a phone conversation with the then 20 year old United States Marine Corps Lance Corporal Ray Alvarado-Ponce as I was preparing an article about his deployment to Afghanistan. Then Lance Corporal Alvarado-Ponce was about to leave his family, in about four hours after we would hang up the phone, to return to the Marine Corps Air Ground Combat Center Twenty-Nine Palms located near 29 Palms, California for preparations to leave for his second tour to the Middle East.
Corporal Ray Alvarado-Ponce is assigned to a reinforced infantry battalion of approximately 1,000 Marines and sailors, 2/7 deployed from the Marine Air Ground Combat Training Center at Twenty-Nine Palms, to Afghanistan in early April to support Operation Enduring Freedom. The battalion, now considered a task force, is supported by various attachments to include soldiers, airmen, National Guardsmen and civilian contractors who specialize in police operations. The Marine unit is currently conducting full spectrum and counterinsurgency operations with a focus on police mentoring of the Afghan National Police.
Since his promotion was a combat meritorious promotion he was promoted, along with another Marine, by Lieutenant General Samuel T. Helland is a three-star general who is dual-hatted as the commander of Marine Corps Forces Central Command and commanding general of I Marine Expeditionary Force. Lieutenant General Helland has made a second trip to Afghanistan's Helmand Province to visit Task Force 2d Battalion, 7th Marine Regiment, 1st Marine Division, part of Combined Joint Task Force Phoenix.
Corporal Ray Alvarado-Ponce had already served in Iraq from January 28, 2007 to August 24, 2007 with the 2nd Battalion 7th Marines Weapons Company (2-7 Weapons Company) near Fallujah, Iraq. It was on his first tour to Iraq that he was wounded by shrapnel from a 2,000 pound "suicide vehicle borne Improvised Explosive Device" while he manned a .50 caliber machine gun on a Humvee as a "Turret Gunner". He deployed for the second time on Friday, April 4, 2008.
United States Marine Corps Corporal Ray Alvarado-Ponce is a 2005 graduate of Fillmore High School where he participated in football and track. He also attended San Cayetano and Sespe Elementary Schools and Fillmore Middle School before enlisting in the United States Marine Corps on September 12, 2005. Ray is the son of Murillo Alvarado of Texas and Isabelle Diaz of Santa Paula. He is the stepson of Fred Ponce and Yvonne Sandoval of Fillmore and Sam Diaz of Santa Paula. His siblings include; Romie 29, Freddie 24, Joseph 18, Niko Diaz 5, step-siblings Milo Diaz 21, Tashina Diaz 17, Susie Sandoval 24, Veronica Sandoval 17 and Antelmo Sandoval 15. Lance Corporal Alvarado-Ponce's Maternal Grandmother Terry Marquez lives in Fillmore and his Paternal Grandparents Raymond and Alma Ponce live in Piru.
Corporal Alvarado-Ponce has earned; a Purple Heart Medal; the Global War on Terrorism Medal; National Defense Ribbon; Iraqi Campaign Medal and the Combat Action Ribbon. As a "Turret Gunner" on a Humvee he is constantly exposed to danger as his unit patrols within the combat area.
I think of Corporal Ray Alvarado-Ponce often, not only because I know him, his parents and his siblings, but because he has already given so much. I hope that all of us think of each of these young men and women from our community and appreciate the sacrifices they and their families are making for us. I know all of us here at home are proud of his promotion to Corporal and wish Corporal Ray Alvarado-Ponce safe travel and look forward to his return home.
As you may have noticed also I have not been getting the phone calls, as I did initially, from the families of the young men and women of this community regarding their family members serving in the military. I believe, based on the comments I get from people that comment on the articles; "I wondered whatever happened to him/her and I am so proud of his/her service." The community does care about their service and your sacrifices so please give me a call and I will be happy to put their story in the Fillmore Gazette. I am also looking for updates on our military service men and women and will be glad to tell everyone how they are doing.