Reckless Driver Call Ends with Non-Injury Traffic Collision, DUI Arrest
On December 21st a traffic collision was reported on Highway 126 near E Street in Fillmore. A white SUV veered off the road through some bushes, took out the Jim's Fillmore Towing sign and struck a parked Nissan Sentra. Upon later investigation the driver was arrested for driving under the influence.
By Ventura County Sheriff Department — Wednesday, December 30th, 2020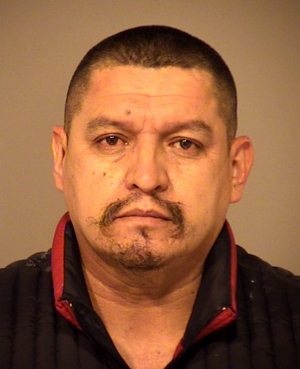 Javier Almaraz, 49, Santa Paula.
On December 21, 2020, deputies assigned to the Fillmore Police Department responded to a traffic collision in the vicinity of Ventura and E Streets in Fillmore. Their investigation determined (S) Javier Almaraz had been driving while under the influence of alcohol and had collided with an Edison power pole; street, speed limit, and business signs; landscaping; a parked, unoccupied car; and a chain link fence. He was subsequently arrested for driving under the influence of alcohol.
Shortly before 9:00 PM Monday night, a witness called 9-1-1 to report a reckless driver on Highway 126. Before Fillmore deputies could find the vehicle, however, it was involved in a collision at Ventura and E Streets.
The investigation determined the driver, (S) Javier Almaraz, had originally been seen swerving in and out of his lane while westbound on Highway 126 from the Ventura/Los Angeles County line. Almaraz was reported to have driven on the wrong side of the four-lane highway and run a red light at B Street, as well.
Almaraz was found to have been driving with a blood alcohol content (BAC) of more than twice the legal limit of .08%. Almaraz, who was uninjured in the collision, was subsequently arrested for § 23152(a) and (b) of the California Vehicle Code, both misdemeanor DUI charges, and booked at the Pre-Trial Detention Facility with a bail of $5,000.
In an effort to prevent traffic collisions, the Fillmore Police Department recently received a grant from the California Office of Traffic Safety and is utilizing these funds to actively seek and arrest motorists driving under the influence of alcohol and/or drugs.
It is extremely fortunate that this collision did not involve any other people, and no one was injured or killed as a result of Almaraz' decision to drive while under the influence of alcohol. The members of the public who called to report his reckless driving and the collision are commended for their efforts, and the Fillmore Police Department encourages anyone witnessing unsafe driving to call 9-1-1 and help save lives.
Nature of Incident: Reckless driver call ends with non-injury traffic collision, DUI arrest
Report Number: 20-175566
Location: Ventura Street and E Street, Fillmore
Date & Time: 12-21-20 @ 9:03 PM
Unit(s) Responsible: Fillmore Patrol
(S)uspects, (V)ictims, (P)arty, (D)ecedent, City of Residence/Age
Javier Almaraz, Santa Paula, 49
Prepared by: Sergeant Kevin Vaden #2241
Approved by: Captain Garo Kuredjian