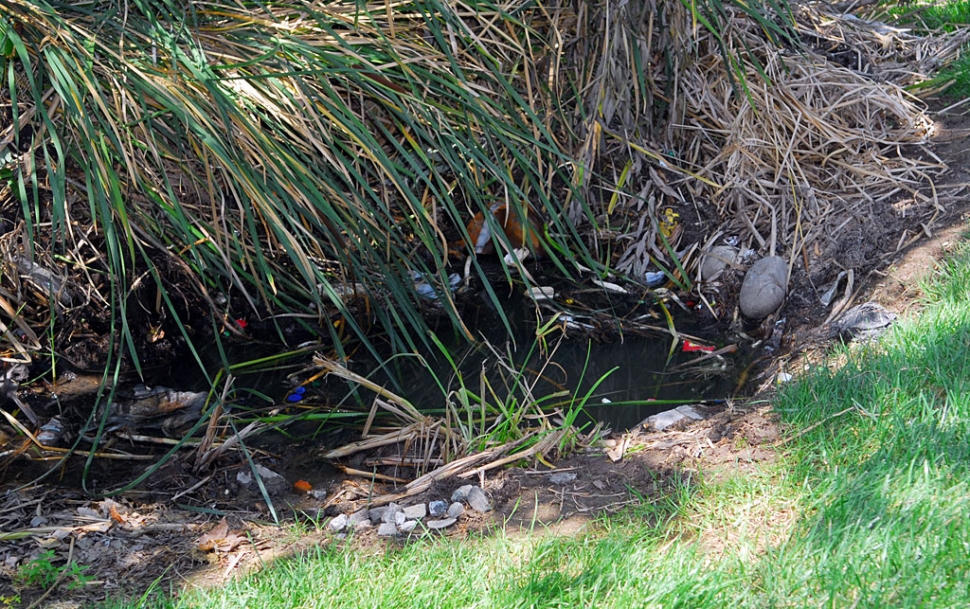 Pictured is a Rain Garden, at the northwest corner of Old Telegraph Road and C Street. The stagnant water is full of trash and not soaking into the ground as planned.
By Anonymous — Wednesday, July 30th, 2008
Do they work?
The theory behind Rain Gardens is that they will soak up rain water, mainly from roofs, but also from driveways and lawns. They are landscaped areas planted with wild flowers and other native vegetation to replace areas of lawn. The gardens fill with a few inches of water and should allow the water to slowly filter into the ground rather than running off into storm drains.
Holding back the runoff helps prevent pollutants such as fertilizers from washing off of yards into storm sewers, and eventually into nearby streams, rivers and lakes. By reducing the amount of water that enters the local storm drain systems, rain gardens can reduce the chances for local flooding, as well as bank and shoreline damage where storm drains empty into streams and lakes.
Go to http://clean-water.uwex.edu/pubs/pdf/home.gardens.pdf for more information. One of the reasons given for rain gardens at the site is "reducing the need for costly municipal storm water treatment structures."