Pros & Cons of This Year's LGBTQ+ Pride Resource Fair Attracts Full House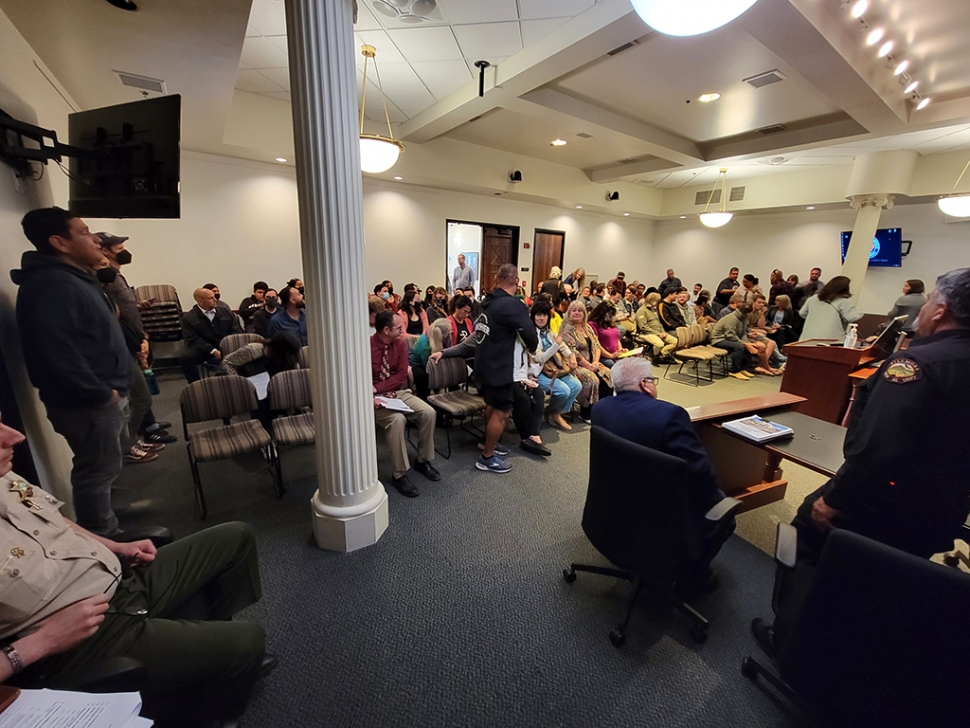 It was standing room only for Tuesday's City Council meeting with the "LGBTQ+ Pride Resource Fair" under discussion.
By Gazette Staff Writers — Wednesday, May 11th, 2022
Items:
Presentations:
5-A Bike Month Proclamation-May 2022.
5-B Mental Health Awareness Month - May, 2022.
5-C Police Week and Memorial Day Proclamation.
5-D Verbal housing Element Update by Staff.
New Business:
8-A- 3-2. Write letter in opposition 8-B - 8K - (5-0) That the City Council discuss whether to take a position for or
against, or no position on, California State Assembly Bill 2223. 8-B - 8-K - (5-0) Waive the $137 encroachment permit fee for the installation of six new Automated License Plate Readers (ALPRs) in City right of way. ADOPTION OF A RESOLUTION APPROVING THE FY 2022-23 ANNUAL BUDGET FOR THE CITY OF FILLMORE. ADOPTION OF RESOLUTION 22-3882 FIXING THE COMPENSATION, BENEFITS AND OTHER TERMS AND CONDITIONS OF EMPLOYMENT OF NON-REPRESENTED MANAGEMENT/ MIDMANAGEMENT, CONFIDENTIAL, AND PART TIME EMPLOYEES OF THE CITY OF FILLMORE EFFECTIVE JULY 1, 2022. The City Council conducted a performance and compensation review of Mr. Rowlands in closed session on April 26, 2022. At the conclusion of the closed session, the City Council gave the Mayor parameters and direction to negotiate a compensation increase with the City Manager. The negotiations concluded with an agreement that the City Manager will receive the following: • His annual base salary will be increased by three percent (3%) effective on the first day of the first full pay period in July 2022. The new annual salary will be $215,788.79. • A lump sum non-PERSable retention bonus of $5,000.00 to encourage City Manager's continued retention under the terms of the Agreement, paid the first full pay period in July 2022. • A one-time credit of general leave of 40 hours, given the first full pay period in July 2022. • An increase in monthly car allowance from $100.00 to $250.00, for a total car and phone allowance of $350.00, beginning the first full pay period in July 2022. 8-I - Primary - Mark Austin Alternate - Erika Herrera. Item 8-G - Council authorized staff to go out for bids and will determine funding source after bids are received.