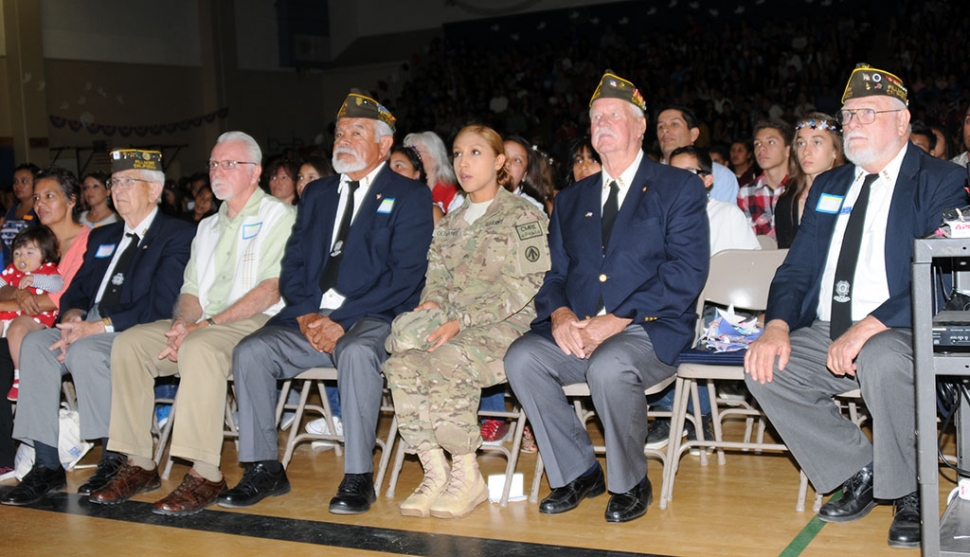 By Mary Ford — Wednesday, May 28th, 2014
Pride in America Day was celebrated Tuesday, May 22 at Fillmore Middle School. This year, veterans were asked to go into individual classrooms before the assembly to speak to students about their experiences in the military and answer questions. The veterans were amazed at the interest of the students and the variety of questions. The assembly began with a military honor guard from Port Hueneme posting colors and was followed by a moving tribute to veterans. It also included performances of song, dance, and music. The student officers of the Pride in America Club beautifully emceed the entire assembly. Except for last year when the gym was undergoing repairs,
Pride in America Day has been held since 1995. This year was the best one ever. The teacher responsible for this wonderful tribute to America is Laurie Merrill. Besides being an incredible science teacher, Mrs. Merrill is responsible for the Pride in America Club, a group of about 40 students who meet every Wednesday during lunch throughout the year to plan the Pride in America Day. Under Mrs. Merrill's guidance, they become leaders. These wonderful students go on to high school and function as leaders there and continue as such into college and life. Mrs. Merrill has generously given her time and talents to this club on a voluntary basis. She and her students not only make Fillmore Unified School District look good, but also make Fillmore look good. Over the years, many people have commented that every school should have a Pride in America Day. I congratulate the school administration for permitting this wonderful program to continue. Thank you, also, to the teachers and staff who support this. Special praise is due Mrs. Merrill for her countless hours of work. Fillmore Middle School is truly blessed to have her.