Prescription Drug Destruction Outreach Nets 18.6 Pounds
By Ventura County Sheriff Department — Wednesday, August 27th, 2014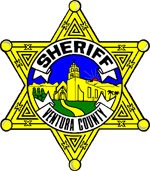 Ventura County Sheriff's Department
The Fillmore Police Department/ Ventura County Sheriff's Office completed a prescription drug collection today at the El Dorado Mobile Home Park. Residents were notified with brochures earlier in the month of the collection date and time. Officers spent four hours collecting 18.6 lbs of old, expired, and no longer needed prescription drugs at the park's club house.
This was the first time the Sheriff's Office completed an outreach program to collect prescription drugs in the City of Fillmore. The officers willcontinue to reach out to the other elder/senior care apartments and will return to El Dorado in a few months for further collections.
Fillmore residents are encouraged to turn in their old or expired prescription drugs Monday through Friday at the Fillmore police station front counter. Drugs that are either flushed down the toilet or sent to our landfills may return to the water supply. Prescription drugs continue to be one of the most abused substances in the United States. Please destroy them responsibly at your local police or sheriff's station prescription drug drop receptacle.
Nature of Incident: Prescription Drug Destruction Outreach Nets 18.6 Pounds
Location: El Dorado Mobile Home Park, Fillmore, CA
Date & Time: 08/21/14 @ 1000 AM -2 PM
Unit(s) Responsible: Fillmore Police Department
Prepared by: Captain Dave Wareham
Media Release Date: 8/21/2014
Follow-Up Contact: Captain Dave Wareham
Approved by: Captain Mark Franke