Police Arrest Gang Member in Possession of Stolen Firearm
By Ventura County Sheriff Department — Wednesday, August 21st, 2019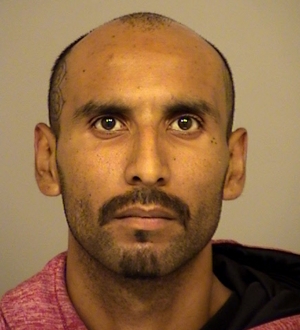 Fabian Garibay, 26 of Fillmore.
On August 14th 2019, Detectives from the Ventura County Sheriff's Gang Unit were conducting an investigation into Fabian Garibay, a documented gang member out of Fillmore. Fabian Garibay was the suspect of several crimes committed in the cities of Port Hueneme, Oxnard, and Fillmore.
Gang Unit Detectives, with the assistance of Fillmore Station Patrol Deputies, contacted Fabian Garibay in an alleyway of the 500 block of Kensington Drive in Fillmore. While executing a signed search warrant on Garibay, he was found in possession of a loaded handgun, gang indicia, and drug paraphernalia. The handgun was later confirmed to be stolen out of Port Hueneme.
Garibay was booked into custody at the Ventura County Sheriff's Main Jail facility for violation of PC 25850(a) – Carrying a loaded Firearm on One's Person, PC 25400(a) – Carrying a Concealed Firearm, PC 27545 – Unlawful Transfer of a Firearm and PC 496(a) – Receiving Stolen Property. Fabian Garibay remains in custody with bail set at $105,000.
Nature of Incident: Gang Member in Possession of Stolen Firearm
Report Number: 19-127807
Location: 500 block of Kensington Drive, Fillmore
Date & Time: August 14, 2019 / 5:15 PM
Unit(s) Responsible: Sheriff's Gang Unit, Fillmore Station Patrol
(S)uspects, (V)ictims, (P)arty, (D)ecedent City of Residence Age
(S1) Fabian Garibay, 26, Fillmore
Prepared by: Detective Erik Hernandez
Approved by: Captain Brian Slominski
Ventura County Crime Stoppers will pay up to $1,000 reward for information, which leads to the arrest and criminal complaint against the person(s) responsible for this crime. The caller may remain anonymous. The call is not recorded. Call Crime Stoppers at 800-222-TIPS (8477).