Piru Home Invasion Robbery Investigation, Arrest
By Ventura County Sheriff Department — Wednesday, May 1st, 2013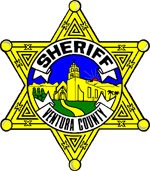 Ventura County Sheriff's Department
On 4/29/2013, patrol deputies from the Santa Clara Valley Sheriff's Station responded to a report of a home invasion robbery on East Telegraph Road in the unincorporated community of Piru. The victim reported three suspects entered his residence, threatened him with serious bodily injury, struck him with a baseball bat and took property from him. As the three suspects ransacked the victim's home for valuables, the victim was able to escape and seek help. The suspects stole electronics, prescription medications, and cash.
Investigators from the Sheriff's Gang Unit immediately joined the investigation with the Santa Clara Valley Station detectives. Through the course of the investigation, all three suspects were identified. Max Ziegler and Mendy Martin were arrested at a home in Santa Paula on the evening of 4/29/2013.
Sheriff's investigators tracked the third suspect, Nick Crockett, to a motel in the city of Carpenteria. Crockett was identified and taken into custody without incident. Sheriff's investigators served a search warrant on Crockett's motel room and discovered evidence and property related to the home invasion robbery.
All three suspects were booked into Ventura County Jail for home invasion robbery with bail set at $100,000.
Nature of Incident: Home Invasion Robbery Investigation/ Arrest
Report Number: 13-9469
Location: 3500 block of East Telegraph Road, Piru
Date & Time: 4/29/2013 @ 4:40 PM
Unit(s) Responsible: Sheriff's Gang Unit
(S)uspects, (V)ictims, (P)arty, (D)ecedent City of Residence Age
(S) Nick Crockett, Ojai, 45
(S) Max Ziegler, Santa Paula, 21
(S) Mendy Martin, Santa Paula, 37
Prepared by: Senior Deputy Brian Slominski
Media Release Date: 4/30/2013
Follow-Up Contact: Detective Beau Rodriguez (805) 654-3541
Approved by: Captain Monica McGrath
Ventura County Crime Stoppers will pay up to $1,000 reward for information, which leads to the arrest and criminal complaint against the person(s) responsible for this crime. The caller may remain anonymous. The call is not recorded. Call Crime Stoppers at 800-222-TIPS (8477).