New Fillmore Towne Theatre Owner Sean McCulley Meets Fillmore Lions Club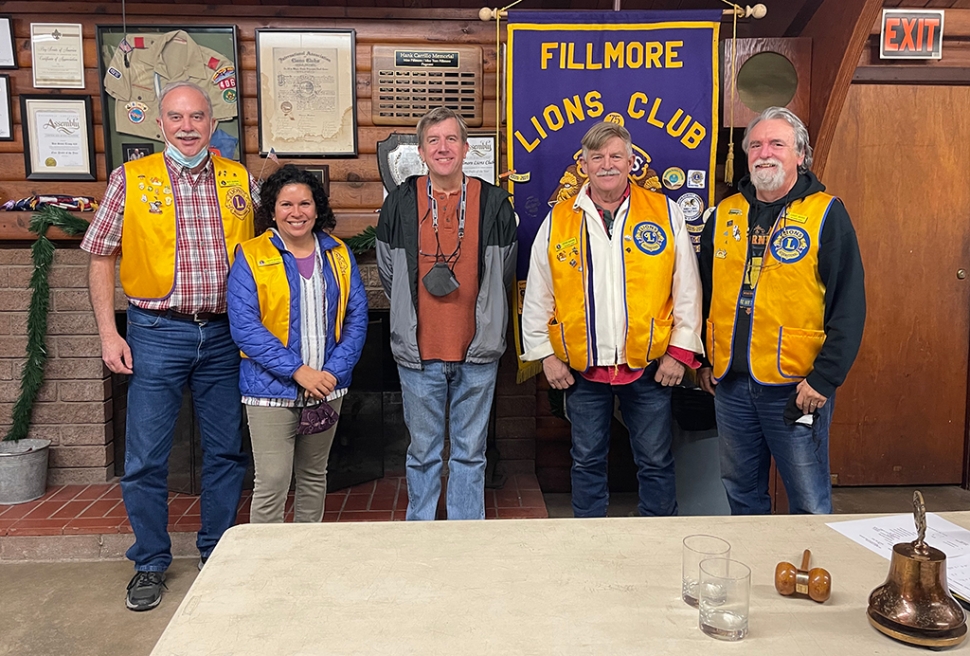 On January 3rd Fillmore Lions Club hosted the first meeting of the 2022. Pictured are Lions Club members with guest speaker Sean McCulley, new owner of the Fillmore Towne Theatre and founder of Mud Turtle Media LLC, who spoke about his ideas for the Theatre. (l-r) Brett Chandler, Jaclyn Ibarra, Sean McCulley, Steve McKeown, and Larry Brown. Photo courtesy Jaclyn Ibarra.
By Gazette Staff Writers — Wednesday, January 12th, 2022
At the first Lions Club meeting of the year, Sean McCulley was the guest speaker. He spoke about how he founded the non profit Mud Turtle Media LLC. And he also spoke about how he became the new owner of the Fillmore Town Theater and his ideas of its development. Some future plans for our beloved Town Theater include a venue for: Community theater, Arts Education (in collaboration with FHS), variety of live music, comedians, film festivals (with movie industry interactions), and Children's workshops. Mud Turtle Media are planning a fundraising show in the near future. To help with a promotional video, they are asking residents to share personal stories about their experience with the Town Theater. For more information about the Town Theater, you can visit www.mudturtletheatrical.org.