Neither Snow Nor Rain Nor Gloom of Night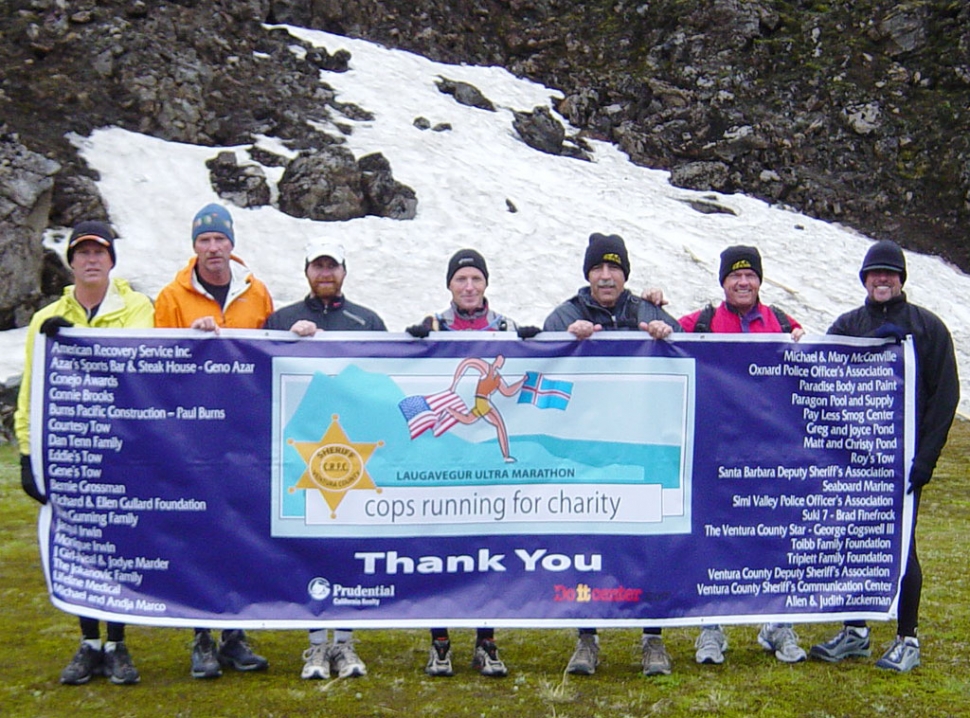 (L-r) Capt. Tim Hagel, Sgt. Frank Underlin, Sr. Deputy Peter Frank, Sgt. Joe Devorick, Capt. Randy Pentis, Sgt. Paul Higgason, and Capt. Dave Kenney ran for Ventura County Cops Running for Charity in Iceland, July 2008.
By Tim Hagel — Wednesday, August 27th, 2008
Our own Ventura County Cops Running For Charity (CRFC) adventure race took place during July. Seven Ventura County Sheriff Deputies competed as a team to successfully raise $33,000 for local Ventura County medical charities. We traveled to Iceland for an International 55Kilometer ultra-marathon trail race.
We arrived in Iceland to experience a nice, sharp, cold rain. Needless to say, we thought we were prepared. However, where was the snow? After all, the country's name is not "Rainland."
Soon, Iceland held up to the name and reputation as we traveled across the countless glacier covered mountains and valleys.
Iceland is the world's newest landmass and is comprised of a giant series of glaciers, rivers, mountains and volcanoes ringed by beautiful, but cold farmland along the coast. A deep chill engulfed us as we stepped out of our bus to begin the race. We had traveled about 4 hours deep into the wilderness where "Raw" is the best descriptor.
We had about 15 minutes of prep time and the race gun was fired. It was surreal to see the seven of us running in rain and snow gear. Shiver was the word for the day, what a new experience for us. Remember, we practiced in Ventura County with the July trail temperatures that averaged between 95 and 100 degrees.
The race-day temperature varied between 30 to 35 degrees, and it brought on a constant shift between sleet/ice and horizontal rain. The 20 mph wind chill is what really brought on the challenge, driving our core temperatures to hypothermic as we ran through mountains ranges of rugged snow-fields and through (not over) 6 different rivers.
At times, I remember choking as we crossed the precarious lip of an active volcano and geothermal complex that was spewing hot-yellow sulphur clouds.
The first mountain we ran up appeared like Mount Whitney, towering over the Owens Valley. I remember looking up at this beast of mountain thinking, "we must be skirting around it." After the first hour of near vertical ascent, it became obvious that we were in fact going over it.
We used an old fashion mountain ascent tip. The hot ticket was to not look far ahead when we were taking our steps on the long, steep trail. We just looked about 10 feet ahead. It paid off, and soon we were on the summit of the first of many mountains. Soon, the air was thin and cold but the altitude afforded us to see that the mountain we conquered was just the beginning of many ahead.
I never thought about it… until I wrote this recap for our community, but what a comparison we faced that race day with the medical challenges all of our local families faces in life. We all learned that if you want to tackle something that seems unattainable, don't focus on the overwhelming odds, deal with it in manageable baby-steps and you can succeed.
Mountain after mountain we crossed an entire volcanic range. It made the Sierras look like South Mountain. The snow-fields and ever present sleet were relentless. At one point, we encountered a runner that suffered severe hypothermia. We were in the middle of nowhere. We gave him some of our emergency food and backcountry rangers and race officials eventually carted him off.
After about 18 miles of negotiating ice-cold river crossings, our Sheriff's team split into three units. We knew it would increase our team success but yet we needed one another for navigation, safety and encouragement as our soaked clothing began to wear down our energy levels.
We ran through the mountains for over 9 hours. Half our team finished about middle of the pack. I stress the word team, we accomplished the goal but like the recent Olympics, not all of us ended up walking away with awards. However, we were proud, and became even closer members to the department.
We were competing against world -class athletes, most of who train regularly on volcanoes and polar-style glaciers. All and all, it became obvious to us…the power of teamwork, when you are facing a daunting challenge.
We want to thank the members of Fillmore for supporting our dreams and the medical charities we assist.