Mobley Resigns as VP, Treasurer of VCRCD After Prior Grand Theft Conviction
By Gazette Staff Writers — Thursday, September 29th, 2022
Remains on as a Director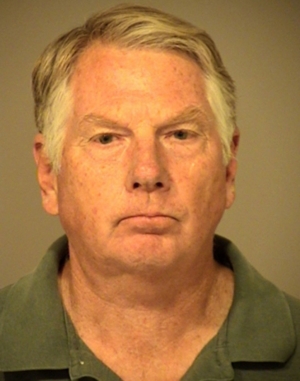 Michael Mobley, 66, of Oxnard.
Michael Mobley, a VC Resource Conservation District board director, resigned from two officer roles Wednesday morning, September 21, 2022, nine months after pleading guilty to grand theft in December 2021 for stealing nearly $50,000 from clients over a 7-year range. Bill Morris, of Fillmore, was chosen as vice president, and Kevin Cannon, of Santa Rosa Valley, was chosen as treasurer to replace Mobley. Mobley, 66, of Oxnard, did not resign from his seat as director, and continues to serve on the agency boards of Mound Basin Groundwater Sustainability and the United Water Conservation District.
Mobley returned $49,000 in victim restitution prior to pleading guilty in exchange for reducing the charge from a felony to a misdemeanor in a plea agreement. He was also ordered to complete 60 hours community service.
BACKGROUND:
In mid-March of 2021, an agricultural corporation identified as the Winchester Water Well group contacted deputies from the Moorpark Sheriff's Station and reported that they were the victims of embezzlement by their property manager. The Winchester Water Well group was comprised of five ranch owners whose property was located in the unincorporated area just outside the city of Moorpark. Deputies obtained the basic facts, completed a theft report, and the case was forwarded to the Moorpark Investigations Bureau.
Over the next several weeks, investigators learned that the ranch owners hired a property management firm that specialized in agricultural land management, identified as Progressive Land Management to manage and service an irrigation water well for the ranchers. The ranch owners initially contracted with Progressive Land Management in mid-2014. Investigators determined that over the course of several years, the owner of Progressive Land Management, identified as Michael Mobley, 66, of Oxnard, stole tens of thousands of dollars from the ranch owners and falsified bank documents in order to conceal the thefts.
On the morning of May 20th, 2021, detectives from the Moorpark Station contacted Mobley as he was leaving his home in Oxnard and arrested him for the thefts, a felony. Detectives then returned to Mobley's home and served a search warrant and seized additional evidence related to the thefts. Simultaneously, detectives from the Thousand Oaks Special Enforcement Unit, working in conjunction with Moorpark Detectives, served a search warrant at the offices of Progressive Land Management in the city of Santa Paula, where additional evidence was located and seized.
Detectives eventually determined that Mobley embezzled nearly $50,000.00 from the Winchester Well Water Group. Mobley was booked at the Ventura County Main Jail on the charge of 487(a) PC / Grand Theft with bail set at $10,000.00. He had no prior criminal record.