Mid-Year Budget Brings Good News
By Jean McLeod — Wednesday, March 12th, 2014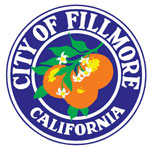 City of Fillmore
The Mid-year Financial Report presented at the March 11, 2014 Fillmore City Council Meeting was very positive, along with news on the Sespe Creek Levy. Other items covered were purchase of an emergency generator, zoning ordinance amendment and modification to a Tentative Track Map.
Gaylynn Brien, who began as Financial Director in January, reported Fillmore is standing on solid ground financially. Expenditures have increased 15% while revenue is up 40%. This leaves a 35% increase on the positive side. This good news is specifically due to winning the Sales Tax Revenue Sharing Contract with Owens & Minor that Fillmore grappled with in court for years. On October 4, 2013 the Board of Equalization issued a payment of $13.5 million to the City with portions of it paid out to those involved in the litigation and generated $1.26 million for Fillmore.
"We're tracking positive.....our expenditures are under budget" reported Brien. Comparing the fiscal year 2012-13 revenue ($1.9 million) to fiscal year 2013-14 ($2.85 million) shows the General Fund is up $.9 million. Brien also presented five pages of accomplishments that have occurred recently throughout the City; they included new businesses in town, $500,000 Cal-Grip Grant, purchase of fire protection safety equipment, extended hours for the Planning Department, installation of new water meters and increase of maintenance of street trees along with numerous other improvements.
Kevin McSweeney addressed the Council regarding the proposed 45 houses to be built by Williams Homes. The project has been done in phases and this addresses phase 3 and 4 which contain three home styles: American Farm House, Santa Barbara and Craftsman. Changes the City asked for were complied with such as wrap around porches on the corner lot homes, 16 homes with RV storage and specific colors on some homes along with other conditions. The developers plan to start dredging for 13 models next week on Mountain Vista and Edgewood.
There was concern of the remaining Central Ave. going south not being paved and the safety issue of fire trucks and emergency vehicles not being able to turn around in an emergency. Landeros told the Council, "We don't like dead end streets....it sometimes takes three fire engines to respond...the worst thing for us to do is back up, it's a tactical problem. Time is valuable, even a minute can mean life or death." New Police Chief Dave Wareham added the need of sidewalks and lights are a safety issue. Keith Herren, Vice President & CEO of William Homes suggested the temporary use of gravel to complete the final phase. The Council did not want the issue to hold up the start of construction and agreed to discuss the issue at a later date.
Tully Clifford, Director of the Watershed Protection District gave a presentation on the levee system in Fillmore. A few years back the Federal Emergency Management Agency (FEMA) expanded Fillmore's flood plane to include most of Fillmore due to an outdated levee system that was built in 1984. This brought new regulation that required residents to buy flood insurance when financing a home or business. FEMA has since implemented a new mapping system (Seclusion Mapping) that will allow a levee project to move forward for approval if parts have been on hold because a portion of the study is impacted by a non-accredited levee. FEMA will take the non-accredited levee out of consideration and put it back in later. By then Clifford states the project will be completed. This is important to residents of Fillmore because it puts on-hold the requirement for flood insurance while the upgraded levees are being completed.
"If there were no development here (Fillmore) this is where the water would go," stated Clifford, referring to the creeks around Fillmore that empty into the Santa Clara River.
The levee that is being replaced was designed to provide protection from the Standard Project Flood of 121,000 cubic feet per second (a standard greater than 110 year flood). The new upgraded levee will provide protection up to 135,000 cubic feet per second.
The proposed improvements will consist of a 321 feet reinforced concrete retaining wall upstream of the Faith Community Church to maintain a 15 feet structural free zone. The project will cost $4.3 million and to date the County has $3 million in grants for the project. Construction is expected to start June 2015 and be completed by December 2015. Councilmember Steve Conaway responded, "I'm pleased to hear lender note holders will not require flood insurance." He then asked, "When will the settlement buildup be done?" Clifford answered by informing everyone that there is 3-5 million square feet of settlement needed to be removed and a $3 million dollar price tag, adding, "We also need to find someone who needs it or a place to put it." Conaway responded, "It hasn't been cleaned since 1984 except for some mining where it was profitable." Councilmember Douglas Tucker asked where Fillmore rates in regards to getting the levee work done. Clifford responded, "Fairly high."
Another agenda item was approval to purchase a transportable backup generator to be stored at the Fillmore Fire Station and used in emergencies such as an earthquake or power outage. The cost is $130,247.21 with $35,000 reimbursed through with a grant from the Federal Homeland Security Agency. The purchase must be done quickly because the grant will expire the end of April and the City must present a canceled check before that date to secure the funds. Councilmember Rick Neal was hesitant on the purchase commenting that the generator was not that portable and would require a large vehicle to transport it and that it requires a 60% use capacity to keep it working in good form. Fire Chief Rigo Landeros assured Neal that they had a truck that could move it and that it would be kept in good working condition. Landeros added, "It's getting harder to get grants because they are getting so specific as to what they can be used for." There was also a question of where the remaining $95,247.21 needed would be coming from, questioning the Capital Project Fund or from the Redevelopment Fund (RDF). RDF has been subject to the State requiring much of the remaining monies, after RDF was dissolved, be sent to Sacramento and if they would be requiring that money in the future. City Attorney Tiffany Israel responded that it was her opinion the money would stay in Fillmore stating, "We've already done our due diligence" referring to settling the books with the State over the Redevelopment funds. City Manager David Rowlands agreed with Israel and understood the funds would remain in Fillmore. A vote was taken and the authorization passed 3 Yes and 2 No, with Neal and Mayor Manuel Minjares voting No.
Fillmore has adopted a zoning ordinance prohibiting the distribution and cultivation of medical marijuana within the City of Fillmore. This has become an issue that not only towns and counties are dealing with, but whole states like Colorado where the sale of marijuana is legally controlled but still in opposition to federal law. Fillmore's ordinance is in reference to the Compassionate Use Act of 1996 which addresses the medical use for those severely ill. State law does not preempt local governments' police power with respect to medical marijuana and this ordinance is within the City's legal ability to ban it.