Microwave Cameras Coming To Fillmore
By Jean McLeod — Wednesday, August 27th, 2014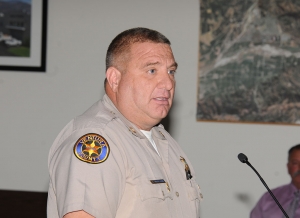 Fillmore Police Chief Dave Wareham addresses council about new security cameras to be installed at different city locations.
At the August 26, 2014 Fillmore City Council Meeting Police Chief Dave Wareham announced Fillmore will have a new eye in the sky at three locations. This is due to the efforts of Sheriff Geoff Dean and Council Member Diane McCall who sits on the Sheriff's Foundation. Thanks to a state grant of $5,000 and Sheriff Dean's contribution of $5,000 in matching funds Fillmore will be receiving three microwave cameras to help fight crime. One camera will be located on Santa Clara St. and Central Ave. providing a view of Central Park, Central Avenue and the bus station. A second camera will cover Mountain View and Delores Day Park. The location of the third camera is still being discussed.
Wareham said the cameras will provide what police and sheriffs call Real Time Incident Communications (RTIC) and... "give a direct feed secured network to dispatch, which cannot be hacked into." The information viewed is monitored at dispatch in the Ventura Sheriff Station and Fillmore Sheriff Station and can cut respond time by as much as five minutes or more. Should an incident occur where there is a question of what happened or who was involved the information is available for review at a later date. These cameras have been in use in most big cities and for about three years at Lake Piru and throughout Ventura County.
An agenda item was the contract with Quality Landscape Care that provides services to 25 Landscape and Lighting Districts, nine parks, the Memorial District, bike path and planters in town. Council Member McCall questioned the maintenance bike path around Old Telegraph. David Smallwood, Public Works, agreed that area needed greater attention. McCall responded, "My concern is that we address that." Council Member Steve Conaway asked, "Are you pleased with their work?" Smallwood answered, "Yes, they do everything I ask them to do." Mayor Manuel Minjares said he too noticed that Old Telegraph needed attention and that he would like some comparison costs with what other landscape companies are charging.
Fire Chief Rigo Landeros spoke briefly about the earthquake in Napa, California and the importance of registering with WWW.VCALERT.org in case of an emergency. He said there are two pamphlets available at City Hall, one discussing VCALERT and another from Homeland Security with a list of items needed to be prepared when a catastrophe strikes.
Landeros also spoke of the last week's outreach program at El Dorado Mobile Home Park where they collected 18.6 pounds of outdated prescription drugs in four hours and plans to expand the outreach to other locations. He reminded everyone that the prescription drug drop off barrel is located at the Sheriff's Station.
Another two items briefly discussed were the "bootleg/sandwich boards" signage being used on Central Avenue. There are City Codes against their use and businesses displaying such signage will soon be contacted. Council Member Rick Neal also asked if the City Code restricting synthetic lawn could be reviewed due to the severe drought California is experiencing.