Michael Anthony Chavez serving in Italy with Air Force
By Dick Diaz — Thursday, April 10th, 2008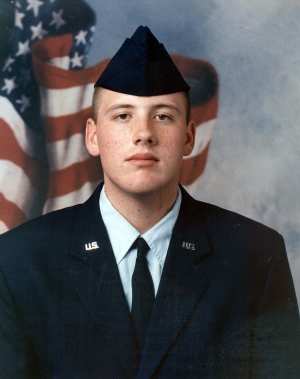 Senior Airman Michael Anthony Chavez
Like with most of the articles I write honoring the men and women of the Fillmore and Piru Communities serving our Country, to protect all our freedoms, I usually begin the journey with a phone call from a family member. I received just such a phone call from a very proud grandmother; Dolores "Lola" Chavez of Fillmore. Mrs. Chavez wanted to tell me about her Grandson, Senior Airman Michael Anthony Chavez 24 years now serving in the United States Air Force. Mrs. Chavez told me that Michael was stationed in the northern city of Aviano, Italy at the United States Air Force's Aviano Air Base with the 31st Aircraft Maintenance Squadron (31st AMXS). During the few phone calls we shared and the two visits to her home I found her to be a dedicated and very proud Grandmother of an American Airman. I appreciate her helping me put this article together and for her concern for all the men and women currently serving in the military from the communities of Fillmore and Piru.
Senior Airman Michael Chavez is a 2002 graduate of Fillmore High School and he also attended Lancaster High School. He participated in both varsity football and track while in high school. He and his wife Jessica (Taylor), also a 2002 graduate of Fillmore High School, 2006 graduate of Cal Lutheran University in Thousand Oaks with a B.A. in Liberal Arts, and a 2007 graduate of Pepperdine with a Masters in Education. They live in Aviano, Italy where Jessica is a pre-school teacher and they do not have any children.
Senior Airman Chavez joined the Air Force in January 2004 and has been assigned duty throughout the world: at Cannon AFB Clovis, NM, Kunsan Air Base Korea, Bulgaria, Turkey and currently Aviano Air Base, Italy. His job specialty is as a Weapons Loader and he also maintains all the equipment related to weapons loading of the F-16 aircraft. While in the Air Force he is attending college to continue his education by studying Aeronautical Engineering. In the two phone calls (there is a +9 hours difference in time) with Senior Airman Michael Chavez I found him to be a very dedicated Airman. With still two-years left on his six-year enlistment he is still unsure if he will make the Air Force his career.
Senior Airman Michael Chavez has been awarded the Air Force Achievement Medal, National Defense Service Medal, Global War on Terrorism Service Medal, Korean Defense Service Medal, Air Force Overseas Ribbon Short, Air Force Longevity Service, Small Arms Expert Marksmanship Ribbon (Rifle) and the Air Force Training Ribbon.
Senior Airman Chavez's parents are Andy Chavez of Fillmore and Leanne Gravley (1983 Fillmore High School Graduate) of Reno, Nevada. He has one sister Heather 18 years of Acton, California and brother Andrew 4 years of Fillmore. His Paternal Grandparents are Adon and Delores "Lola" Chavez of Fillmore and his Maternal Grandparents are Joe and Ellen Gravley of Henderson, Nevada. Senior Airman Michael Chavez's Father-in-law and Mother-in-law are John and Joyce Taylor of Fillmore.
The 31st Aircraft Maintenance Squadron (31st AMXS) is responsible for maintaining the United States Air Force's F-16 Fighting Falcon. The F-16 Fighting Falcon is a compact, multi-role fighter aircraft. It is highly maneuverable and has proven itself in air-to-air combat and air-to-surface attack. It provides a relatively low-cost, high-performance weapon system for the United States and allied nations. In an air-to-surface role, the F-16 can fly more than 500 miles (860 kilometers), deliver its weapons with superior accuracy, defend itself against enemy aircraft, and return to its starting point. Plans and directs expeditionary aircraft generation and maintenance operations of 520 personnel in 20 Air Force specialties. The 31st AMXS Maintains 48 F-16C/D aircraft valued at $1.28 billion. Provides repair capabilities for aircraft, avionics, weapons and propulsion systems to support delivery of conventional and precision-guided weapons. The 31st AMXS supports the 31st Fighter Wing, U.S. Air Forces in Europe and NATO contingency and combat aircraft. The vision of the 31st AMXS is to perform safe, expeditionary aircraft maintenance anytime, anywhere!
Since inception, the 31 Aircraft Maintenance Squadron has deployed in support of Operations SOUTHERN WATCH, ENDURING FREEDOM, and IRAQI FREEDOM. Additionally, the squadron supported 24 hour air defense for the 2002 NATO Summit. The squadron's largest deployment challenge was its most recent seamless transition of back-to-back deployments to Balad Air Base, Iraq in support of Air Expeditionary Force 5 and 7 rotations.
Senior Airman Michael Chavez's contribution to keeping the F-16 in the air and supporting our troops in the Middle East is appreciated by all of us here back at home. We wish Senior Airman Michael Chavez safe travel and to his family we thank them for their sacrifices while Senior Airman Michael Chavez is serving in this supporting role so far from home.