Memorial Day Ceremony is Monday May 30th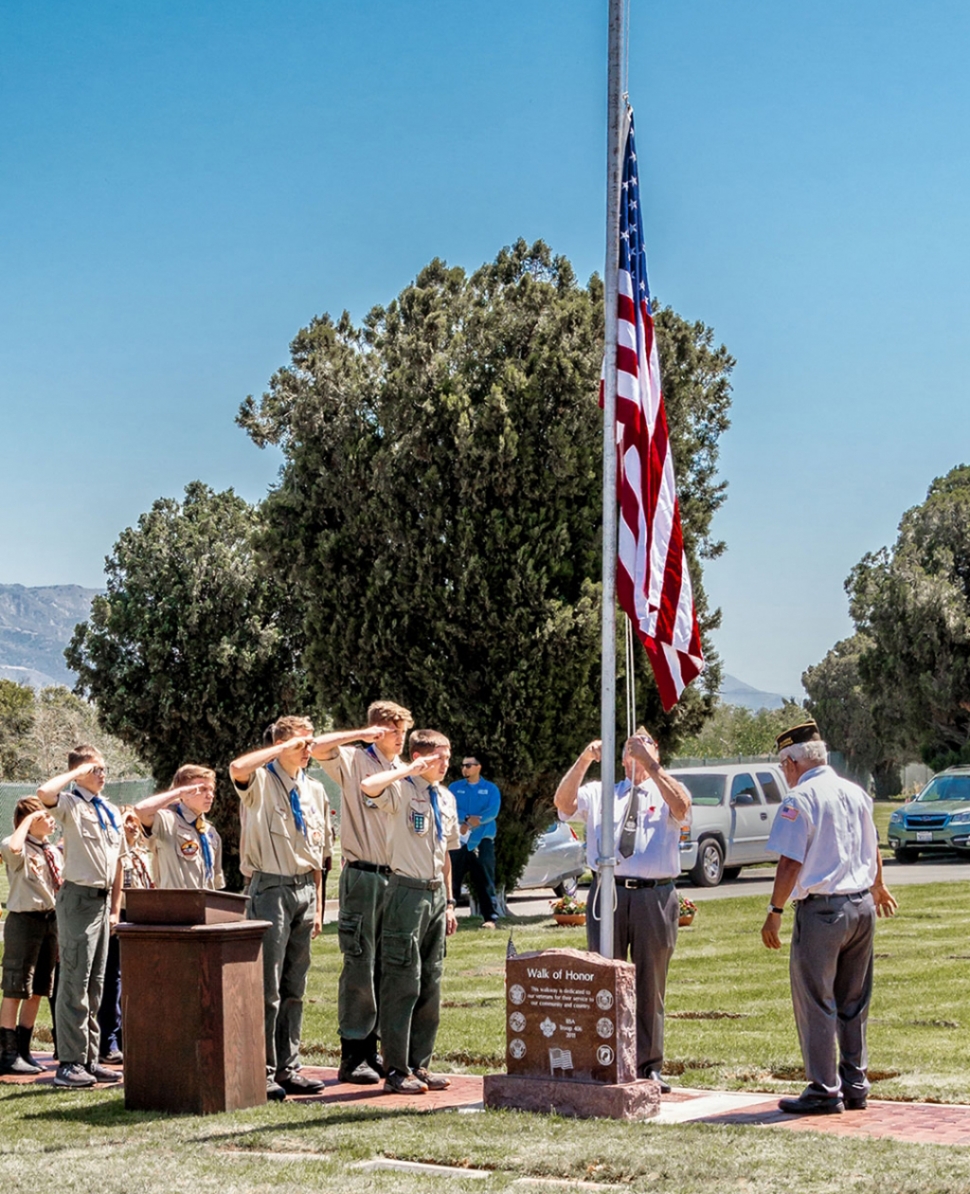 (above) A previous ceremony where Fillmore Boy Scout Troop 406 and Cub Scout Troop 3400 salute for the raising of colors. Photo by Bob Crum.
By Gazette Staff Writers — Thursday, May 26th, 2022
The Bardsdale Cemetery will hold its Memorial Day Ceremony on Monday, May 30th at 11AM.
The featured speaker this year is Jannette Jauregui a 4th generation resident of Santa Paula. She holds a Masters Degree in Journalism and currently serves as Public Information Officer for the Ventura County Agency on Aging. Jannette's work profiling Ventura County's military veterans began in 2001 as a freelance journalist with the Ventura County Star. She traveled throughout Ventura County interviewing veterans primarily from World War II. Jannette has profiled more than 220 veterans many of whom have since passed away. While most of the veteran profiles Jannette has completed are in written format she has transitioned to video profiles and continues to seek local veterans to interview. Her goal is to document the personal experiences of veterans before their stories are lost forever. Jannette is the author of four books, including Ventura County Veterans; World War II to Vietnam, Of War and Life; A Decade of Stories, a Man Named Jennings; and Dad's Song From Heaven. In addition to her current position with the County of Ventura, Jannette served as Media Relations Coordinator and Adjunct Professor for California Lutheran University, Production Assistant and Associate Producer for NBC's Today, and Writer and Editor for the Pepperdine School for Law.
The Reverend Bob Hammond of St. Stephens Anglican Church will give the Inspirational Message and special music will be provided by Alissa Allred Thompson. Also assisting in the ceremony will be VFW Post 9637, Boy Scout Troop 406, Cub Scout Troop 3400 and Bill Morris. The Boy Scouts & Bardsdale 4H will put out the flags on Friday, May 27th and they will be picked up by the Bardsdale 4H on Tuesday, May 31st.
The Board of Trustees of the Cemetery District: Lani Farr, President, Lynda Edmonds, Secretary ,Lisa Hammond, Greg Taylor and Bill Morris would like to invite the community to this special event.