Man arrested for felony firearms
By Anonymous — Thursday, September 11th, 2008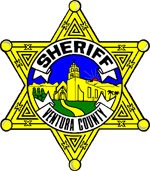 Ventura County Sheriff's Department
On September 5, 2008 , at approximately 11:15 A.M, deputies from the Fillmore Police Department assisted Ventura County Probation Officers with a contraband search in the area of the 900 block of Ortega Street in Fillmore. During the search, suspect Luis Luna 45 of Fillmore, was arrested for multiple counts of a felon in possession of a firearm.
The Fillmore Police and Probation Officers were conducting a search for probation violations. During the search, officers discovered that ex-felon Luis Luna was under the influence of methamphetamines and in possession of three shotguns. Under California law, ex-felons are not allowed to possess firearms.
In this case, patrol and probation officers took a dangerous criminal combination of a felon, guns and drug influence off the streets of Fillmore. Mr. Luna was arrested for felony weapons charges (12021(a)(1) and a misdemeanor charge of under the Influence of controlled substances (11550 (a) H.S). Courtesy of Fillmore Police Department Ventura County Sheriff.