Mama Sue's Café Honors Fillmore/Piru's Active Duty Military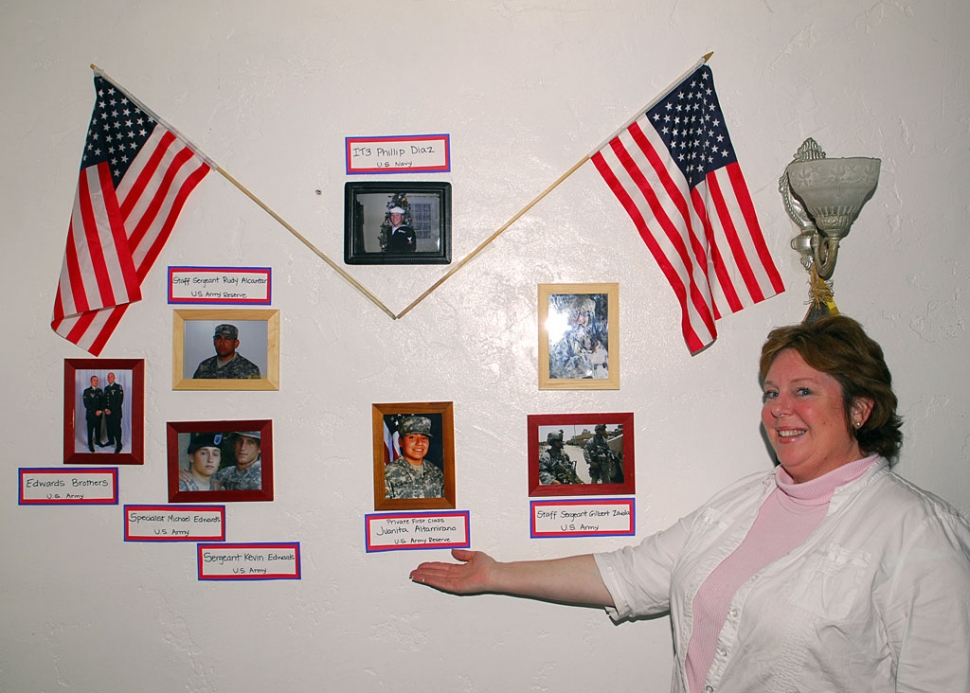 Mama Sue shows her display of the men and women of Fillmore and Piru who are serving in the United States Military.
By Anonymous — Thursday, April 10th, 2008
Mama Sue's Café, located across from City Hall at 454 Santa Clara Street, is honoring residents of Fillmore/Piru that are currently serving in the United States Military. Sue (Mama) and John Conroy are the owners of the popular local breakfast and lunch Café. Mama Sue is the person who came up with the idea of displaying the pictures of all the men and women currently serving in the military. Sue is a frequent reader of the Fillmore Gazette and specifically the articles highlighting local military men and women. It was those articles and the memory of her late father, James Allan Zeman, who served in the United States Navy that spawned the idea.
Mama Sue felt that since she knew most of the men and women, or someone in their families, she would like to place their pictures in the Café so that no one would ever forget the sacrifices local men and women are making to protect our freedoms and those of other peoples around the world. Mama Sue encourages any local family who has someone currently serving in the military to bring her a copy of a picture and she will display the picture proudly.
Along with her famous bottomless cup of coffee and great food, Mama Sue's is the place to keep current on local politics, gossip, and the meeting place for many local residents. All the fun starts at 6:00 AM and usually goes until around 2:00 PM. Mama Sue's is open Tuesday thru Sunday and is available for catered evening special events.
Almost a day doesn't go by, in Mama Sue's, without talk of our military personnel currently serving. And now, thanks to Mama Sue, faces will be put to their names with the addition of 5" X 7" photographs of these brave young men and women. Mama Sue also would like all currently serving military personnel to know that their bills will always be "half priced" as another way of thanking them for their service and sacrifices.