Major Crimes Detectives Investigating Suspicious Death
By Ventura County Sheriff Department — Monday, September 9th, 2013
Police asking puclic for information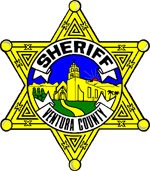 Ventura County Sheriff's Department
A body was discovered by field workers in an orchard on Price Road in Somis Saturday morning.
The unidentified man is believed to be in his early 20's. Investigators are on scene collecting evidence, while volunteers from the Sheriff's Search and Rescue Team are assisting with a search of the area. Although the death is suspicious, investigators are treating it as a homicide until the medical examiner's office determines the cause of death.
Anyone who was in the area late Friday night or early Saturday morning is asked to contact Detective Jose Lopez at (805)384-4723.
Ventura County Crimestoppers will pay up to $1,000 reward for information, which leads to the arrest and criminal complaint against the person(s) responsible for this crime. The caller may remain anonymous. The call is not recorded. Call Crime Stoppers at 800-222-TIPS (8477).
Nature of Incident: Major Crimes Detectives Investigating Suspicious Death
Report Number: 13-20103
Location: 4000 block of Price Road, Somis, California
Date & Time: Sept. 7, 2013 @ 8:15 am
Unit Responsible: Sheriff's Major Crimes Bureau
(S)uspects, (V)ictims, (D)ecedent City of Residence Age
(V) Unidentified Male Unknown Early 20's
Deputy Preparing Media Release:
Sgt. Eric Buschow
Media Release Date: Sept. 7, 2013
Follow-Up Contact: Det. Jose Lopez (805) 797-7118 / (805)384-4723
Approved by: Capt. Chris Dunn