Lottery Scam Hits Fillmore
By Ventura County Sheriff Department — Wednesday, October 30th, 2013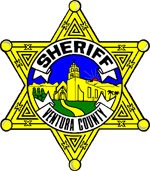 Ventura County Sheriff's Department
A Castaic woman visiting relatives in the city of Fillmore fell victim to a lottery ticket scam perpetrated by a team of suspects.
The incident unfolded after the Castaic woman was walking home after having breakfast at a local restaurant. The male suspect approached her at an intersection and engaged her in conversation. A second female suspect approached the two and joined them pretending to be unrelated to the male suspect. The male suspect sought the women's help in redeeming a winning lottery ticket he told them was worth several hundred thousand dollars. He told them he was unable to cash the ticket because of his illegal immigration status. The male suspect requested several thousand dollars from the victim as good faith money for trusting her with the winning ticket. He promised to double her money for her help. The victim was encouraged by the female suspect and agreed to help the male suspect. The two suspects drove the victim to a local bank where she withdrew $2,500.00 and gave the money to the male suspect. The suspects drove the victim to a residence and used a ruse to convince her to get out of the car and meet with the resident of the home.
Once the victim walked to the front door, the suspects drove away with the victim's money. The residents at the home were not involved in the scam.
The public is being warned about this scam where the lottery ticket is a counterfeit. Suspects usually target elderly Spanish-speaking citizens in shopping center public parking lots, but have also been known to target citizens in neighborhood streets.
Detectives are offering the following tips to protect the public from these scams:
• US citizenship is not a requirement for winning a lottery prize.
• The California lottery does not require money from the winner to redeem a winning ticket.
• Never get in a car with or follow a stranger.
• Never hand over money to a stranger you meet in public.
• Trust your first instinct, if a deal looks too good to be true, it's likely a scam.
• If a person with such an offer approaches you, don't fall prey, call the police.