Lions' Club Announces 2019 Peace Poster Contest Winners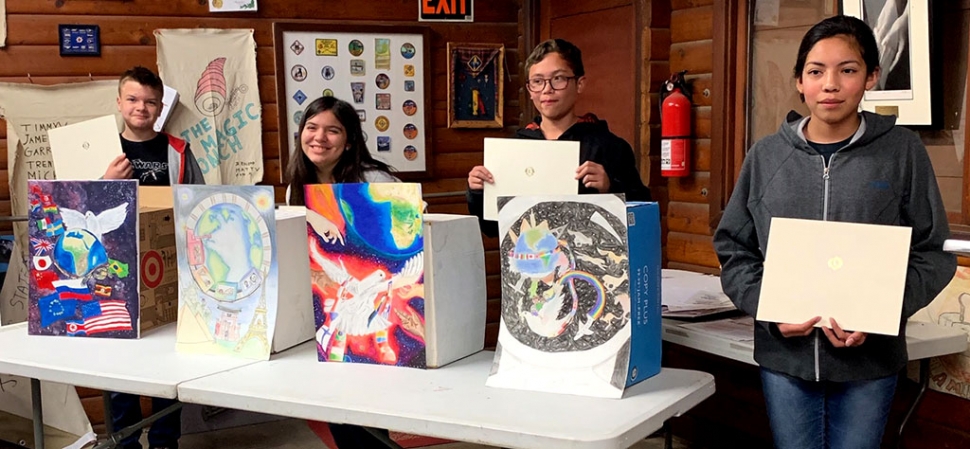 (l-r) Fillmore Lions Club's 2019 Peace Poster Contest winners Erik Sell, Ella Ochoa, Joseph Castellon and Anika Ibarra. Photo courtesy Jan Lee.
By Gazette Staff Writer — Tuesday, December 24th, 2019
The Fillmore Lions' Club recently conducted their annual Peace Poster Contest. The contest not only promotes artistic endeavor but helps the students think about the possibilities of world peace. The competition was open to students 11 to 13 years old. The theme for the poster this year was: "Journey of Peace". The local Lions' Club selects a winner from among the entries in Fillmore. The winner is sent to their Lions' District. Each district chooses a winner which is then submitted to Lions International. The winner at the international level wins $5000. Even though a Fillmore student was not selected as the Lions International champion in 2019, maybe next year……
There were four finalists from Fillmore this year, Anika Ibarra, Ella Ochoa, Joseph Castellon and Erik Sell. All the posters entered were creative and well drawn, but in a competition, there are winners. We are grateful to Ms. Doris Nichols, art teacher at Fillmore Middle School, for encouraging her students to participate. A big thank you to all the students who took the time to design and draw a poster. There are many skilled artists at the middle school.
Because the posters were so good, the Peace Poster committee chose two finalists this year, Joseph Castellon and Eric Sell. Congratulations!