Lifetime Achievement Citizen of the Year Myrna Taylor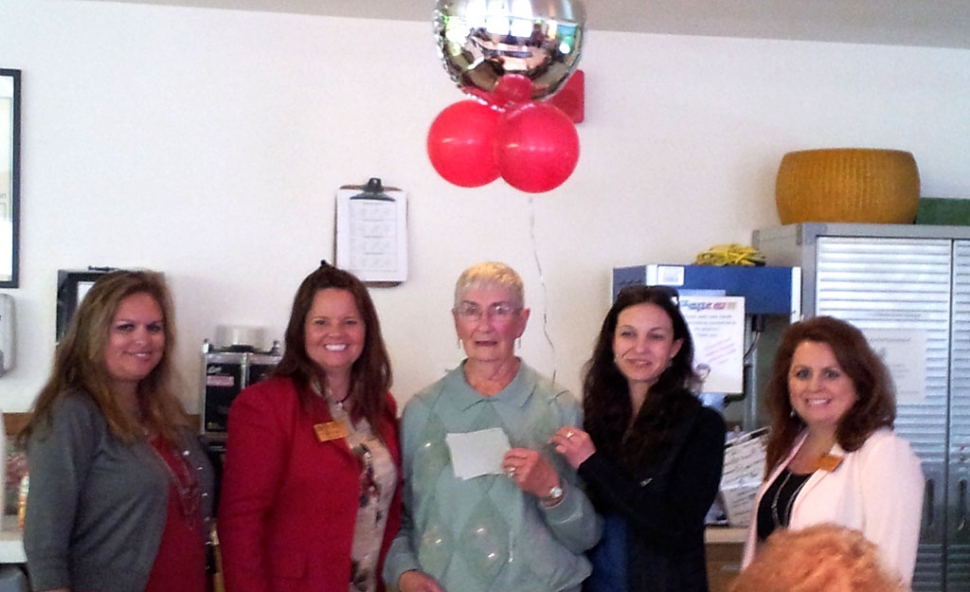 (l-r) Ari Larson, Cindy Jackson, Myrna Taylor, Renae Stovesand-Martels and Theresa Robledo. Photo courtesy of Fillmore Chamber.
By Gazette Staff Writer — Wednesday, March 13th, 2013
Fillmore Chamber of Commerce would like to congratulate Myrna Taylor for receiving Lifetime Achievement Citizen of 2012. We appreciate all you do for our community.
Myrna started working for Fillmore in about 1954 when she moved to Fillmore as a wife of a new 6th grade teacher at Sespe School. Walt was in the classroom, but Myrna was behind him in every way. She was a volunteer in both Sespe School and San Cayetano School libraries and helped with a special reading program several years. She kept books repaired, read to the kids and helped them find a book "just for them."
When her children reached school age, she joined the Fillmore PTA and served as President. She was chairman for the Halloween Carnival for two years and pulled it all together to provide a fun evening Fillmore kids of all ages. She also worked with 4-H to teach sewing classes.
Soon her family participated in the Scout Troop 406 annual summer camp. Myrna was the best assistant cook in town. She played back up to Marie Wren for several years to keep everyone fed for the week and still enjoyed the fun. Only two years ago she was co-worker for several months with Marie in cooking class for Cub Scouts.
Eventually her family grew-up, married and moved away from Fillmore. Myrna soon started work with the Friends of the Library to help raise money for new books and present programs at the library for all age groups.
Myrna Taylor has been a main stay at the Convalescent Center Auxiliary almost since it was organized. For YEARS she has worked on Bingo days and helped in every way to make life better for the many patients there. She sews for their bazaar and helps raise money the Auxiliary uses to buy extra things for the Center to have to make life better for each patient. The Fillmore Convalescent Auxiliary was still a new group when Myrna became involved with them. She has worked three days a week to improve the life of those patients.
Myrna has been a very devoted and caring person to the residents at the Fillmore Convalescent Center and she has gone far and beyond what a true volunteer is. I know that her late Love of her life Walter Taylor is very proud of her as well as all the residents and staff here at the center.
Through the years, Myrna has worked from leading organizations to just being a worker bee behind the scenes, but she is always there lending a hand where needed and quietly making sure things are making Fillmore a better place to live.