Lifetime Achievement Business of the Year - Otto & Sons Nursery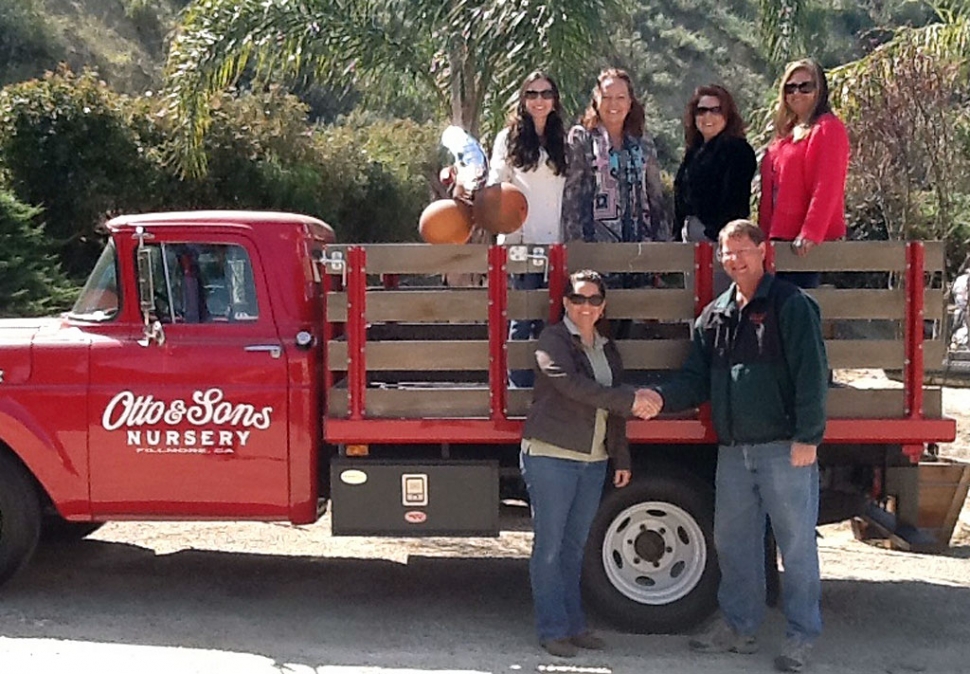 (l-r) Rene Stovesand-Martels, Brenda Hampton-Ortiz, Theresa Robledo, Ari Larson, Cindy Jackson and Scott Klittich.
By Gazette Staff Writer — Wednesday, March 20th, 2013
Otto & Sons Nursery was recently named "Lifetime Achievement Business". Scott & Cindy Klittich own and operate the nursery which is located at 1835 E. Guiberson Road. Otto & Sons Nursery has been in Fillmore for over 30 years and has always supported the community in many ways. Plants have been donated or loaned for many events including High School Graduation, landscaping at Fillmore High School, Middle School, San Cayetano, Piru, Sespe and Mountain Vista Schools. Boys and Girls Club, Fillmore Women Service Club, Central Park, Relay for Life, Bardsdale Cemetery and Shiells Park have all been recipients of Otto & Sons Nursery's generosity. Otto & Sons Nursery has donated to the Fillmore Civic Pride Committee's Yard of the Month program for many years. They also participate in the Ventura County Fair by creating a beautiful rose filled landscape display each year for the past 25 years.
Otto & Sons Nursery moved to Fillmore in 1977 after being in Chatsworth for 20 years. Scott's father Otto was a landscape contractor in the San Fernando Valley when he developed the business into a nursery. Scott rejoined the business in 1984 after receiving his degree in Horticulture from Cal Poly San Luis Obispo. The nursery currently employs 18 full time, and 3 part time staff, many of whom have been there for over 20 years. The staff is a team of professionals who work together to supply the best plants for the best customers. Otto & Sons specializes in growing rose plants, fruit trees and landscaping plants. They have the largest rose selection in southern California with over 800 varieties. The nursery services retail garden centers and landscapers throughout California delivering plants in their fleet of trucks weekly. The nursery has a retail garden shop which is open Wednesday thru Saturday 8 a.m. to 5 p.m., with shorter hours in winter. Visit our web site www.OttoandSons-Nursery.com for great information about roses and fruit trees. Also become a fan on Facebook "Otto and Sons Nursery local business" for updates on special sales, events, and pictures.
Scott and Cindy have been married for 30 years and have 3 sons: Danny who is pursuing his doctorate in Entomology at UC Davis., Andy who is a senior at Cal Poly San Luis Obispo studying Applied Plant and Environmental Science, and Timmy who is in 10th grade at Fillmore High School. Cindy works part time at Associates Insectary as a biotechnician and also at the nursery. Cindy is a Community Club Co-Leader for Bardsdale 4H leading projects in entomology and gardening, secretary of Fillmore FFA Booster Club, and serves on the Fillmore Civic Pride committee. Scott currently is Scoutmaster for Boy Scout Troop 406, serves on the Ag Advisory Board for the Fillmore School farm, Board of Directors for Ventura County Farm Bureau, Board of Directors for the California Association of Nurseries and Garden Centers and is currently a member of the California Agricultural Leadership Foundation Class 43. The family attends Peace Lutheran Church in Camarillo.
Otto & Sons Nursery would like to thank the Fillmore Chamber of Commerce for selecting them as "Lifetime Achievement Business"!