The Lamberg Jewelry Story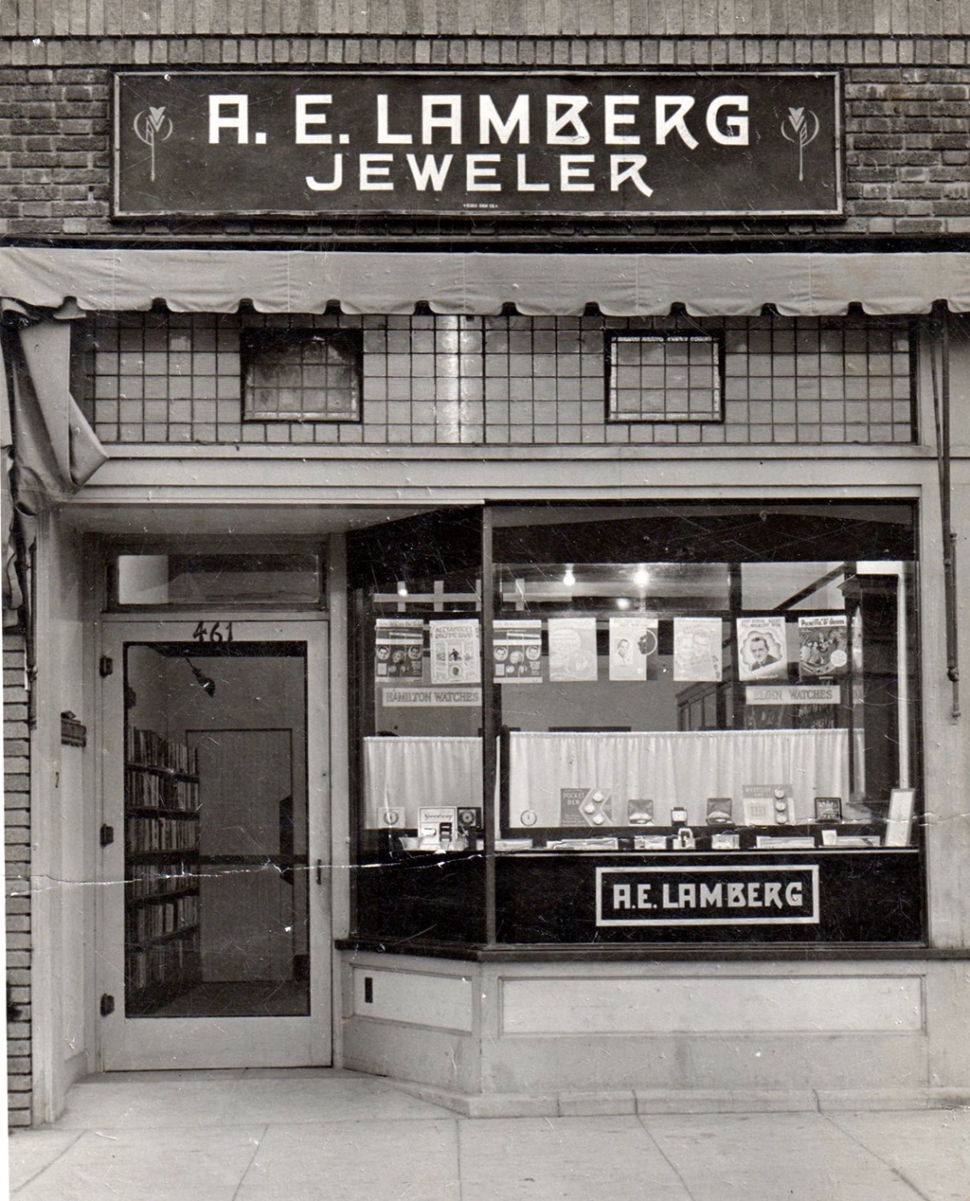 (above) A. E. Lamberg shop at 461 Sespe, note the Lending Library just inside the door on the left, known for inspiring today's "Little Free Libraries" you see around Fillmore today. Photos courtesy Fillmore Historical Museum.
By Gazette Staff Writers — Wednesday, July 20th, 2022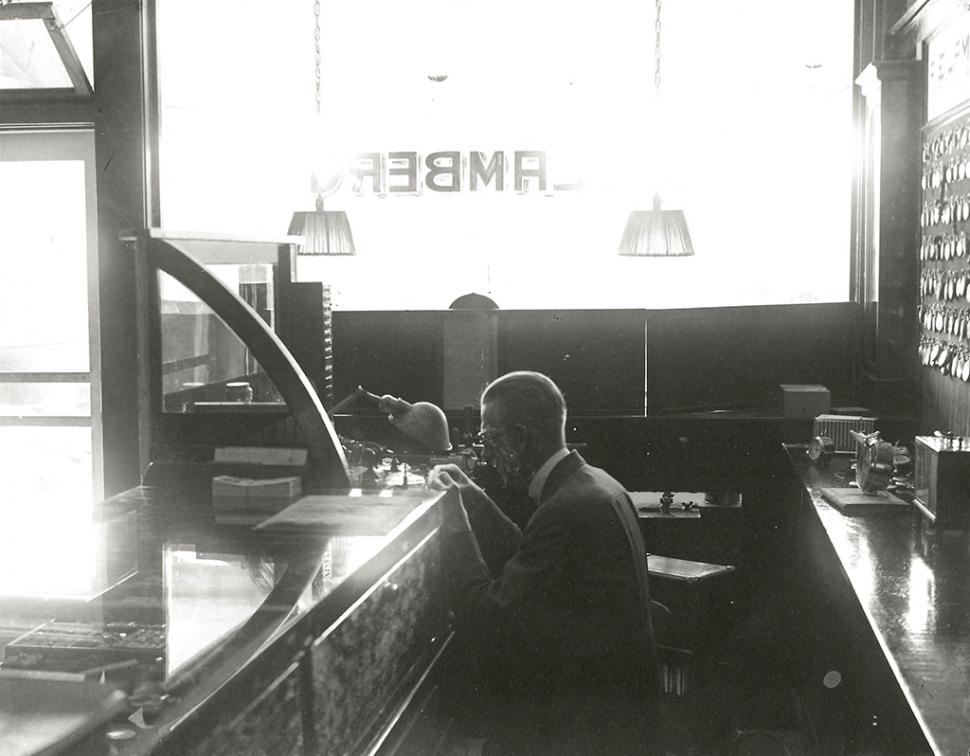 Al Lamberg at work in his shop.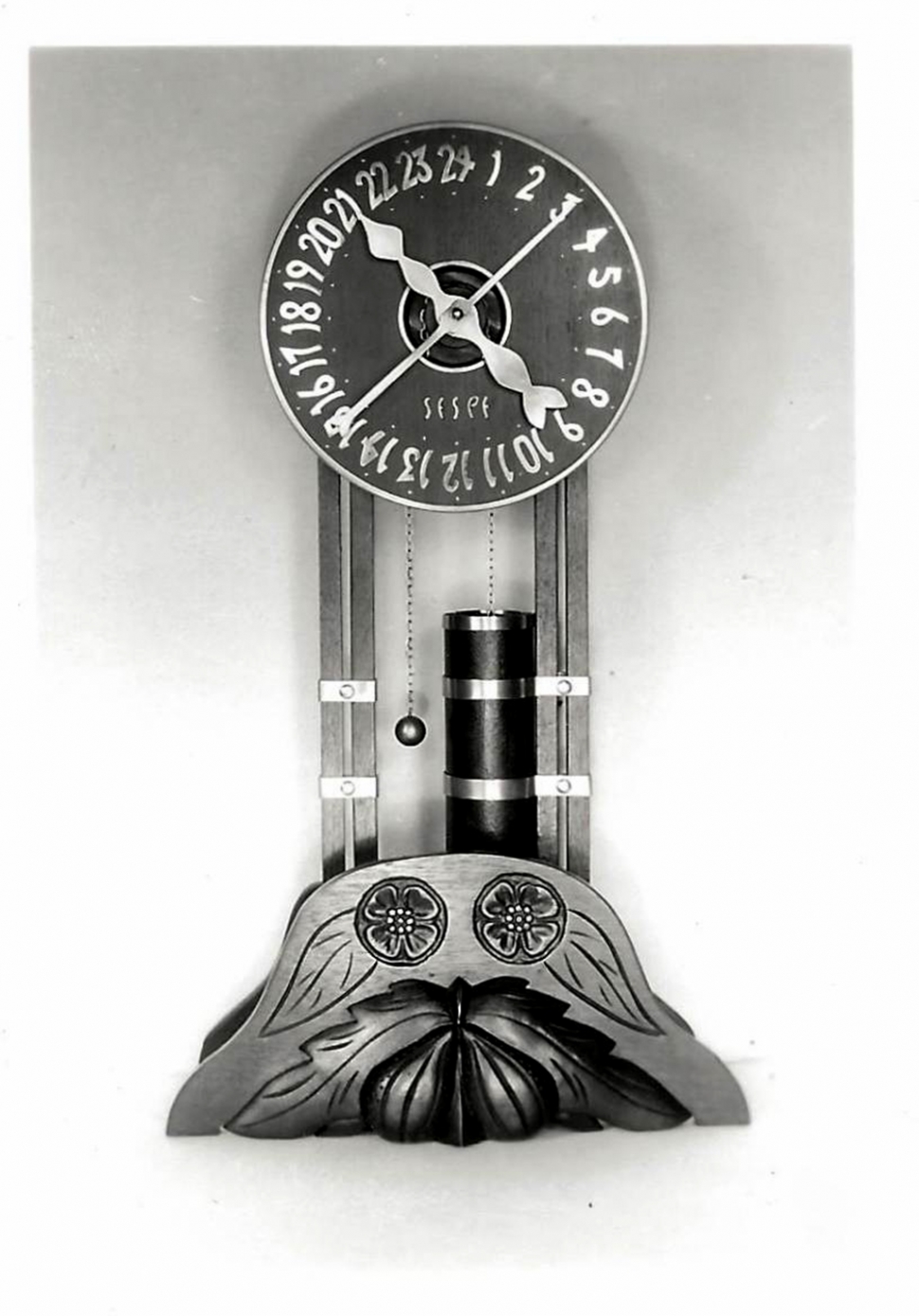 The "Sespe", an electric clock, table model created by Glen Mosbarger, the dial and hands are made so that time could be read either in 12 hour or 24-hour time at a glance.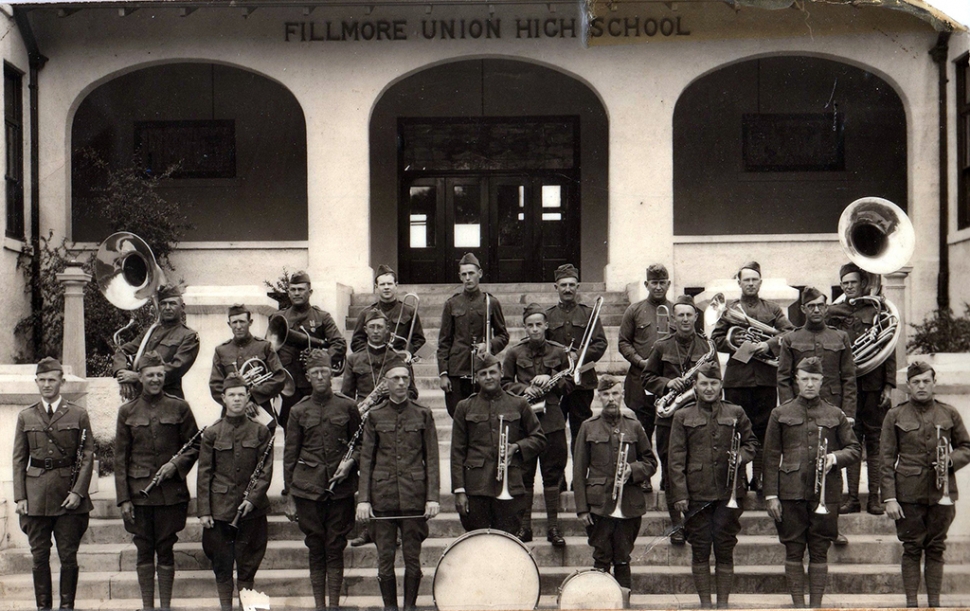 Fillmore City Band circa 1925, A. E. Lamberg to the immediate left of the base drum.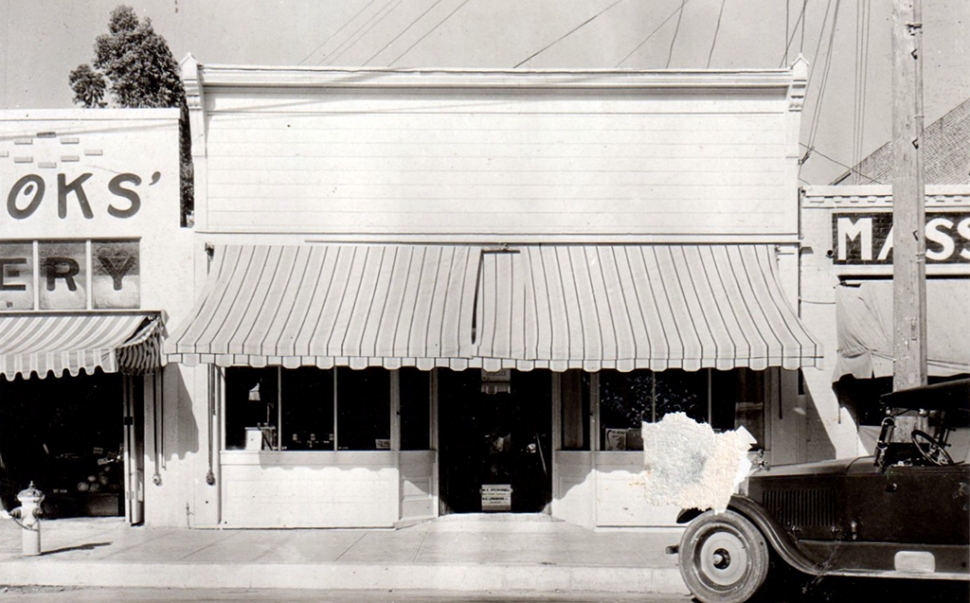 Lamberg Jewelry shop on Central Avenue.
Courtesy Fillmore Historical Museum
In the mid-twentieth century the town of Fillmore had a resident who not only was a horologist, but also a polymath. Before you run to look these $2 words up, Fillmore had a watch maker who had other interests as well. So who was this person? A. E. "Al" Lamberg.
Al was born in 1890 in Redwing, Minnesota, to Swedish immigrants. When he registered for the draft in 1917, he gave his profession as "musician", employed by the Jack Hoskins Traveling Show. He went on to serve in France and when he returned from France his rank was given as "Band Sergeant."
He returned to Minnesota and by 1920 he had trained as a watchmaker. In 1921 he married Glenna Hays and shortly thereafter moved to Fillmore.
He opened his first shop at 346 1/2 Central Avenue, but his interests were not limited to watch maker and being a jeweler. He became the director of the Fillmore City Band. As a member of Fillmore's Veteran's Service Club, he helped stage "Buddies" for Armistice Day 1927 and wrote an overture, "The Spirit of '17" for it. According to the Fillmore Herald, "The overture by Al Lamberg is worth the price of admission and Fillmore is proud to have such a distinguished personage as a composer in the city. His masterpiece is of the soldier boy, the battle fields, the heart aches and sorrows of the war, and the joy of returning." We wish we had a copy of this in our collection.
In time he moved his shop to 461 Sespe on the ground floor of the Masonic Building. This was not only his jeweler's shop, it was also a lending library. It was a forerunner of the "Little Free Libraries" that are found around Fillmore today.
Mysterious things were going on in the back of the shop. Lamberg was fascinated with the history of timekeeping. Being a craftsman, he began to build models of ancient timepieces. These were displayed for the first time at City Hall during the 1946 Fillmore Frontier Festival. He later had an "Ancient Timekeeper's Studio" people could visit.
Al Lamberg was not just making models of timepieces. He was building clocks. With Glen Mosbarger doing the wood carving, he created the "Sespe", an electric clock, in both floor and table models. The unique thing about the clock was that the dial and hands are made so that time could be read either in 12 hour or 24-hour time at a glance. In 1946 he applied for and received both US and Canadian patents on the clock, but it was never put into production.
Al Lamberg passed away in 1956 after a long illness. He had been a member of the Veteran's of Foreign Wars, American Legion, Rotary and Masons. He was an involved member of the community.
In 1972 when the Museum first opened, the collection was given to the Museum where it was on display for many years. Unfortunately, like many other things, much of the collection was damaged or destroyed in the 1994 Northridge earthquake. In the collection was a table model of the "Sespe" clock which we are hoping to soon have restored. You can see some of the other items in the collection on display in the Docent's Cabinet in the Southern Pacific Depot at the Museum.
Al Lamberg was proud of being a horologist – and with his other interests he was also a true polymath.