Lake Piru Area - Deputies Eradicate Cultivation of over 50,000 Marijuana Plants in Los Padres National Forest
By Ventura County Sheriff Department — Wednesday, June 4th, 2014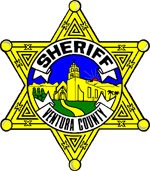 Ventura County Sheriff's Department
Sheriff's investigators eradicated the first large scale marijuana cultivation of the 2014 season with the seizure of 50,280 marijuana plants.
During a marijuana reconnaissance flight in the canyons north of Lake Piru, narcotics investigators discovered a large scale marijuana cultivation site. The marijuana cultivation was located in a canyon approximately 10 miles north of Lake Piru in the Los Padres National Forest. The marijuana plants stretched for over a mile and occupied several smaller side canyons.
On May 23, Investigators from the Sheriff's Narcotics Bureau West County Street Team, Sheriff's Custody Bureau, Santa Paula Police Department, and California National Guard Multi-Functional Counter Drug Task Force, were flown to the site by the Sheriff's Air Unit. 50,280 marijuana plants were eradicated with an estimated street value of over $201,000,000.
Detectives discovered that water had been diverted from several natural springs into hand dug reservoirs. Growers often add fertilizers to these reservoirs, using miles of irrigation hose to water multiple grow sites throughout the canyons. This exploitation of the water course prevents native plants from receiving water and is unsafe for animals or humans to drink. Several hundred pounds of fertilizer were found, along with herbicides, rat poisons, and mountains of trash. Multiple grower campsites were found, one containing a rifle. Investigators believe 6-8 suspects were living in the camps. The suspects fled upon the arrival of investigators.
The Ventura County Sheriff's Office believes these large scale marijuana cultivations are connected to Mexican Cartels operating in California. We remind those using our county's backcountry to be vigilant in watching for clandestine marijuana operations. If you see irrigation hose, fertilizers, rustic campsites, or hikers without equipment in secluded areas, you may be in danger. If you find yourself in an area and see this type of situation, quietly leave the area and notify law enforcement immediately. You can report your observations anonymously.
Nature of Incident: Marijuana Cultivation and Eradication
Report Number: 14-10615
Location: Piru Canyon
Ventura County Crime Stoppers will pay up to $1,000 reward for information, which leads to the arrest and criminal complaint against the person(s) responsible for this crime. The caller may remain anonymous. The call is not recorded. Call Crime Stoppers at 800-222-TIPS (8477). For full details, view this message on the web.