Juvenile Arrested for Estimated $2,000 in Property Damage
By Ventura County Sheriff Department — Wednesday, July 31st, 2019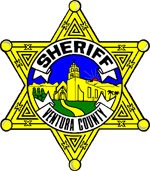 Ventura County Sheriff's Department
A seventeen year old Piru resident was arrested after vandalizing a property with graffiti in the city of Fillmore.
On July 21st at approximately 12:07 a.m., patrol deputies were dispatched to the 100 block of Fourth Street in the city of Fillmore for a vandalism in progress call. Witnesses indicated there were multiple subjects involved in the crime. When deputies arrived, the victim directed them to his property that had been spray painted with several monikers. The victim believed the suspects were possibly fleeing the scene. Deputies quickly responded to the area and located one of the suspects. Deputies obtained evidence linking the juvenile to the newly painted graffiti. The damage to the victim's property was estimated at nearly $2,000.00. The other suspects fled the scene and eluded apprehension.
Detectives continued the investigation by obtaining a search warrant for the juvenile's residence in the town of Piru. During the service of the warrant, investigators uncovered additional evidence linking the suspect to the crime.
The juvenile was booked at the Juvenile Justice Center in Oxnard for PC 594(b)(1) / Graffiti Vandalism, PC 182(a)(1) / Conspiracy to Commit a Crime, PC 602(m) / Trespassing, and Fillmore Municipal Code 15.32.010 / Curfew.
The identification and apprehension of this vandal would not have been possible without an alert citizen immediately calling the Sheriff's Office to report the vandalism when it occurred. The Fillmore Police Department encourages residents to report graffiti or other suspicious behavior immediately when they see it occurring. Additionally, the City of Fillmore created the "City of Fillmore" mobile phone application, which allows citizens to photograph and report graffiti vandalisms directly to the city for quick removal.
Nature of Incident: Felony Vandalism Arrest Made
Juvenile Arrested for Estimated $2,000 in Property Damage
Report Number: RB# 19-113819
Location: City of Fillmore and Piru
Date & Time: 07/21/19 @ 12:07 AM
Unit(s) Responsible: Fillmore Patrol Services and Detectives
(S)uspects, (V)ictims, (P)arty, (D)ecedent City of Residence Age
(S) Juvenile Piru 17
Prepared by: Detective Shawn Pewsey #3867
Approved by: Captain Eric Tennessen
Ventura County Crime Stoppers will pay up to $1,000 reward for information, which leads to the arrest and criminal complaint against the person(s) responsible for this crime. The caller may remain anonymous. The call is not recorded. Call Crime Stoppers at 800-222-TIPS (8477).