Joanathan "Jon" Gerlach completes US Army Boot Camp
By Dick Diaz — Thursday, October 2nd, 2008
2008 Fillmore High School Graduates at Fort Jackson, South Carolina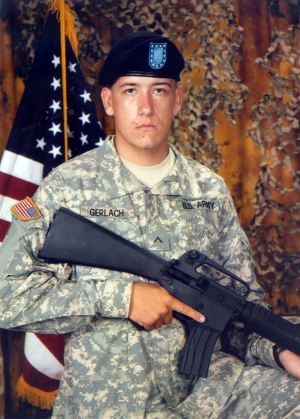 United States Army Private Joanathan "Jon" Gerlach.
Joanathon "Jon" Gerlach, 18 years, is a 2008 graduate of Fillmore High School. Jon entire education was within the Fillmore Unified School District where he also attended San Cayetano Elementary School and Fillmore Middle School.
Jon enlisted in the United States Army in June 2008 right after graduation. His mother is Barbara Gerlach of Piru and his siblings are brother Niles Gerlach 31, of Piru and sister, Andrea Rodriguez 28, of Fillmore. Maternal Grandparents are Jack Sivils of Lake Isabella, California and the late Bonnie Sivils. Grandfather Sivils worked most of his life on the Vanonni Ranch in Saticoy. Jon's Paternal Grandparents are the late Rudolph and Doris Gerlach of Ventura. Growing up Jon enjoyed wrestling and he loved basketball, a sport his Mother tells me he would play for hours. When Jon enlisted in the Army he knew he wanted to make the Army a career and he enlisted for 4 years. His goal is to become an Army Ranger.
United States Army Private Joanathan Gerlach graduated on Friday, September 12th at Fort Jackson, South Carolina. While he was in Basic Training he was assigned to Charlie Company 2-13 Infantry 3rd Platoon, Sky Reapers. At graduation he received a Marksmanship medal for his proficiency with a firearm. He will receive twenty-five weeks of advanced specialty training in Computer Detection Systems at Fort Gordon, Georgia. After completing this training he will then transfer to Fort Benning, Georgia for four weeks of Army Airborne Training. It is then expected that he will then be deployed. Private Gerlach is the first in his immediate family to enlist in the Army; however, his Grandfather Rudolph Gerlach was with the Merchant Marines during WWII and Uncle Rudy Gerlach was with United States Army's 173rd Airborne and is a Vietnam Veteran.
Mother Barbara Gerlach and Private Gerlach's fiancée Carmen Barocio attended Private Gerlach's Basic Training Graduation. Jon and Carmen plan to marry this December. His Mother tells me, "He loved basic training!" She also told me, "I'm so very proud of Joanathan, as I am with all my children, they are good, kind hard working people. I'm also a proud Grandmother of 6 with 2 more on the way!"
All of us in the communities of Fillmore and Piru wish United States Army Private Joanathan "Jon" Gerlach safe travel, a successful career in the United States Army and we thank him and his family for their sacrifices to keep the United States strong.