Information Identifying Sexual Battery Suspect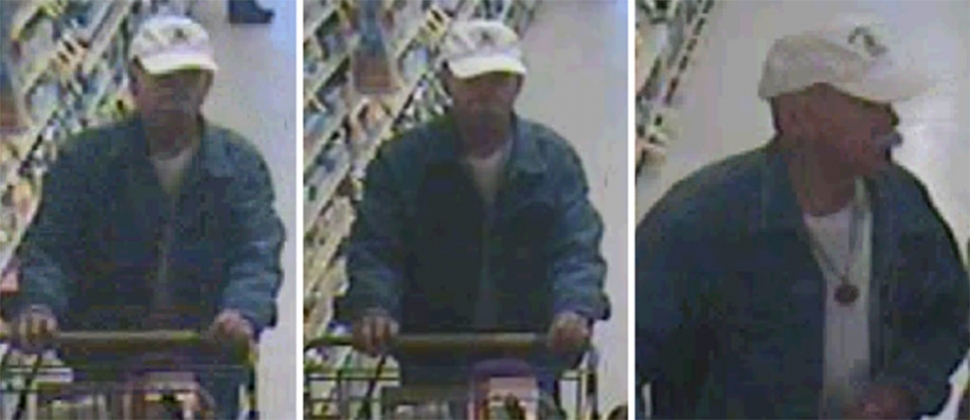 By Ventura County Sheriff Department — Monday, April 28th, 2014
Police asking anyone with information to contact them
The Camarillo Police Department is seeking information regarding the identification of a sexual battery suspect.
On March 31, 2014, at approximately 4:00 PM, the female victim was shopping in the Vons grocery store in the Mission Oaks shopping center when she was sexually battered by the suspect. The suspect is described as a white male, approximately 55-65 years of age, medium build, gray hair, and a bushy grey mustache. He was wearing a blue denim jacket, white t-shirt, blue jeans, and a white baseball style cap.
Please contact Detective TJ DeSalvo, at (805) 388-5157, if you have any information regarding this suspect.
Nature of Incident: Information Identifying Sexual Battery Suspect
Report Number: 140007258
Location: 5000 Block Of Mission Oaks Blvd., Camarillo
Date & Time: March 31, 2014 at 4:00 PM
Unit(s) Responsible: Camarillo Investigations Bureau
(S)uspects, (V)ictims, (P)arty, (D)ecedent City of Residence Age
Unknown Unk 55-65
Prepared by: Sergeant Pete O'Sullivan
Media Release Date: April 23, 2014
Follow-Up Contact: Detective TJ DeSalvo @ (805) 388-5157
Approved by: Captain Eric Dowd
Ventura County Crime Stoppers will pay up to $1,000 reward for information, which leads to the arrest and criminal complaint against the person(s) responsible for this crime. The caller may remain anonymous. The call is not recorded. Call Crime Stoppers at 800-222-TIPS (8477).