Gertrude Ness Passes Away at 110 Years Old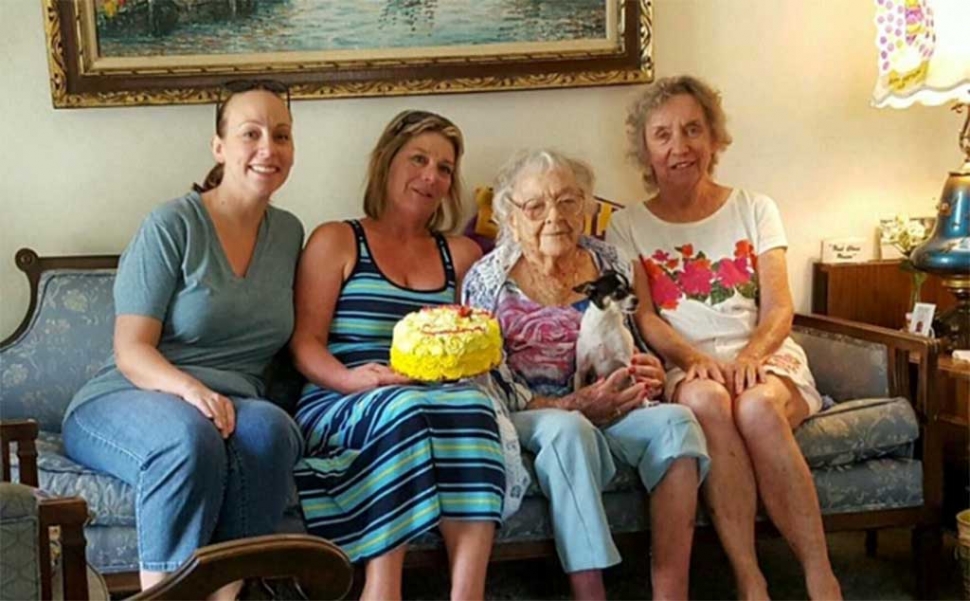 Great Granddaughter Stacy Fontana, Granddaughter Lynda Kagel, Gertrude Ness and Verdel, Daughter Jo Ness.
By Dick Diaz — Thursday, September 8th, 2016
I am sad to write this one final article about Gertrude Ness who passed away peacefully in her Glendale home on Sunday, August 28th. Gertrude died of natural causes after a very long and productive life.
I have written a couple articles about Supercentenarian Gertrude Ness the 110 year old Grandmother of Fillmore resident Lynda Kagel. Born on April 22, 1906, Gertrude, prior to her passing was the 3rd oldest known resident in the state of California. A dedicated Lakers Fan Gertrude requested her Kobe Bryant Laker's jersey accompany her on her next journey to be reunited with her beloved husband Peder. Gertrude is survived by two daughters, Dianne De Geer of Texas, Jo Ness of Montrose, two granddaughters, Lynda Kagel of Fillmore and Amy De Geer of Texas, two great granddaughters, Stacy Fontana of Moorpark and Ayiana Turner of Texas and one great grandson Bryson Nolly of Texas and step-grandson Danny Glassburn of Thousand Oaks.