Gang Related Attack and Robbery on 4th at B Street
By Anonymous — Wednesday, May 14th, 2008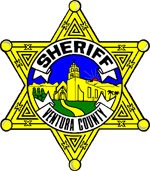 Ventura County Sheriff's Department
Location: Fourth Street at B Street, Fillmore, Ca
Date & Time: May 13th, 2008 / 07:30 PM
Unit Responsible: Fillmore Police Department
(S)uspects, (V)ictims, (W)itnesses City of residence Age
(V) Mario Ramos Fillmore 23
(S) Unknown Hispanic Male
(S) Unknown Hispanic Male
On May 13th, 2008, at approximately 07:30 PM, the victim was stopped in his vehicle in the area of Fourth Street and B Street, in Fillmore. The suspect vehicle, a white newer Chevrolet Avalanche, with paper plates, pulled in front of the victim's vehicle blocking its exit. Two suspects exited their vehicle and confronted the victim, who was still seated in his vehicle. One of the suspects made reference to a local street gang and punched the victim on his face and head several times. The second suspect entered the passenger side of the vehicle and took the victim's property. Both suspects fled the area in the Chevrolet Avalanche.
The victim reported the crime several hours later from his residence. The victim was treated and released by AMR for contusions and swelling to his face and forehead as a result of the crime.
Anyone with additional information about this crime is urged to call Crime Stoppers at (805) 494-TALK (Thousand Oaks / Moorpark), (805) 385-TALK (Camarillo / Oxnard / Port Hueneme) or Fillmore Police Department at (805) 524-2233.