Fourth of July Safety Reminders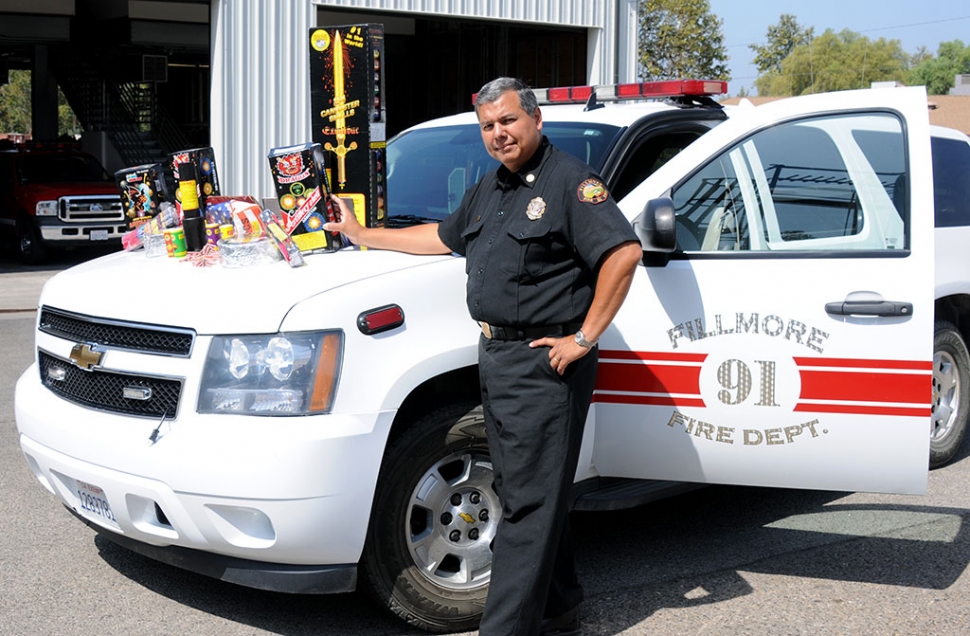 Fillmore Fire Chief Rigo Landeros stands by illegal fireworks that were confiscated last week. The fine for illegal fireworks is $1,100.
By Rigo Landeros — Wednesday, June 25th, 2014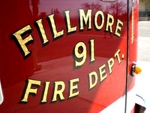 Fillmore Fire Department
FILLMORE, California – The City of Fillmore Fire Department wants to ensure that Fillmore citizens enjoy a safe Fourth of July week. Citizens are reminded that "safe & sane" fireworks sold in Fillmore are legal between June 28 12:00pm – July 5 12:00pm. The use of any type of non-approved fireworks is never legal and will result in criminal charges and the potential for a $1,100 fine. If you witness any illegal activity please report it! An anonymous tip line has been setup to report violators. Please call 805-524-1500 ext. 350 to report illegal activity.
Below are several safety tips to insure you and your family enjoy a safe Independence Day Celebration.
Fire Safety
• If you witness a crime or fire in progress involving illegal fireworks, call your local authorities by dialing 9-1-1.
• Only Safe and Sane fireworks bearing the seal of the State Fire Marshal are legal in California. All other fireworks, including altered Safe and Sane fireworks and those that explode or leave the ground are illegal.
• Kids should not play with fireworks. Fireworks are intended for use by adults in open spaces with plenty of active supervision for every child present.
• Always have a bucket of water on hand to dispose of fireworks and a hose connected to water ready in case of fire.
• Fireworks, including sparklers and flares, can cause serious burns as well as blast injuries that can permanently impair vision and hearing. Teach your children what to do if their clothing catches on fire — "stop, drop and roll" — and how to call 9-1-1 in an emergency.
Pet Safety
• Get your pet micro-chipped, and make sure they're wearing identification tags so if they do become lost, they can be easily returned.
• Do not take your pet to fireworks displays – if you think fireworks are loud to you, it's three times as loud for your pet.
• Do not leave your pet in the car. It only takes a few minutes for a pet to suffer serious injury or even death due to high temperatures.
• Keep your pets inside, in a sheltered, quiet area. If you leave them at home, keep a radio or television at normal volume to keep them company.
• If you know your pet is seriously distressed by loud noises like thunder, consult a veterinarian for ways to alleviate the fear and anxiety.
• Do not leave your pet outside unattended while you're enjoying the fireworks. In their fear, they could escape or get tangled in a chain.
Traffic Safety
• When attending firework displays and special events, remember to obey all traffic lanes and signals, and avoid cutting directly across parking lots. When leaving, pay attention while backing out of your parking space to avoid hitting other vehicles or pedestrians.
• While driving through residential neighborhoods, be mindful of children who may have stepped out into the roadway to watch or engage in the lighting of fireworks.
• Be patient when traveling in and out of the City of Fillmore. The population of Fillmore nearly triples Fourth of July Weekend resulting in the overcrowding.