Former Fillmore Pastor WWII Chaplain's Gear Donated to Smithsonian
By Gazette Staff Writer — Wednesday, August 27th, 2008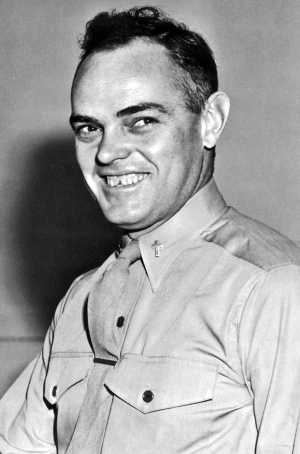 Rev. Ernest D. Miller
The WW II era Navy Chaplain's Gear Case of the Rev. Ernest D. Miller, former pastor of the Fillmore United Methodist and Fillmore Community Churches, has been donated to the Smithsonian Institute, in Washington, D.C.
The Chaplain's Gear Case and military artifacts were of interest to the Smithsonian Institute for their historical value to the Division of Military History and Diplomacy, at the National Museum of American History. The items were presented to Smithsonian Associate Curator, Kathy Golden, in Washington D.C., on July 21, 2008, by Rev. Miller's son, Dan Miller.
After graduating from Andover Newton Theological School, in 1942, Rev. Miller joined the Navy, in June of 1943, and served as a Lt. in the Chaplain's Corp. He ministered to both marines and sailors. He served at sea and on land in the Philippines and New Hebrides, in the S. Pacific Theater of Operations campaigns, during WW II. He also served at Quantico, Virginia, as well as Camp Pendleton and El Toro Marine Bases, in S. California. Chaplain Miller was assigned to the USS Oakland, serving in China, after the war. In 1948 he returned to civilian life and served as a pastor with the United Methodist Church; S. California Conference. He died, in Fillmore, in 1982 while pastor of the Fillmore Community Church.
Rev. Miller's, widow, Ruth E. Miller, a retired Fillmore High School teacher, resides in Fillmore.