Former employee Fillmore and Western Railway arrested for embezzlement
By Ventura County Sheriff Department — Tuesday, March 19th, 2013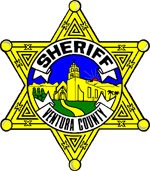 Ventura County Sheriff's Department
After an extensive eight-month investigation, a former employee of the Fillmore and Western Railway was arrested for embezzlement.
In July 2012, the railway company reported long time trusted employee Mariah Sjolund was embezzling from the company by manipulating the payroll. The investigation revealed tens of thousands of dollars were stolen from the railway, a Fillmore City landmark.
Sjolund was booked at the Sheriff's Main Jail with bail set at $10,000.00.
Nature of Incident: Embezzlement Arrest
Report Number: 12-16159
Location: 1400 Block Ojai Road, Santa Paula, CA
Date & Time: March 13, 2013 / 0800 hours
Unit(s) Responsible: Fillmore Investigations
Suspect City of Residence Age
Mariah Sjolund Santa Paula 33
Prepared by: Detective John Fox
Media Release Date: March 13, 2013
Follow-Up Contact: Sgt. Anthony Aguirre (805) 524-2233
Approved by: Captain Monica McGrath