Foreclosures Affecting Fillmorians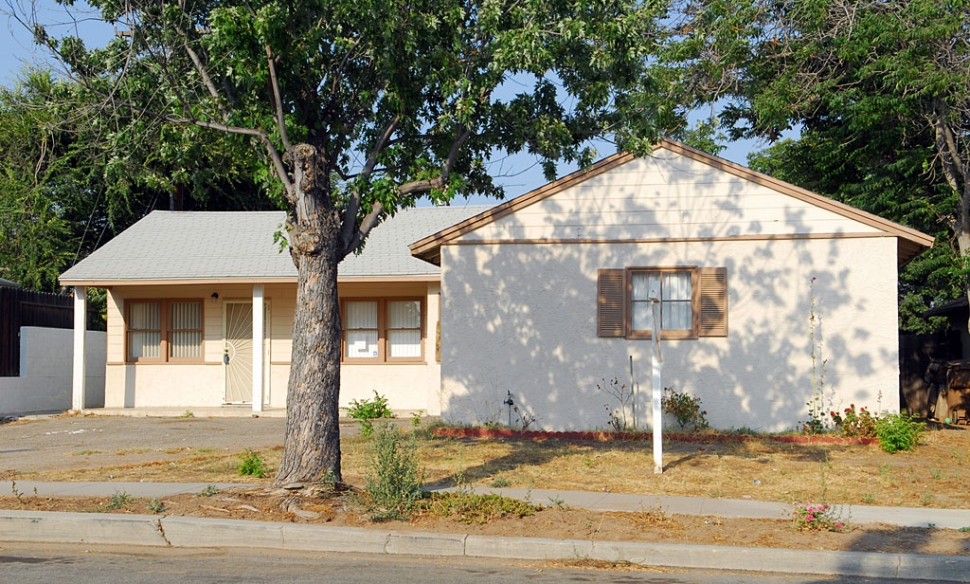 Home foreclosures have skyrocketed in Fillmore this year, as they have all over the nation.
By Mariandrea Mueller — Wednesday, July 16th, 2008
The housing market has entered a downward spiral. The circumstances are under nation-wide scrutiny, but the consequences are affecting even those who do not own real estate. Fillmorians are no exception.
Trinka Reynolds, Karin Diaz, and Brian Sipes are real estate mortgage professionals who work here in Fillmore under Market Mortgage, a mortgage brokerage. They volunteered some information regarding the current crisis. Reynolds explained that mortgage brokerages have the ability to submit a standard loan application on behalf of their clients (home buyers) to various banks or lenders. The lenders then draw up the loan terms. This shopping process can result in better rates for home buyers. Karin Diaz mentioned that Market Mortgages prides itself on non-predatory tactics and finding appropriate loans for their clients, so that the loans are affordable long term.
According to Reynolds, bad decisions and introductory "teaser" rates were major contributing factors but not the only cause of the problem. In Fillmore, the situation was complicated by property taxes. Reynolds explained that the average property tax in Ventura County is 1.25%, but in two new developments—due to bonds for schools, levies and parks—the property tax is 1.95%. She demonstrated that on a $400,000 house, the typical property tax would be $5000 per year. Property taxes in Bridges and River Oaks would be $7800 per year. This difference of over $200 per month (and in some cases the difference is even greater) can stretch a family budget past the breaking point.
Reynolds explained that when a borrower fails to make a payment, the borrower's credit is affected after 30 days, and continues to worsen with each passing month as more payments are missed,. Reynolds stated that after three missed payments, the bank can send a Notice of Default (NOD). This is the first step towards foreclosure. According to First American Title Company, 39 NODs were filed on housing units in Fillmore between December 1, 2007, and June 30, 2008. When asked if any first time homebuyer loans have gone into default of foreclosure, City Planning Assistant Manuel Minjares responded, "Not that I know of." A report from the California Department of Finance indicates that as of January 1, 2008, Fillmore has approximately 4,400 housing units.
Reynolds, who has been in the real estate loan business since the mid-80s, believes that the current crisis differs significantly from the real estate crash of the late 80s early 90s. This time a majority of the foreclosures are on owner-occupied housing. She says that there is also a greater "saturation level" of foreclosures. These two factors have increased borrowers' ability to arrange for modified notes. A foreclosed house is a non-performing asset. Lenders make money by being paid back. It is usually better for a bank to modify the note rather than foreclose. In Fillmore, Market Mortgage alone is averaging two inquiries per day from borrowers wanting to modify their notes. Reynolds explained that lenders can modify notes by lowering interest rates or allowing a temporary forbearance. A forbearance allows borrowers to skip some payments in case of a financial emergency, such as illness, but usually extends the loan so that the payments are caught up at the end of the loan. Reynolds believes that many people who had been living in the newer tracts and can no longer afford to keep their homes are moving into rentals. She says some are leaving Fillmore due to increased costs of living here.
Because banks are foreclosing on many properties, and sometimes losing money in the process, many banks are failing. Bank deposits are only insured by the FDIC for up to $100,000. If an account holder has more than $100,000 in any one bank, then any money beyond that amount may be forfeited if the bank goes under. To avoid losing money, account owners should either divide their money among multiple banks or set up multiple ownerships such as trusts so that no one owner is associated with more than $100,000 in deposits.
When asked whether vacancies due to foreclosures were increasing crime in Fillmore, Detective Macias of the Ventura County Sheriff's Department replied that the department does not track that information. According to Macias, there has been only one recent incident involving a house in the process of foreclosure. The house was vandalized, but search warrants were issued and arrests were made. Macias mentioned that because the foreclosure had not been completed, the home owners in this case were responsible for repairing the damage and were as much victims as the community.